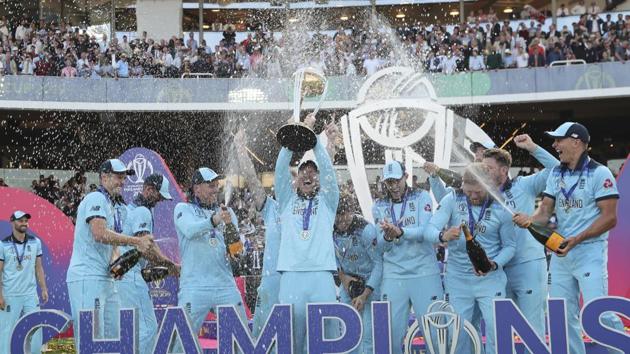 England vs New Zealand Highlights, Final World Cup 2019: England win maiden World Cup title on boundaries as final and Super Over end in a tie
England vs New Zealand, Highlights: England are crowned world champions for the first time. New Zealand tied England's score of 15 in the super over but England were crowned champions as they had hit six more boundaries than the Kiwis during regulation play of 50 overs. As a result, according to the ICC rules, England were crowned champions even though the scores were level after the super over.
England vs New Zealand, World Cup Highlights:
UPDATED ON JUL 15, 2019 08:30 AM IST
01:00 hrs IST
Player of the series in World Cups:
1992 M Crowe
1996 S Jayasuriya
1999 L Klusener
2003 S Tendulkar
2007 G McGrath
2011 Yuvraj Singh
2015 M Starc
2019 KANE WILLIAMSON
00:50 hrs IST
Man of the Match in World Cup finals:
C Lloyd
V Richards
M Amarnath
D Boon
Wasim Akram
Aravinda de Silva
S Warne
R Ponting
A Gilchrist
MS Dhoni
J Faulkner
B STOKES
00:35 hrs IST
England lift the trophy!
England players celebrate as they lift the trophy - Here are ICC World Cup 2019 World Champions - ENGLAND!
00:32 hrs IST
England players enter
England players arrive on the podium to collect their medals on the stage.
"There wasn't a lot in that game, jeez. I'd like to comisserate with Kane. The fight, the spirit they showed. I thought it was a hard, hard game. This has been a four-year journey, we've developed a lot over those years, particularly the last two. To get over the line today means the world to us. The guys in the middle keep us cool, the way they play, the experience. It's calming at times. Not a lot between the teams. Just delighted we're lifting the trophy today. As long as he wasn't too cooked [sending Stokes back out for the Super Over]. Full credit to those two boys and Jofra. Every time he plays, he improves. The world is really at his feet at the moment."
- Eoin Morgan, Winning captain
00:27 hrs IST
Losing captain - Kane Williamson
The New Zealand players come out on the podium to collect their medals.
"We were weighing up the overheads versus the pitch, it was on the drier side. runs on the board, as it proved, was going to be challenging. We would have liked another 20, but in a World Cup final we'll take 240-250. Both sides showed a lot of heart, a lot of fight. For it to go to the last ball, and the last ball of the next match, it was pretty hard. That [the Stokes deflection] was a bit of a shame, wasn't it? You just hope it doesn't happen in moments like that. You can nitpick, but perhaps it just wasn't meant to be for us. It is perhaps tough to review the match, and such small margins."
- Kane Williamson
00:27 hrs IST
Player of the tournament - Kane Williamson
"Look, it certainly wasn't just one extra run. So many small parts in that match that could have gone either way as we saw. Congratulations to England on a fantastic campaign. It's been challenging, the pitches have been a little different to what we expected. Lots of talk of 300-plus scores, but we haven't seen many of those. I'd like to thank the New Zealand team for the fight they showed to keep us in the tournament, and get us this far. A tie in the final. So many parts to it. The players are shattered at the moment. Obviously it's devastating. They've performed at such a high level through the tournament."
00:23 hrs IST
Man of the match - Ben Stokes
Ben Stokes has been given the man of the match award in the final.
"I'm pretty lost for words. All the hard words that's gone in over these four years, this is where we aspired to be. To do it with such a game, I don't think there will be another like this in the history of cricket. Jos and I knew if we'd be there close to the end, New Zealand would be under pressure. Not the way I wanted to do it, ball going off my bat like that, I apologised to Kane. We backed the new kid, Jofra Archer, the talent that he's got, he showed the world today. The lads, in this one-day team, the Test team, my family, their support has been massive. Now I'm just looking forward to tonight, mate."
00:20 hrs IST
STATS
** Teams losing successive World Cup finals:
England (1987, 1992)
Sri Lanka (2007, 2011)
New Zealand (2015, 2019)
00:18 hrs IST
England players speak
Jonny Bairstow: "Massive commiserations to the New Zealand boys. Edges one way, edges another. The way the guys came back in the Super Over was fantastic, and Stokes was huge. To play at Lord's is one thing, to play a World Cup final at Lord's is something else."
Jos Buttler: "I thought I'd seen everythign in cricket, and that game was just ridiculous. Hard to put it in words. We wanted to take it deep. We didn't feel like the run rate would be an issue if we were both there in the end. A couple of good partnerships, we'll chase this down. Trying to put pressure back on New Zealand. Don't know what happened there in the end. Unbelievable."
Joe Root: "It's almost written in the stars for Ben. Everything he's gone through, I can't be more proud and pleased for him."
Liam Plunkett: "Hasn't sunk in yet. What a finish that was. Hats off to the Kiwi boys. Over the moon."
Ben Stokes: "I'm pretty lost for words. All the hard work over four years to get here, and to be champions of the world is an amazing feeling. Playing against New Zealand is always a great event to be a part of. They're a seriously good team, they're a bunch of good lads. I spoke to Kane, I apologised (for the deflection for overthrows)."
Jofra Archer: "Was pretty sure I was going to bowl it. Just had a chat with Morgs (starts chuckling) heart's still racing, sorry. It's probably the only tournament I've ever won in my life. From the beginning, the guys did so well. Would have been disappointed if we didn't win. They've been a really good family to me." 7.40pm England's players troop back through the Long Room and back onto the field. New Zealand's players are slumped on the grass.
00:09 hrs IST
RECAP OF THRILLER!
- New Zealand won the toss and elected to bat.
- New Zealand scored 241/8 in 50 overs.
- England were bowled out for 241 in 450 overs after the reply. Match goes to Super Over.
- Jos Buttler and Ben Stokes hammer 15 runs in Super Over.
- New Zealand, in reply, hammer 15 runs in the Super Over. ENGLAND WIN!
00:05 hrs IST
RULES EXPLAINED - HOW IT HAPPENED!
England are crowned world champions for the first time. New Zealand tied England's score of 15 in the super over but England were crowned champions as they had hit six more boundaries than the Kiwis during regulation play of 50 overs. As a result, according to the ICC rules, England were crowned champions even though the scores were level after the super over.
11:50 hrs IST
New Zealand Super Over
Jimmy Neesham and Martin Guptill are out to bat for New Zealand. Jofra Archer is bowling the Super Over for England. 16 is the target.
1st ball: WIDE! Pressure on the young man.
1st ball: 3 RUNS!
2nd ball: SIX! Jimmy Neesham has hammered a SIX! NZ need 7 to win in 4 balls.
3rd ball: 2 RUNS - need 5 to win in 3 balls.
4th ball: 2 runs - need 3 to win in 2 balls
5th ball: 1 run - need 2 to win in 1 ball
6th ball: 1 run - and a RUN OUT! New Zealand reach 15 and the Super Over is tied. ENGLAND WIN THE WORLD CUP!
11:42 hrs IST
England Super Over
Ben Stokes and Jos Buttler come out and Lockie Ferguson is bowling for NZ
1st ball - 3 runs
2nd ball -- 1 run
3rd ball - FOUR! Ben Stokes hammers a boundary
4th ball - 1 run
5th ball - 2 runs
6th ball - FOUR! England score 15 runs in the Super Over. New Zealand need 16 to win. Even if the score is tied, England will win because of higher number of boundaries in regulation overs.
11:25 hrs IST
Final over
1st ball - DOT
2nd Ball - DOT
3rd ball - SIX!
4th ball - 2 runs + four over throws! - England need 3 to win in 2 balls
5th ball - RUN OUT! England need 2 to win in 1 ball
6th ball - RUN OUT! England 241/9 in 50 overs - THE MATCH IS TIED! The match will now go to SUPER OVER!
11:23 hrs IST
15 needed in Final over
Jimmy Neesham cleans up Jofra Archer. England need 15 more to win n final over with two wickets in hand.Ben Stokes is the key here. He would look to keep up the strike,
11:20 hrs IST
WHAT A HORRENDOUS ERROR!
Ben Stokes has hit it to Trent Boult in the deep who takes the catch but clears the infield. This will be counted as a SIX. What a huge error in such a crucial stage of the match.
11:15 hrs IST
England need 24 to win in 12 balls
This will be a close contest now - England need 24 more to win in 12 balls. England 218/6 in 48 overs.
11:08 hrs IST
GONE!
England have crossed the 200-run mark with Ben Stokes slamming a boundary in the final ball of the previous over. On the next ball from Lockie Ferguson, Chris Woakes decided to sky a delivery and Tom Latham caught it. ENG 203/6 in 46.1 overs.
22:58 hrs IST
GOT HIM!
Lockie Ferguson has broken the partnership. Jos Buttler slices it to substitute fielder Tim Southee. England are five down for 196 after 42 overs. Need 46 to win in 30 balls.
22:52 hrs IST
FIFTY! FIFTY!
Jos Buttler scores his half century and he reaches the mark with a boundary. You cannot put a price on this half century. He came and saved his side. Ben Stokes also brings up his half century. ENG 189/4 in 43.5 overs. Need 53 more to win in 37 balls
22:43 hrs IST
NZ Need a wicket
New Zealand need to get wickets here. As long as Buttler and Stokes remain in the middle. any target is chaseable. Two good overs has built pressure on the batsmen. 42 overs gone, ENG 176/4
22:33 hrs IST
40 overs gone
England have reached 170/4 in 40 overs. Still need 72 to win in the final 10 overs. This should be easy from here on until a wicket or two goes down. Buttler did it!
22:28 hrs IST
New Zealand need wickets
This match cannot be won by holding down England and hoping for the best. These are two modern greats of the current generation - Ben Stokes and Jos Buttler. The required run rate is not going to worry them.
22:20 hrs IST
150 up for NZ
Jos Buttler and Ben Stokes take New Zealand past the 150-run mark. England now need less than 90 to win. The required run rate is not too high, and the Kiwis need a wicket here.
22:14 hrs IST
NZ lose review
A LBW appeal on Buttler from Henry forces Kane to use the review. But it was missing the leg stumps. Kumar Dharamasena gets it right and NZ lose their review.
22:12 hrs IST
Down to nerves
This match is nicely poised at the moment. England 100 run away from the title. But it will come down to nerves in the end.
22:06 hrs IST
50-run partnership
The 2nd 50-run partnership by the 5th wicket ENG pair in WC finals between Jos Buttler and Ben Stokes
The 3rd 5th wicket 50+ stand for ENG in this WC
22:00 hrs IST
Matt Henry is back
Another bowling change from Kane Williamson and Matt Henry returns into the attack. This has been the most attacking Kane has been in this tournament.
21:55 hrs IST
Colin de Grandhomme STATS
Colin de Grandhomme has just produced the second most economical full spell in a world cup final since they moved to 50 overs a side. Only Derek Pringle's 10-2-22-3 is ahead.
21:50 hrs IST
30 overs gone
30 overs gone, and England have reached 115/4. Mitchell Santner finally comes into the attack. Smart captaincy from Kane Williamson to hold on to Santner, who can be the wildcard here.
21:45 hrs IST
What a spell!
Colin de Grandhomme has bowled a perfect spell here. He has given away just 27 runs in his 10 overs with 1 wicket. He has ensured that the Kiwis keep pressure on England batsmen. Smart captaincy from Kane Williamson.
21:39 hrs IST
100 up for England
Ben Stokes stepped up forwards a slow one from Neesham and powers it for a straight boundary. Takes the hosts par the 100-run mark in style. ENG 103/4 in 27.3 overs
21:35 hrs IST
England need a partnership
The onus on Ben Stokes and Jos Buttler here is to build a partnership. There is no need to go for big strokes, as the run rate required is at par. Meanwhile, a maiden over from Colin de Grandhomme.
21:28 hrs IST
Colin de Grandhomme figures
This has been a good spell from Colin de Grandhomme. He has allowed the pressure to build on England batsmen which has caused wickets to fall down. In overs, he has given just 22 runs. ENG 93/4 in 25 overs
21:20 hrs IST
OUT!
Jimmy Neesham gets the much-needed breakthrough and Eoin Morgan has to walk back. He hit it hard towards midwicket, but Lockie Ferguson takes the catch. ENG 86/4
21:15 hrs IST
Ferguson makes a mistake
Lockie Ferguson gives away four plus a wide and these are useful runs for England. At some point, in this match, the run rate will become important. England need quick runs.
21:01 hrs IST
Ferguson strikes!
England have lost their most settled batsman now as Lockie Ferguson castles Jonny Bairstow for 36. The right-hander chops the ball on to the stumps as Kiwis are right back in the hunt now. Eoin Morgan is now joined by Ben Stokes in the middle.
20:56 hrs IST
Stat attack
Joe Root dismissed for 7 (30)
2nd time dismissed by Colin de Grandhomme
This is only his 4th single digit score against NZ in ODIs (21 inns)
His 3rd single digit score at Lord's in his last 4 ODI inns at this venue
Joe Root started this WC on a high, but in the recent matches failed to score big runs.
First six matches: 424 ; Next five matches: 132.
20:51 hrs IST
Joe Root departs
Pressure got the better of Joe Root and he threw his wicket away off the bowling of Colin de Grandhomme. He edges the ball into the hands of the keeper as England lose their second wicket in chase. New Zealand are back in business.
20:45 hrs IST
Ferguson starts well
Lockie Ferguson is off to a good start in the innings as he gives away just three runs off his first over. He is New Zealand's highest wicket-taker in the tournament and they will be hoping of a similar impact from their pacer in this match.
20:39 hrs IST
Fifty up for England
Jonny Bairstow hits a boundary to break the shackles off Matt Henry and then an inside edge misses the stumps and goes for successive boundaries. With that, England have crossed the 50-run mark in the chase.
20:33 hrs IST
Three maidens in a row
New Zealand bowlers are firmly on top of their opponents as they aren't letting the batsmen score at all. Matt Henry bowls couple of maidens in a row while Colin de Grandhomme too bowls one in between as pressure is getting on the two England batsmen.
20:28 hrs IST
Dropped
New Zealand should have picked their second wicket of the day but Colin de Grandhomme drops an easy chance off his own bowling. Jonny Bairstow had hit the ball straight at the bowler but he spilled it. Bairstow survives for 18.
20:22 hrs IST
Glorious from Bairstow
Full and wide from Boult and Bairstow hits the ball through the covers for a boundary. Fourth four of the innings for Bairstow as he is looking on good form once again. New Zealand need to get rid of him soon in order to put the pressure on the hosts.
20:17 hrs IST
Good over from Henry
Another excellent over from Matt Henry as he gives away just 1 run to keep things tight for New Zealand. Jonny Bairstow and Joe Root will be looking to build partnership and keep their 9 wickets in tact for as long as possible.
20:11 hrs IST
Breakthrough for NZ
Matt Henry has provided the first breakthrough for New Zealand as he removes Jason Roy for 17. The right-hander edged a delivery straight into the hands of keeper Tom Latham. England lose their first wicket of the innings.
20:08 hrs IST
Four and four
Jonny Bairstow now takes the attack to Trent Boult and he hits him for couple of boundaries in the over. New Zealand haven't bowled badly but luck is shining brightly on England openers in the chase.
20:02 hrs IST
High but safe
Jason Roy comes dancing down the ground but couldn't time the properly and hit the ball high in the air. Fortunately for England, the ball landed away from the fielder at mid-on. Four runs from the over of Matt Henry as Kiwis pacers continue to pile on the pressure.
19:56 hrs IST
Roy using all nine lives
A stunning yorker from Boult and it misses the leg stump by mere inches. Roy then cuts Boult for a boundary past the point fielder to bring up his second four of the innings. Roy should have been dismissed three times today but he has keeps on scoring runs.
19:50 hrs IST
First four of the innings
Jason Roy was beaten twice in the over from Matt Henry but then he steadied himself and hit a glorious straight drive to hit the first boundary in the over. Roy may be living dangerously but he has hit one of the shots of the day already in his short stay at the crease.
19:44 hrs IST
Roy survives first ball
Trent Boult traps Jason Roy on the pads but the umpire said not out. Kane Williamson went for the DRS and replays showed that the ball was indeed hitting the leg stump but the majority of the ball wasn't so umpire's call was retained. Williamson and Co cannot believe their luck.
19:37 hrs IST
Huddle time
New Zealand skipper Kane Williamson has called his team into a huddle so as to issue a final rallying cry. Kiwis need wickets while Roy and Bairstow will look for a good start in the chase. 242 doesn't seem like a big score but by taking early wickets, New Zealand can make a game out of it as they did against India.
19:25 hrs IST
What Kiwis need to do
New Zealand will be eying early wickets to put the pressure on the hosts in the chase. Jason Roy and Jonny Bairstow will have to be sent back early if Kiwis have to defend the total. England bat deep and that poses a big threat for the Black Caps.
19:15 hrs IST
Innings over
Jofra Archer gives away just three runs in the final over of the innings as New Zealand end their innings at 241/8 in 50 overs. Chris Woakes and Liam Plunkett scalped three wickets each for England while Henry Nicholls top-scored with 55. Tom Latham chipped in with a handy 47 as Kiwis reached this sub-par score.
19:09 hrs IST
Henry castled!
Matt Henry misses a full toss from Jofra Archer and the ball crashes into the off-stump. New Zealand have lost their eight wicket now as Archer picks his first wicket of the innings. Three balls left in the innings for NZ to score 10 runs and cross the 250-run mark.
19:02 hrs IST
Latham misses out on fifty
A slower delivery from Chris Woakes and Tom Latham some how loops the ball into the hands of Vince at mid-off. New Zealand have lost their seventh wicket as England are finishing strongly in the innings. Third wicket of the innings for Woakes.
18:56 hrs IST
Woakes picks his second
Chris Woakes returns into the attack and straightaway breaks the partnership by getting rid of Colin de Grandhomme. The right hander hit the ball into the hands of substitute fielder James Vince at mid-off. Kiwis are struggling to finish the game on a high note.
18:51 hrs IST
Excellent stuff from Archer
Jofra Archer produces another excellent over under pressure as he concedes just three runs. Archer has been heavily reliant on his short deliveries and it has done the job for him today. Chris Woakes is being introduced into the attack in place of Mark Wood.
18:46 hrs IST
Huge hit
Length delivery from Mark Wood and Tom Latham flicks the delivery for a huge six over mid wicket. Seven runs from that over from Wood as Kiwis are looking to a run-filled last few overs. Latham also moves into his 40s.
18:40 hrs IST
200 up for Kiwis
Eight run over from Jofra Archer and it conceded couple of wides as well. New Zealand have crossed the 200-run mark as Latham and de Grandhomme have put together 31 runs off 30 balls so far. Kiwis will be eying a big finish with six overs left to be played in the innings.
18:34 hrs IST
Good over from Archer
Jofra Archer hits Colin de Grandhomme in the helmet and the match had to be stopped for a short period. No hard done as CDG is up and running. Archer concedes 5 runs in the over as New Zealand are still struggling to get some quick runs under their belt.
18:29 hrs IST
Plunkett's spell ends
Liam Plunkett gives away just 2 runs in his final over of the innings and with that, he completes his full quota of 10 overs. He ends with outstanding figures of 3/42 and has put England in a great position as we head into the final nine overs of the innings.
18:23 hrs IST
Stat attack
Jimmy Neesham departs for 19 (24)
2nd time Neesham is dismissed by Liam Plunkett in ODIs
His scores against England in ODIs (3 inns): 18, 19, 19 (today)
His scores after 97* vs PAK in this WC are: 9 vs AUS, 19 vs ENG, 12 vs IND, 19 vs ENG (today)
2nd England bowler to take a 3-fer in a WC final
18:17 hrs IST
Neesham departs!
Mistake from Jimmy Neesham as the southpaw hits a Liam Plunkett delivery straight into the hands of Joe Root at mid-on. Third wicket of the day for Neesham as New Zealand have lost half their side now. Colin de Grandhomme joins Tom Latham in the middle.
18:10 hrs IST
Latham steady
Tom Latham shows his class early in the innings and hits Liam Plunkett for a four in the innings. The partnership between Jimmy Neesham and Tom Latham is now worth 24 off 29 deliveries as the duo are looking to rebuild the innings.
18:03 hrs IST
Four and four
Jimmy Neesham hits couple of boundaries in the over from Ben Stokes as New Zealand look to up the ante. This is New Zealand's first boundary in 93 deliveries as they look to put the pressure on the hosts.
17:57 hrs IST
Stat attack
Before getting dismissed Ross Taylor completed 1000 runs in WC matches. He became only the 2nd New Zealand player to reach this milestone after S Fleming (1075 runs)
17:50 hrs IST
Wood strikes
Inspired move by Eoin Morgan, brings back Mark Wood and he strikes with his first ball. Angles a length ball in and traps Taylor bang in front. Marais Erasmus raises his finger and there is no review left. Taylor has to trudge back in and England are right on top here.
17:43 hrs IST
Taylor, Latham build
New Zealand now need these two to dig in and take this innings deep. England are currently in control after the wickets of Kane Williamson and Henry Nicholls. Taylor has been in form, but Tom Latham needs to find form and this can be the match he hits his stride.
17:26 hrs IST
Plunkett plucks out Nicholls
Plunkett is the man for Morgan - bowls a length ball, asks Nicholls tries to drive it through covers, but is not close to the pitch of the ball and a thick edge ensues and ball crashes into the stumps. Another huge blow dealt and England are back dominating proceedings.
17:07 hrs IST
Williamson departs
Huge wicket this for England, Plunkett gets rid of captain Kane. Length ball outside off, it nips away just a touch, takes a feather and is given out on review. Once again, Dharamsena's decision has been overturned, 2nd decision to have been overturned today.
16:51 hrs IST
Williamson is attacking Rashid
He has taken to Adil Rashid as Kane is looking to accelerate now in the middle phase. This is now looking very promising for New Zealand. Williamson has found his groove and is now chugging along at a fair clip. England need to break this partnership.
16:39 hrs IST
Spin introduced
Adil Rashid has the ball, he was brilliant in the semi-finals against Australia and now needs to break this partnership right now. New Zealand have encountered the tricky phase with the new ball and now would want to cash in.
16:23 hrs IST
Kane, willing and able
Kane Williamson now has the most runs by a captain in a World Cup, going past Mahela Jayawardene's 548 in 2007. He has to bat deep into this innings and take this Kiwi innings along.
16:11 hrs IST
Nicholls hanging in
Finally some momentum for New Zealand as Henry Nicholls gets few away. Kane Williamson will always be solid and these two will have to drop anchor and build a good platform for the rest of the batting order to follow
15:46 hrs IST
Woakes strikes
The wicket finally arrives for England and is that man, Chris Woakes who gets the job done. Length ball, nips back in, hits Guptill below the knee roll and Dharamsena gives him out. Guptill refers it, but this time it is three reds and the openers has to depart.
15:41 hrs IST
Sedate start
England have been disciplined, but New Zealand openers have hung in and dropped anchor. The start has been very sedate for New Zealand, they have so far, been very watchful against the new ball.
15:30 hrs IST
Nicholls survives
Lovely ball from Woakes, length ball angles back in, hits Nicholls on the back pad, there is a huge appeal, umpire Dharamsena gives it out and Nicholls refers it. Well, the ball is sailing over the stumps and the left-hander survives. Good review, but this is excellent bowling.
15:20 hrs IST
This is some intent
Guptill, who has been down all tournament, ventures out first ball and thrashes his bat at a wide ball. He squirts the fifth ball for four and there is positive intent on display here as New Zealand get to 5 after the first over.
15:15 hrs IST
Out walk the players
Martin Guptill and Henry Nicholls have walked out. England players have rushed out, the clouds are grey, but the pitch could well be a good surface for batting. The anticipation is there, time for the players to get down to business. Chris Woakes is with the new ball.
15:04 hrs IST
Venue insights
Highest team total: 334/4 by England vs India, 1975
Lowest team total: 107 by South Africa vs England, 2003
Highest individual score: 138* by Viv Richards (WI) vs England in 1979
Best bowling figures: 6/35 by Shaheen Shah Afridi (PAK) v Bangladesh in 2019
Biggest partnership: 226 between Andrew Flintoff and Andrew Strauss for the 4th wicket vs West Indies in 2004.
Highest chase: 326/8 by India (target: 326) vs England, 2002
14:59 hrs IST
What the captains said
Kane Williamson, New Zealand captain: A bat-first surface, but the overhead conditions do make it confusing. We have a job first up with the bat. We're playing the same team. The semi was a tough scrap for both sides, but we're happy we got across the line in that game. Always backing Guptill with the bat. He'll go and play with the freedom. Our team has played with a lot of heart and fight and has gotten us across the line so many times. A number of parts that are different from the 2015 final, different personnel, but any experience is a positive to learn from. It's a different day and anything can happen. Winning will be incredibly special, but before that we need to play some good cricket.
Eoin Morgan, England captain: Not at all disappointed about losing the toss. It was a 50-50 call. Always difficult here at Lord's - the overheads will lean towards the bowlers. Whichever side plays better will lift the trophy. Big challenge against an in-form NZ side. Jonny is fully fit, and we're playing the same XI. The strongest part in Edgbaston was our bowling and we created our opportunities in the first 10. If we can put our ball in the areas early on today, we are in with a great chance. I'm extremely proud of the team. Everyone has put in the hardwork over the last four years to create this opportunity today. Regardless of what happens, we have created a different level of expectation in 50-over cricket from English cricket now. We have embraced pressure throughout the tournament, and the semi-final epitomized that.
14:49 hrs IST
Unchanged sides
New Zealand (Playing XI): Martin Guptill, Henry Nicholls, Kane Williamson(c), Ross Taylor, James Neesham, Tom Latham(w), Colin de Grandhomme, Mitchell Santner, Matt Henry, Trent Boult, Lockie Ferguson
England (Playing XI): Jason Roy, Jonny Bairstow, Joe Root, Eoin Morgan(c), Ben Stokes, Jos Buttler(w), Chris Woakes, Liam Plunkett, Jofra Archer, Adil Rashid, Mark Wood
14:47 hrs IST
New Zealand bat first
Kane has called correctly and New Zealand will bat first.
14:44 hrs IST
Final touches
Before the toss, Jonny Bairstow was spotted doing some last-minute prep to counter the threat of Trent Boult.

Niall O'Brien was At The Nets to watch 👇 #WeAreEngland | #CWC19 pic.twitter.com/VdMC4u4K72

— ICC (@ICC) July 14, 2019
14:30 hrs IST
Pitch Report:
"There's been a bit of rain in the morning. But the sun is out right now and the pitch is bright and hard. A lot greener than expected in a one-day game. This is a pitch with a lot of grass, so there will be early seam movement." - reckons Sourav Ganguly.
14:27 hrs IST
Interesting numbers
All four matches at Lord's in World Cup 2019 have been won by team batting first with the winning margin increasing after every match.
- Pakistan beat SA by 49 runs
- Australia beat Eng by 64 runs
- Australia beat NZ by 86 runs
- Pakistan beat Ban by 94 runs
14:20 hrs IST
Match officials are ready
Our match officials for today 👏 #WeAreEngland | #CWC19 | #BackTheBlackCaps pic.twitter.com/TZCi8O1kMZ

— ICC (@ICC) July 14, 2019
14:09 hrs IST
How does the pitch look?
👀 There's the pitch! What are you doing if you win the toss?! #BACKTHEBLACKCAPS #CWC19 pic.twitter.com/H75bJEGAao

— BLACKCAPS (@BLACKCAPS) July 14, 2019
13:57 hrs IST
Top 5 player battles
England and New Zealand will be gunning to be first time champions when they lock horns against each other in a blockbuster ICC World Cup 2019 final at the iconic Lord's in London on Sunday. Both teams are well-equipped to end their respective trophy droughts and will be eying immortality when they come face to face in a crunch contest at the 'Home of Cricket'. There are multiple battles within this big war that is capable of turning the contest into a memorable one. Let's a look at some important player battles that could decide the outcome of the match in London.
Here are the top 5 player battles which can determine the course of the match.
13:50 hrs IST
Best wishes pouring in
Best of luck in today's #CWC19 final, @englandcricket!

We're all behind you 👊pic.twitter.com/qSiNYlZfwk

— England (@England) July 14, 2019
13:48 hrs IST
England's predicted XI
History beckons for England. Playing their first World Cup final since 1992, England are looking to become the third straight host country to win the showpiece event. They have been dominant in the tournament so far and if had not been for a small stutter during middle phase then it would have been the perfect World Cup for them. Still they have a chance to create history when they clash with New Zealand in the final of the World Cup on Sunday at Lord's. Their display against Australia in semi-finals would have boosted their confident a lot before the all-important match in London.
Here is England's predicted XI for the clash.
13:40 hrs IST
Hosts in the house
We have arrived @HomeOfCricket! 🏴𠁧𠁢𠁥𠁮𠁧𠁿🏏#CWC19 #WeAreEngland #ExpressYourself #ENGvNZ pic.twitter.com/qIDTrlLW5x

— England Cricket (@englandcricket) July 14, 2019
13:30 hrs IST
New Zealand predicted XI
New Zealand have surprised many with their amazing run to the finals of the 2019 ICC Cricket World Cup. The Kane Williamson led-side were the underdogs against India in the semi-final but managed to shock the Men in Blue and trump them by 18 runs to reach the final stage. Before the semis, the Kiwis were on a three-match losing streak but uplifted their performance at crucial stage to upset the Indian team.
Here is New Zealand's predicted XI.
13:17 hrs IST
Statistical preview
England face New Zealand in the World Cup final on Sunday knowing years of planning come down to a single day at Lord's. When England exited the 2015 edition with an embarrassing defeat by Bangladesh, few were tipping them as potential champions in four years' time. The challenge for England is to embrace the hype surrounding Sunday's fixture without letting it inhibit them from playing their brand of "fearless" cricket. It is perhaps appropriate that England are facing New Zealand in a final between two sides who have yet to win the World Cup. Let's take a look at some important numbers and milestones that can be reached during this contest:
Here are all the numbers from the match.
12:55 hrs IST
Best wishes
World Cup Final Day 🏆
Huge respect for both teams, England & New Zealand for playing the sort of cricket that gets you to a Final. Good luck to the players, it's going to be a great spectacle. Come On England! 🏴𠁧𠁢𠁥𠁮𠁧𠁿 #CWC19Final

— Stuart Broad (@StuartBroad8) July 14, 2019
12:44 hrs IST
It's all building up
Mood. 🏴𠁧𠁢𠁥𠁮𠁧𠁿pic.twitter.com/TOkJCVNcWo

— England's Barmy Army (@TheBarmyArmy) July 14, 2019
12:34 hrs IST
Weather update
Early update and it is not a good one. It is a damp morning and there is rain around. Our reporter from Lord's, Somshuvra Laha says there is persistent rain right now. So, well, we are keeping our fingers crossed.
12:15 hrs IST
Captain Morgan speaks
"I haven't allowed myself to think about lifting the trophy. Cricket and sport in particular is very fickle. If you ever get ahead, it always seems to bite you in the backside," said Eoin Morgan said on the eve of their summit clash.
11:44 hrs IST
Akhtar predicts the winner
Former Pakistan cricketer Shoaib Akhtar has predicted the winner of the ICC World Cup 2019 on the eve of the final between England and New Zealand at the iconic Lord's in London on Sunday. Whichever team comes out victorious, the world will witness a new champion as neither of the two sides have previously lifted the most important trophy in this particular sport. New Zealand reached the final for the first time in 2015 while England last entered the championship clash in 1992.
Read his prediction here.
11:12 hrs IST
Roy on the loss to Australia
Jason Roy says England's stinging defeat by Australia in the World Cup group phase gave the hosts a "good kick" and helped them rediscover their mojo. England will step out at the "home of cricket" on Sunday as favourites to lift the trophy for the first time against a New Zealand side also looking to make history.
Last time they were at the ground they were pushed to the brink of a group-stage elimination by a 64-run loss to 2015 World Cup winners Australia.
10:41 hrs IST
Preview
Cricket's moment of reckoning arrives in a few hours when England take on New Zealand in the World Cup final at Lord's on a super Sunday for sports. The irony is not lost on most pragmatic fans as cricket jostles for their attention on a day Roger Federer tries to elevate an already staggering Wimbledon record and Lewis Hamilton aims to go past Alain Prost and Jim Clarke with a sixth British Grand Prix win. Making Sunday's final free-to-air is a last-ditch attempt to keep the country hooked on cricket but the English will not be swayed merely by that. They want a World Cup to go along with it.
Read the preview here.
Close