England vs West Indies Highlights 3rd Test Day 5: All-round England hammer West Indies to bag series 2-1
Hindustan Times, New Delhi |
hindustantimes.com
Jul 30, 2020 01:29 PM IST
England vs West Indies Highlights 3rd Test Day 5: Chris Woakes starred with a five-wicket haul and Stuart Broad picked up his 500th wicket as England England (369 & 226/2 decl) beat West Indies (197 & 129) by 269 runs in Manchester to win three-Test series 2-1. Earlier, the first session was highlighted by Stuart Broad's 500th Test wicket, who got there dismissing Kraigg Brathwaite for 19. The fourth day was completely washed out without a single ball being bowled. Stuart Broad is eyeing 500 wickets and he would be looking to get at least a couple of wickets in the early session. But with clouds expected to hover in Manchester on Tuesday as well as per the forecast, England bowlers would want to finish this one as quickly as possible.Follow England vs West Indies Highlights 3rd Test Day 5: 
19:45 hrs IST
End of a wonderful series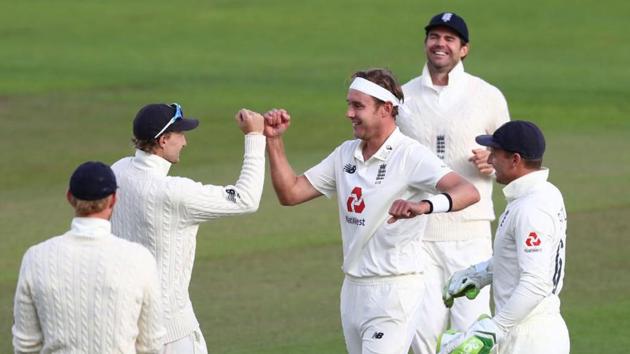 Cricket resumed post the Covid-19-induced break and ended in quite some way. Full props to the ECB for organising such brilliant set of protocol and to the players for following them so well. It's been a wonderful series, one that will hopefully pave the way for more cricket to come. As far as the series is concerned, England deserve credit for the way they came back after losing the first Test and going on to win the remaining two. Stuart Broad is the man of the hour. He was dropped from the first Test but roared back in the second and third Tests, capping off the series with his 500th Test wicket. Great start, and an equally great finish to a captivating Test series.
19:20 hrs IST
Broad with the final wicket, England take series 2-1
OUT! Broad gets the final wicket. England (369 & 226/2 decl) beat West Indies (197 & 129) by 269 runs in Manchester to win three-Test series 2-1.
19:10 hrs IST
England two strikes away
OUT! A fourth for Woakes, another LBW as Dowrich goes for 8. West Indies 117/8 and England are two strikes away from a 2-1 series wn
18:40 hrs IST
Woakes picks up his third, West Indies 99/7
OUT! Woakes picks up a third; Holder out LBW, a review not able to save him. West Indies lose their seventh wicket for 99. Although it looked pretty plumb, Windies captain Jason Holder went for the review - hoping against all hopes but once the replay showed no bat, he was a goner. Four reds and England are a wicket closer to a 2-1 series win.
18:30 hrs IST
Sun out, as are the players
Another frustrating break ends, but this may not be the last of it today. Meanwhile, how good is this?
An England great 🦁
A legend of the game 👑

So proud that @StuartBroad8 is one of ours! 🏴𠁧𠁢𠁥𠁮𠁧𠁿🏏 pic.twitter.com/W69G9CI9SR

— England Cricket (@englandcricket) July 28, 2020
18:15 hrs IST
Oh dear! Raining again, play halted
GONE! Direct hit from Dom Bess results in the run out of Roston Chase. Yes-No and Chase is a good couple of yards outside the crease. West Indies 87/6. Furthermore, there's been yet another interruption in play as it's started raining again. This is the third time rain has stopped play already since morning. West Indies would be hoping this continues.
18:05 hrs IST
How quickly can England wind this up?
A little more time has been allotted to rain an inclement weather but the good news is that the rain has stopped, the covers are off and the players are on the field. England need five wickets and with more stop-start periods expected, England would eye wrapping up the series in this session itself. Can Chase and Blackwood deny them?
17:45 hrs IST
Slightly delayed start to second session
The weather has cleared and it's bright in Manchester. The covers are being peeled off, although we might have a bit of a delayed start to the afternoon session. Will the West Indies be able to survive this session?
17:30 hrs IST
Broad becomes second England cricketer to 500 Test wickets
Fast bowler Stuart Broad on Tuesday became only the second England cricketer to claim 500 Test wickets. Broad joins fellow quick James Anderson as the only two England bowlers with 500 Test wickets or more when he dismissed West Indies opener Kraigg Brathwaite for 19 on Day 5 of the third Test against West Indies in Manchester. Incidentally, Brathwaite was also Anderson's 500th Test wicket in 2017. To read more, click here...
17:10 hrs IST
Rain frustrates again
A heavy breeze turned into rain in no time, strong enough to take the players off the field for a second interruption. With 20 minutes to the session interval, an early lunch has been taken with West Indies at 84/5. Sensible decision; allows the ground to clear up.
16:55 hrs IST
West Indies lose half their side
GONE! Inside edge and Shamarh Brooks is on his way back. West Indies all over the place... 5 down for 75. Two wickets in three overs for Chris Woakes. The ball cuts back in off a back of a length. Brooks is late is getting his bat down in time but the ball manages to get a faint nick into the gloves of Jos Buttler. England want five wickets, West Indies need a miracle.
16:40 hrs IST
West Indies lose Hope...
West Indies lose another. After two wonderful shots in the previous two overs, he plays a reckless shot to end this tour on a low. Slightly short from Woakes and Hopes plays all over it... goes for a pull shot and top edges for wait for it... Stuart Broad to complete the catch. England have grabbed two in the first session already. With six more left, England would be licking their chops.
16:20 hrs IST
500th for Broad
There you have it. Stuart Broad gets his 500th Test wicket. Kraigg Brathwaite, who five years ago became James Anderson's 500th Test wicket, is now part of Broad's unique feat. The ball stayed low and thudded onto Brathwaite's back pad. No doubts whatsoever. West Indies lose their third wicket for 48. England seven strikes away.
16:08 hrs IST
Action resumes
As we expected, the interruption was brief and it didn't rain for too long. Once again, the sun is out shining brightly at the Old Trafford. Stuart Broad steams in and Brathwaite plays it defensively.
15:50 hrs IST
West Indies add brisk 25 runs before rain intervenes
A couple of boundaries each to Shai Hope and Kraigg Brathwaite before passing showers force the players off the field. West Indies move to 35/2. A couple of brilliant deliveries there from James Anderson and Stuart Broad but no harm done to the West Indies.
15:30 hrs IST
It's Game time
Alright then! The sky is clear and it's time for West Indies to resume the innings. The final day of what has been a wonderful, ground-breaking Test series, the first cricket of any form since the Covid-19 pandemic halted sporting action all around the world. Jimmy Anderson has the ball and he will start the day from the James Anderson end. Big day for Shai Hope and Kraigg Brathwaite.
15:15 hrs IST
Weather better, match on
After a washout yesterday, there seems to be no such problem today in Manchester. Even though a couple of early spells of showers are expected, the remainder of the day looks promising. The big question... Can West Indies bat out 98 overs with eight wickets remaining?
15:00 hrs IST
All eyes on Stuart Broad
Great to see Stuart Broad taking the time to have a long long long long long chat to 23yr old West Indian fast Keon Harding. And all this on the morning that Broad stood on 499 test wickets at the start of play👏🏻👏🏻👏🏻 pic.twitter.com/VVwbXOj8S9

— Ian bishop (@irbishi) July 28, 2020
14:40 hrs IST
Weather update
The weather looks good for now, but rain is expected at several intervals of the game. We can expected an interrupted day here in Manchester today.
14:20 hrs IST
Andrew Strauss on Stuart Broad
"When I saw him it was clear he had most of the assets you needed as a fast bowler: quick enough at 80-85 mph, obviously a lot of height and an ability to swing the ball away from the right-hander. He also had a real knack of getting wickets with not great balls which was a good knack to have," ESPNcricinfo quoted Strauss as saying. "But there have been so many bowlers whose star has shone for a year or two then either they have been worked out or their confidence has deserted them and they've been cast aside," he added. (Source: ANI)
14:10 hrs IST
Huge praise for England openers
"I think Sibley and Burns at the top of the order are made of the right stuff temperamentally. They've both got quite quirky but very effective games. And, as we all know, if the openers do their job then it makes it so much easier for the players coming in down the order," ESPNcricinfo quoted Strauss as saying. (Source: ANI)
14:00 hrs IST
David Warner praises Stuart Broad
"I think they should drop him again," said Australia opener David Warner, who had a torrid time against Broad and scored just 95 runs at an average of 9.5 during the 2019 series. I don't know why they dropped him for that first game but it'd be nice if I was to play there again and he wasn't playing," he told reporters. (Source: AFP)
13:50 hrs IST
Meanwhile, Atherton is not pleased
Former England batsman Michael Atherton is not happy with the new World Cup Super League tournament announced by ICC yesterday. Atherton believes the tournament structure is incredibly complex. "There is always logic in everything that happens, but what tends to happen is that it's incredibly complex because what you're trying to do is fit two systems together," Atherton said on Sky Sports Cricket.
13:40 hrs IST
Will Stuart Broad join club 500 today?
One of the biggest moments in Test cricket could take place today when Stuart Broad joins the club 500. He is just one wicket away from getting his 500th Test wicket. Fingers crossed, he gets there!
13:30 hrs IST
Hello and Welcome
Hello and welcome to our live blog on Day 5 of the 3rd Test between England and West Indies. If rain wash out the final day as well, it would be deemed as an absolute villain for depriving fans for what could be a sensational comeback story for England. To have the first series in the post-Covid-19 era after nearly a four-month break end in a draw due to rain would make it an even worse outcome. Unless you are West Indies cricket team supporter, you would be hoping the rains stay away today in Manchester. Fingers crossed!