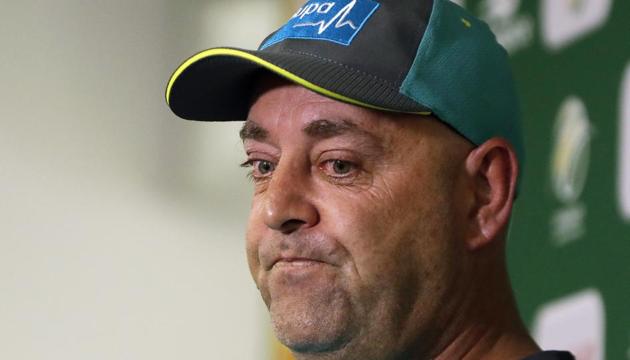 Ex-Australia coach Darren Lehmann says he worries about banned trio daily
Darren Lehmann wants to see Steve Smith, David Warner and Cameron Bancroft return to international cricket after the end of ban.
UPDATED ON MAY 06, 2018 01:36 PM IST
Extending support to Steve Smith, David Warner and Cameron Bancroft, former Australia coach Darren Lehmann has admitted that he worries about the banned trio daily.
Lehmann, who left his position in the wake of ball-tampering scandal in South Africa, said that he is in regular touch with the banned cricketers and hopes that all three will be able to make a successful return to international cricket after serving the period of their punishments.
"They are all good young men, I feel for the three players especially, they're fantastic and I worry about them day-in, day-out. I speak to them quite a lot. It's a case of keeping in contact because I worry about them," Lehmann said in an interview with Radio FIVEaa.
"I hope they come back and play for Australia because they're fantastic young men and they've paid the price.
"For me Australian cricket is the most important thing and hopefully everyone can get back and play the right type of cricket that makes everyone respect and enjoy the Australian cricket team again," he added.
READ | David Warner begins journey to redemption post ball-tampering scandal
Cricket Australia named former Australian opener Justin Langer as the new coach on Thursday and Lehmann, who was once a teammate of Langer, backed his successor to take Australian cricket in right direction and win back fans' trust.
"He (Langer) has got a really good group of players and they'll play in an exciting way, and I'm really looking forward to watching them do that.
"We just have to get behind them as a nation, support the new coach and captains, but also support those guys that aren't playing as well," the 48-year-old was quoted as saying by the cricket.com.au.
READ | Under Justin Langer, Australian cricket will be in good hands: Darren Lehmann
After his appointment, Langer made it clear that doors were open for the banned trio to return to the national team. Lehmann appeared quite pleased with the new coach's gesture.
"I was really pleased that Justin made mention of those three guys (Smith, Warner and Bancroft) who aren't playing at the moment because they are, and they'll continue to be, valuable players for the future of Australian cricket.
"He didn't close the door on anyone, and I think that's an important message," he said.
Close