'Gabbatoir' theatre of Ashes nightmares awaits Joe Root's England cricket team
England have won in Brisbane only four times in 20 Tests - twice in the 1930s, once against the Kerry Packer-weakened 1978-79 Australians and the last time in 1986. This places Joe Root's England cricket team at a psychological disadvantage ahead of the first Ashes encounter at the Gabba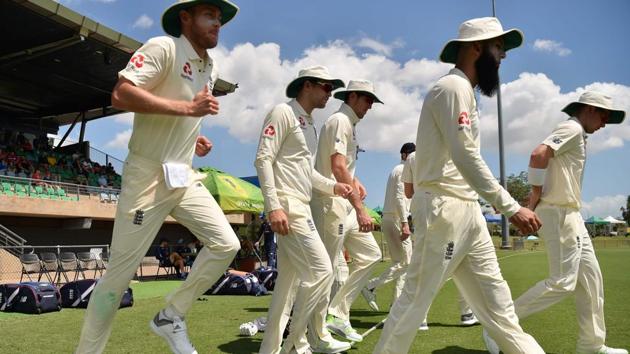 Published on Nov 20, 2017 04:46 PM IST
Agence France-Presse, Brisbane |
Agence France-Presse
Joe Root's tourists will have to conquer England's historical psychological demons at the 'Gabbatoir' if they are to avoid another potentially fatal start to their Ashes campaign this week.
Brisbane's Woolloongabba Ground -- an Aboriginal word for 'fighting place' or just 'The Gabba' as it's commonly known -- is Australia's intimidating fortress and a theatre of nightmares for visiting England teams.
The Australians have not lost a Gabba Test since November 1988, and that was against the mighty West Indians. England last won there in the days of Ian Botham 31 years ago.
The Gabba has mystical qualities. It does extraordinary things to touring English teams.
READ | Nathan Lyon not concerned with Ben Stokes' potential Ashes 2017-18 exclusion
England have won in Brisbane only four times in 20 Tests - twice in the 1930s, once against the Kerry Packer-weakened 1978-79 Australians and the last time in 1986.
If something can go horribly wrong for England at the outset of an Ashes series in Australia, it usually occurs at the Gabba.
In 1954, the legendary Len Hutton won the toss and sent Australia into bat and crashed to an innings defeat. In 2002 Nasser Hussain did the same and England were crushed by 384 runs.
Johnson the destroyer
On the next tour in 2006 Steve Harmison hurled down what has been panned as the worst opening ball in the history of Ashes cricket.
Harmison sprayed his first delivery to second slip much to the chortling derision of the Gabba crowd as a tell-tale early indicator to England's subsequent abject 277-run demise.
On England's last visit to the Gabba, firebrand Mitchell Johnson captured nine wickets to blast out Alastair Cook's team for 136 and 179 leading to a whopping 381-run defeat.
It's little wonder England's team and fans approach an opening Ashes Test at the Gabba with some trepidation.
Part of the fortress culture at the Gabba also comes packaged with the ribald welcome that the home fans serve up to visiting teams.
READ | Australia can lose Ashes 2017-18 if something happens to pacers: Michael Clarke
Paceman Simon Jones experienced that hostility when he chased down the ball in the outfield on the first day of the 2002-03 Ashes only to jar his knee in the loose turf.
He ruptured ligaments and was carried off the field, his tour over.
"As I was carried off, someone in the crowd shouted that I was a 'weak pommie bastard' and threw a can of beer at me," Jones recalled.
"But I didn't take it personally. The Gabba was like that. It's a seriously impressive stadium with its own intimidating properties."
Intensity 'like nothing else'
Not even England's vociferous Barmy Army supporters will be there in mass numbers to help their team this week after receiving an allocation of just 200 tickets for each day's play.
"Sadly independent Barmies from the UK were not able to buy tickets into the dedicated bays so you will not see the massed ranks of England fans grouped together until days three, four and five when the home support drops off," the Army's founder Dave Peacock said.
"This is a huge shame and despite multiple requests, Cricket Australia were not prepared to facilitate this for us which will result in much less atmosphere over the first couple of days. We think that's exactly why this ticketing policy has been put in place."
Former England captain Hussain, now a television commentator, has warned Root's tourists that nothing on tour so far will have prepared them for what they will encounter at the Gabba this week.
READ | How 'explosive' Usain Bolt is helping Australia cricketers ahead of Ashes 2017-18
"You play these low-key friendlies at the start of the tour, then you get to Brisbane and the increase in intensity is like nothing you've experienced before," Hussain said.
Root's side have faced second-string bowling attacks in their three warm-up games, but top pace trio Mitchell Starc, Josh Hazlewood and Pat Cummins lie in wait hoping to unleash more Gabbatoir horrors on England this week.
Close Story