'If India don't do something special at 2023 World Cup...': Dinesh Karthik's massive captaincy warning for Rohit Sharma
Jan 28, 2023 08:19 AM IST
India have been led by Rohit Sharma in ODIs and Hardik Pandya in T20Is since they were knocked out of the 2022 T20 World Cup in the semi-finals.
India have been led by two different captains in ODIs and T20Is ever since the 2022 T20 World Cup but the team management has maintained that there is yet to be an official call on the two sides being led by different players. Rohit Sharma is yet to play a T20I since India's exit from the tournament in the semi-finals and Hardik Pandya has led the team in the format since then.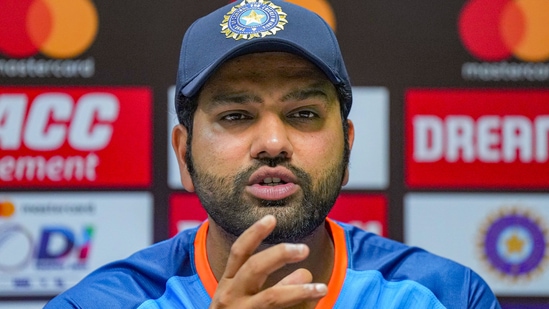 Veteran wicketkeeper Dinesh Karthik has said that split captaincy could become official based on how India perform in the ODI World Cup later this year but as of now, it is too early to say anything about it as the team won't be playing too many T20I matches before the tournament.
Also read: 'Was our T20 specialist leading into WC. Haven't seen him since': Aakash Chopra's hard-hitting query for BCCI selectors
"If the case presents itself, why not? But right now, it is not right for me to say for two reasons. One, India are only playing three T20s after this until the 2023 World Cup, they face the West Indies after the IPL. Once that tournament is done, I think we will know exactly where things stand," said Karthik on Cricbuzz.
"If Rohit Sharma's team doesn't go on to do something special there, we could very well see a chance of split captaincy, I guess the opportunity will present itself at that point of time. Whereas if Rohit goes on to achieve something special, we will all like to think differently and give him a crack at the 2024 T20 World Cup if he himself is willing to play that," he said.
Karthik said that regardless of what happened, Pandya has done a good job of leading the team. The all-rounder has captained India in nine T20Is, six of which he has won. Their loss in the first T20I against New Zealand on Friday was their second under Pandya.
"For the moment, I do believe that Hardik has done a phenomenal job. Case in point being the T20 that was played against Sri Lanka in Mumbai. That was a great game. Stopping Sri Lanka for 160 was a terrific effort on a day where there was little dew. He showed his captaincy prowess there," said Karthik. India had scored 162/5 batting first and went on to win the match by two runs.
"He lives for the big games. After Virat Kohli if I have seem somebody who wants those big games, it is Hardik Pandya. You would have to put Bumrah in that list as well. As a batter Hardik Pandya loves those big occasion. That is why you would see in bilaterals he is not too fussed about whether he is batting consistently. As a bowler also, he is somebody who wants to fill in those holes wherever it is whether it be in the middle orders. We saw him bowling very well with the new ball as well. That is something he enjoys," said Karthik