In cricket's new world order, England have the head start
Jan 01, 2023 11:38 PM IST
Strike rates and run rates are the new Test benchmarks, and England have set them pretty high
Six years ago at a press conference at Eden Gardens, Anil Kumble had no qualms stating that strike rates in Test cricket were relevant for bowlers, not batters. "I know there is a lot of (talk of) strike rate in the last eight years after the advent of T20. As far as I was playing, in Test cricket strike rates were mostly talked about for bowlers and not for batsmen. That's how I like to look at it," the then India coach said.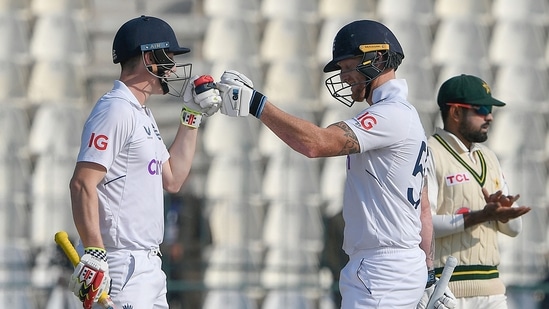 Kumble's comments had come in the wake of skipper Virat Kohli saying that he had spoken to Cheteshwar Pujara on his strike rate during the 2016 tour of the West Indies where he was dropped for the third Test after scoring 16 off 67 balls in Antigua and 46 off 159 balls in Kingston. Pujara's strike rate hasn't improved by much since then but cricket has changed so much that now India, and most other nations, are playing catch-up. England have again set the bar, quite high at that.
The difference is stark. Last year, India averaged 3.72 runs per over in seven Tests and Australia 3.62 in 11 Tests. England stole the march with 4.13 runs per over across 15 Tests. The breakdown is more staggering: in 15 out of 29 innings England averaged four runs or more per over, five runs per over or more in eight of them. Only England averaged five per over for a minimum score of 200 last year. All of them now feature in the top 10 quickest innings in the last decade. For one team to achieve all of this in just one calendar year is pretty special.
On the face of it, England have had this head start by adapting their robust T20 formula to the longest format. Rawalpindi, where they achieved one of their great wins last month, is a perfect example. On one of the flattest pitches ever that had in March produced a drab draw against Australia after only 14 wickets fell in five days, England stacked their side with T20 specialists like Harry Brook and Liam Livingstone. First day of the Test, they amassed 506/4. By the time England were all out for 657, five batters had a strike rate of over 100, Ben Stokes topping the charts with an 18-ball 41 (S/R 227.77) that put the Test out of Pakistan's reach.
When batters score so quickly, bowlers automatically get more time to dismiss sides twice. And that's a significant factor when pitches are unresponsive. Like in Rawalpindi, where England scored 921 runs in 136.5 overs across two innings. That's roughly five out of 15 sessions possible in a five-day Test, giving England 252 overs to bowl out Pakistan twice, the final wicket falling with minutes left for the scheduled end of the match.
England are now backing themselves to chase down hitherto insurmountable scores in the fourth innings. Against New Zealand, at Trent Bridge they chased 299 in 50 overs and at Leeds 296 in 54.2 overs. They repeated that feat against India in Birmingham (378 in 76.4 overs) to sound the first warnings before pushing the envelope in Pakistan, in Tests and in the shorter formats. They ultimately won the T20 World Cup in Australia last November, becoming the first side in history to hold both the white-ball world titles together.
With nine wins out of 10 since the Ashes debacle at the start of 2022, England—unlike many sides—are no longer holding back in Tests.
"We've no interest in draws. On pitches like this you have to make things happen, make some bold decisions," England skipper Stokes said after the Rawalpindi win. It may look like England are trying to take the pitch out of the equation but their approach is aggressive on a more holistic note—be it with more unconventional field placements or having batters like Joe Root try the reverse sweep now.
They are not conforming to norms any longer. Test cricket was the barometer for measuring the health of the game. But with England giving it a white-ball makeover, the onus is now on the other nations to catch up or be left behind.