India eye series win with new opening gambit
Jan 11, 2023 08:38 PM IST
Now that the most consistent ODI openers are finally paired, time to score a few hundreds.
Ishan Kishan scored a double hundred last month but as of now, Shubman Gill has been entrusted to open the batting with India captain Rohit Sharma. Guwahati was the first time they opened together. And it went rather well for India as they set up the base of a mammoth 373 with a 143-run partnership against Sri Lanka on Tuesday.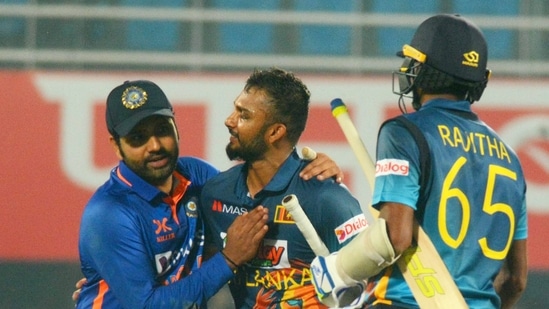 Since the last ODI World Cup in England, India have used nine batters as openers. Now that it is becoming clear Shikhar Dhawan is no longer in the scheme of things because of his declining strike rate (81.75 since 2019 WC), India are moving on with other contenders.
Numbers-wise, Sharma and Gill are the most consistent among them all, be it in strike rate (both are above 97) or average (Sharma returns 46 and Gill 64.22). But since they had never batted together before, Guwahati was like starting from scratch again. And the partnership ticked most of the boxes, not to forget the refreshingly high strike rate (Gill ended with 116.66 and Sharma 123.88) with which it was achieved.
What it missed out on though was a hundred from either of them. "I was definitely disappointed when I got out on 70 because I had done all the hard work to get going and get a big one for the team," Gill said after India's first ODI win on Tuesday.
Not scoring a hundred has emerged to be a concern for India in this World Cup cycle, with only four scored in 46 matches since the 2019 final at Lord's—two by Sharma and one each by KL Rahul and Kishan.
In comparison, the corresponding numbers in the 2015-19 World Cup cycle are staggering, with Sharma alone scoring 15 hundreds, Dhawan accounting for eight centuries while Rahul and Ajinkya Rahane scored one each in 86 matches overall. That ODIs weren't in focus after the 2019 World Cup can be gauged by the fact that India have played just 46 matches so far, the most among all countries. With T20s gaining more importance and precedence, there probably wasn't enough emphasis on making the opening stands count. And maybe that is reflected in India's numbers.
Still, India's hundreds from the openers are less than West Indies (11), Bangladesh (7), South Africa and Australia (six each) despite the rest playing fewer matches in the same period of time. When an opener gets to an ODI hundred these days, it almost seamlessly increases his chances of converting it into a double and sending the scoring rate through the roof as a result. Because no one else can hit the ball as cleanly as the well-settled opener already sitting on a hundred.
Had either Gill or Sharma converted their hundreds on Tuesday, India would have stood a better chance of crossing the 400-run mark, like they did against Bangladesh when Kishan scored a double hundred.
But this is a clean slate for India, with Gill given the mandate to be Sharma's opening partner. And while it may not have the flair of a left-right combination when Kishan is batting, Gill has the temperament to go the distance. And he clearly has the backing as well.
"It feels good when the team captain backs you," Gill said. "This was the conversation in the practice as well, that I will be playing. Rahul bhai (Dravid) also told me to just play my natural game... whatever I have been doing in the one-dayers, continue doing that."
Sharma and Gill have batted together before so the transition wasn't too difficult for them.
"I have batted with Rohit bhai before in Australia, mainly in the Tests. It is nice to bat with him. The conversation generally when we were in the middle is, which bowler to target? What are they trying to do? Where are they trying to block our runs? And accordingly we make our plans," he said.
That strike rates are an area of focus was apparent from the way Gill spoke about how they go about their business. "We are continuously checking areas and aspects where we can improve on. We are working on that. No batsman likes to play dot balls. But sometimes you have to see the game situation... if the game situation doesn't demand you to play too many high-scoring shots (like when) two wickets have gone down, as a batsman you (need to) have that confidence that I'm playing the dot balls but can cover up the runs later. But that is one area we are continuously trying to improve."
Kolkata is the next pit stop in this endeavour to improve as India seek an unassailable lead in the three-match series. Having played for Kolkata Knight Riders, Gill will feel at home at Eden Gardens. And the last time India and Sri Lanka played an ODI here, in 2014, Sharma hit a world-record 264. If India are looking to set the opening records straight, there is no better venue than Eden to do it.