India should not pay a single penny to Pakistan: Anurag Thakur
Sep 30, 2018 09:07 PM IST
Former BCCI presidents N Srinivasan and Anurag Thakur have refused to turn up as witnesses at the ICC disputes resolution committee hearing.
Former Board of Control for Cricket in India (BCCI) presidents N Srinivasan and Anurag Thakur have refused to attend the International Cricket Committee's hearing on Pakistan Cricket Board's $70 million (roughly R500 crore) claim for India twice refusing to play a bilateral series against their arch-rivals. The three-day hearing starts in Dubai on October 1.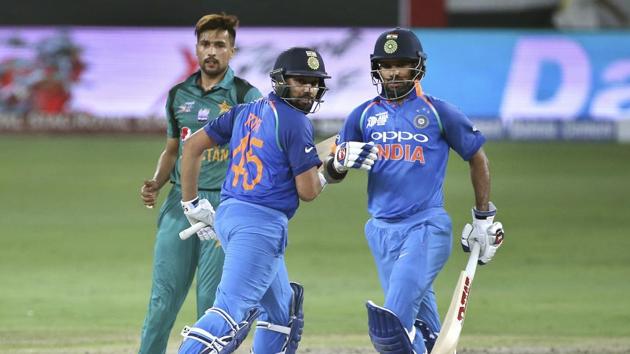 Both Srinivasan and Thakur were banished from Indian cricket administration during the two-year-long Supreme Court hearing on the RM Lodha committee's proposals that finally culminated in the apex court signing off on a new BCCI constitution on August 9, 2018.
BCCI has called up several witnesses to face the three-member ICC Disputes Resolution Committee that will be headed by English barrister Michael Beloff, who is also the chairman of the ICC Code of Conduct Commission. To be adjudicated under English laws, BCCI has hired UK-based international law firm Herbert Smith Freehills and sports disputes specialist Ian Mill to front the legal exchanges.
ALSO READ: Indore refuses to host Ind-WI ODI after CoA fails to address ticket issue
Among the witnesses are Srinivasan, Thakur and former BCCI secretary Sanjay Patel, who in 2014 had signed on a MoU that scheduled six India versus Pakistan (bilateral) series between 2015 and 2023 with PCB hosting the first series in 2015/16.
"India have done nothing wrong to appear in a judicial hearing and that too summoned by the ICC. India and Pakistan is a bilateral matter; what business has ICC to do with it? ICC cannot compel us to play and any pressure (on BCCI) can lead to an international crisis," said Thakur.
Saying "India should not pay a penny to Pakistan," Thakur, a BJP MP, said: "Let Pakistan stop terror and then we can think about playing cricket."
A former high-profile BCCI official, who didn't want to be quoted, said India were on a sticky wicket and "it was a poor decision to attend this hearing." He attacked the Committee of Administrators for agreeing to 'fight' Pakistan, who will be represented by British law firm Clifford Chance.
"If the BCCI was run by a set of office-bearers who had the experience of handling board room issues at the ICC, India would not have faced this situation. It's a white versus brown battle and it will be a massive loss of face if BCCI lost, and the signs are not good," he said.
Thakur said the ICC never constituted a disputes resolution panel when Australia refused to tour Bangladesh in October, 2015 citing security reasons. The Bangladesh tour was scrapped after Cricket Australia was warned by the Australian government about a potential security threat to Australians there. "How is India's position any different?" asked Thakur.
While Srinivasan will not attend the hearing, one of his closest allies, former IPL Chief Operating Officer Sundar Raman, will turn up as a witness. Former External Affairs Minister and senior Congress leader Salman Khurshid is also a witness.
Sundar, who is currently CEO – Sports of Reliance Industries Limited, was the brain behind ex-ICC president Srinivasan's 2014 financial model that gave the 'Big Three' -- India, Australia and England -- the lion's share of ICC's revenues and sweeping powers to pick a nation of choice for a bilateral series. This case is coming up in the ICC when an Indian, Shashank Manohar, is its chairman.