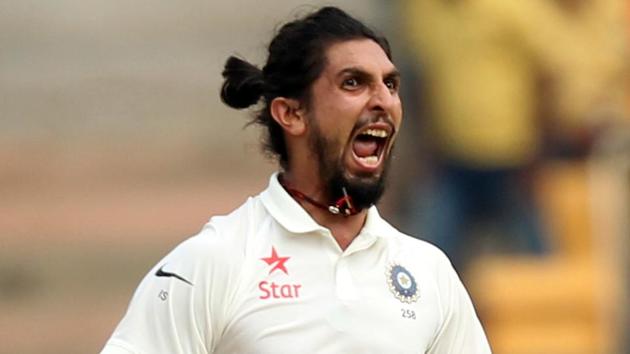 How Ishant Sharma and Steve Smith made 'monkey faces' at each other
India pacer Ishant Sharma had a packed Sunday crowd and Virat Kohli and Steve Smith in splits after making a monkey face at the visiting skipper Steve Smith.
Bangalore | By HT Correspondent
UPDATED ON MAR 05, 2017 10:09 PM IST
India pace bowler Ishant Sharma rolled over on the pitch, tumbling on his follow through as he put everything in his bid to find a breakthrough against Australia on Day 2 of the second Test at the M Chinnaswamy Stadium in Bangalore on Sunday. (LIVE BLOG)
However, he left everyone in splits after making a monkey face in his attempt to unsettle Australia skipper Steve Smith, who had arrived at the crease after Ravichandran Ashwin had dismissed opener David Warner.
Ishant beat Smith a few times, the ball keeping low on occasions. After one such delivery, the tall paceman shook his head vigorously. After another close shave for Smith off the next ball, Ishant made faces at Smith, leaving the batsman amused and Virat Kohli as well as thousands in the stands in splits. (LIVE SCORE)
Whenever India and Australia clash on the cricket field, sparks usually fly, and over a period of time that aggression has even more the tag line smart marketing people.
The cricketing relations between India and Australia touched a low in the 2007-8 series Down Under following the 'Monkeygate' row involving Harbhajan Singh. That was followed by Virat Kohli gesturing what he thought of the heckling crowd during the 2011-12 series and Australian opener David Warner's clashes with him on the field.
Considering that background, the current series between the sides led by Virat Kohli and Steve Smith, Test cricket's top two batsmen, has been rather subdued.
That calmness was mildly interrupted on Sunday morning, on Day 2 of the second Test at the M Chinnaswamy Stadium in Bangalore, after India off-spinner Ravichandran Ashwin got into a brief argument with Smith.
Ashwin seemed a bit frustrated before he brilliantly bowled Warner, threw a ball to wicketkeeper Wriddhiman Saha, which flew close to the batsman's face. After he had bowled Warner, Ashwin tried to push aside Matt Renshaw, the non-striker, why trying to field a drive from Smith on his follow through.
Though Renshaw didn't respond, Smith arrived at the non-striker's end and was seen having a chat with spinner. However, umpire Nigel Llong stepped in to separate the two before it turned into a major argument.
Virat Kohli then walked up to Smith and the two had a fairly long discussion before the Indian skipper walked away.
Australia consider sledging as part of what former skipper Steve Waugh called the tactics of 'mental disintegration' of the opponents. Before this series, Steve Smith said he won't hold back his players if any of them want to have a go at the Indian players during the four-Test series.
But both sides have been rather cautious. The visiting players, having won the first Test in Pune in three days, have been on their best behaviour.
But with pressure building up in the Bangalore Test, with India desperate to level the series and the Aussies keen to win again to retain the Border-Gavaskar Trophy, more sparks could fly.
Close