India vs Australia, 3rd Test Day 4 in Melbourne, Highlights: As It Happened
Dec 29, 2018 04:11 PM IST
Highlights: Pat Cummins and Nathan Lyon have kept the Indian bowlers at bay and the match will now be completed in the final day of the Test. India need two wickets to win while Australia need 141 more. Moreover, rain is also predicted on Sunday at the venue. (Full scorecard) Follow India-Australia highlights:
13:00 hrs IST
Stumps!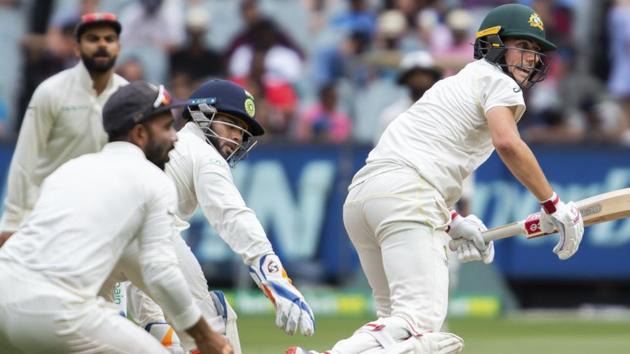 That's it folks, Pat Cummins and Nathan Lyon have kept the Indian bowlers at bay and the match will now be completed in the final day of the Test. India need two wickets to win while Australia need 141 more. Moreover, rain is also predicted on Sunday at the venue. Let's see which way this fascinating match moves towards in the final day of the Test.
12:50 hrs IST
Stat attack
This is Cummins' second half-century of his career and he has scored both of them this year itself.·Cummins now has two 50+ scores by a tail-ender (batting position 8 to 11) which is also the joint 2nd highest along with Tim Southee this year
12:45 hrs IST
Two glorious drives from Cummins
Pat Cummins is now celebrating his fifty by hitting some glorious shots off the bowling of Ishant Sharma. First, he played a cover drive to bring up his first four of the over. And then, he hits the perfect straight drive for a boundary. Sunil Gavaskar after that shot: "Virat Kohli would have been proud of that shot"
12:40 hrs IST
Half-century for Cummins
This has been a great innings from Cummins as he completes his half-century off 86 deliveries. He has been one of the big reasons why India have not won the match so far. After putting on a great batting effort with the ball, Cummins is now doing well with the bat as well.
12:35 hrs IST
Second new ball taken
India have opted to take the second new ball and Jasprit Bumrah will bowl the first over with it. India will hope that the second cherry help them win the match today itself.
12:29 hrs IST
Lyon giving Cummins able support
The two batsmen have put 15 runs off 44 deliveries but more importantly, the duo have played 100 balls thus far. Cummins has been batting really well while Lyon has been simply defending the ball. A great battle going on in the middle.
12:23 hrs IST
Bonus overs
India have opted to take the extra half an hour and we will now have eight more overs in the day to dismiss the final two Aussie batsmen. The new ball will be due shortly for the Indian team as well.
12:16 hrs IST
Frustrating times for India
So near yet to far — this age-old adage fits perfectly to the visitors at the moment as they can see the win on the horizon but they are not able to reach it. Cummins and Lyon are keeping them at bay.
12:10 hrs IST
India's fight against time
Only three designated overs remain in the day but the match will go on at least till 12:30 which is the official end time of the day. But the match can be stretched till 1 pm. It depends on the officials.
12:02 hrs IST
Cummins fighting lone battle for AUS
Pat Cummins continues to defy the Indian bowlers as his partners are changing on the other end. Meanwhile, things are getting darker by the minute at the venue as lights are turned on. It will be interesting to see what happens when the designated overs are done in the day. Will umpires allow India to bowl for an extra half an hour?
11:54 hrs IST
Shami strikes
Mohammed Shami has broken this partnership as he gets rid of Mitchell Starc for 18. Starc completely missed the ball and it crashed into his stumps. India two wickets away from win now.
11:51 hrs IST
Another boundary, crowd getting involved now
Shami now produces an edge off Starc but it flies for a boundary past the gully fielder. The crowd is now starting to cheer every Aussie run as Indian players are starting to get frustrated by this partnership with every passing over.
11:45 hrs IST
Bowling change
Mohammed Shami is making things happen in his over after replacing Jasprit Bumrah into the attack. Coming from around the wicket, Shami first took produced an edge off Starc and the ball just evaded Vihari at forwards short leg. And then, Cummins slashed hard and the ball went between Kohli and Rahane in the slip for a boundary.
11:38 hrs IST
Australia cross 200
Cummins is on fire at the moment as he hits a six and a four in a span of just two overs. Cummins hit Jadeja for a huge six down the ground and then in the next over, he cut the ball past the point fielder for a boundary. Australia cross 200-run mark now.
11:32 hrs IST
Half-chance
Starc hit a boundary on the up towards long on against Bumrah on the first ball of the over. Bumrah then banged the ball short and it took an edge and almost reached the fielder at forward short leg. Starc survives a brutal delivery from Bumrah.
11:25 hrs IST
Cummins the crucial batsman for Aus
The hosts will be looking to delay the inevitable and at the heart of it will be Pat Cummins now. Mitchell Starc can hit the ball but one cannot put money on him keeping the Indian bowlers at bay. Cummins' wicket will certainly boost India's chances of a win today itself.
11:19 hrs IST
Stat attack
Australian skipper departs for 26 (67). 5th caught dismissal for him in this series, out of which 4 times Rishabh Pant has taken his catch. 1st time dismissed by a spinner in this series, also the first time in his last 7 innings. The Aussie skipper now has failed to score a 50+ score in his last 8 innings. 3rd wicket for Jadeja in this innings
11:12 hrs IST
Jadeja strikes, Paine departs
Ravindra Jadeja has done the trick for the visitors as he gets rid of Tim Paine. The ball takes a faint edge off the bat of Paine and wicket-keeper Pant takes a good catch. The hosts are seven down now and India are inching close to win.
11:03 hrs IST
Part-time spinner keeping things tight
Hanuma Vihari is doing a good job with the ball at the moment as he is keeping things simple. The good thing about Vihari's bowling is that it helps Kohli give Jadeja some rest. A spinner is needed on this track to pile on the pressure and Vihari has already shown in the series that he can bowl.
10:55 hrs IST
Bumrah returns into the attack
Skipper Virat Kohli has handed the ball to his premier pacer Jasprit Bumrah as the visitors look to break this budding partnership between Cummins and Paine. The two Australian batters are playing sensible cricket at the moment and Indian bowlers need to be patient.
10:49 hrs IST
Paine holding one end
Skipper Tim Paine is providing good resistance and is holding the innings from one end. He has played 45 deliveries so far and scored 17 runs. But more importantly, he is not throwing away his wicket by coming under the scoreboard pressure.
10:42 hrs IST
Stat attack
Back to back bowled dismissal for Travis Head in Test cricket.This was the 3rd highest balls faced by Travis Head in his 10 innings in Tests. Third time Ishant Sharma has taken Travis Head's wicket. Ishant Sharma now has taken at least 1 wicket in his last 6 innings
10:36 hrs IST
Cummins can bat!
Pat Cummins has shown multiple times in the series that he can bat. In the first Test, he was one of the tail-ender who frustrated the Indian bowlers. He can do the same today and can build a good partnership with skipper Paine.
10:30 hrs IST
Breakthrough for India
Ishant Sharma has managed to provide the breakthrough for India as he gets rid of Travis Head for 34. The ball takes an inside edge and crashes into his stumps. India get their sixth wicket of the day and they are inching close to a win now.
10:22 hrs IST
Aus building a partnership
Travis Head and Tim Paine have put together 20 runs so far but more importantly, they are holding their own against the in-form Indian bowlers. It will be interesting to see for how long these two can keep the bowlers at bay. So far so good for the hosts.
10:15 hrs IST
Two edges and two boundaries
Mohammed Shami managed to produce egde of the bat of Paine on two occasion in one over but twice the ball went past the slip fielders for boundaries. Frustrating for the visitors as Shami bowled a good over but conceded two boundaries.
10:10 hrs IST
Jadeja bowling well
India have used spinner Ravindra Jadeja well and he has kept things tight from one end. Jadeja now bowls his third maiden over of the innings to Travis Head. The all-rounder has scalped two wickets so far and India will hope he manages to break this partnership between Head and Paine soon.
10:05 hrs IST
Boundary to start proceedings
A loosener from Shami to start the final session of the day and Paine flicks it for a boundary towards fine leg. India are five wickets away from a famous win and will look to pile on the pressure in the third session of the day.
9:42 hrs IST
Tea
India's session. Australia have fought hard, but India kept chipping away at the wickets and have Australia half down. The battle will resume post tea. It might well be over today!
Stay tuned...
9:34 hrs IST
Pant goes after Paine
Boy this is intense stuff from Pant. After the Hobart jibe, Pant has copped an earful from Rishabh Pant.
"We have got a special guest today. Have you ever heard the word 'temporary captain?' You don't need anything to get him out."
9:30 hrs IST
Oh dear, Mitch
Very soft dismissal. That big front foot stride, smacks Jadeja but finds Kohli perfectly at cover. Australia lose half their side. India rocking along. 10 minutes to go for Tea.
9:24 hrs IST
Pant shells one
Jadeja was brought back into the attack, gets the outside edge and Rishabh Pant grasses it behind. Head's lucky day continues. Mitchell Marsh then slogs one deep into the stands
9:20 hrs IST
Keeping his Head
Good ball from Shami, angled in, Head tries to drive, inside edge and then the pads save him. He has been quite positive today and needs this element of luck
9:09 hrs IST
Bumrah is right on top
Bumrah goes past Kapil Dev and Ajit Agarkar to the top of that table for best match figures for Indian quicks in Australia. He still has fuel left in his tank
8:59 hrs IST
Bumrah strikes
That man again. Jasprit Bumrah angles the ball in, Shaun Marsh misses with his flick, hits the pads and the umpire says Yep. Review taken, but to no avail. India get the prized scalp
8:52 hrs IST
Marsh looking solid
He is the big wicket for India and he is looking extremely solid at the moment. Absolute delightful batting against seam and Ravindra Jadeja. Languid drives, these are so aesthetic to watch
8:42 hrs IST
Drinks
Bumrah has looked the most threatening bowler today. The conditions are gloomy, but the ball is old and soft and as such, there is not enough bite. Imperative that Marsh and Head stick it out till Tea. India will keep coming at them all day
8:24 hrs IST
Marsh is the big wicket for India
Shaun Marsh has played 11% false shots in this Test - only Haunma Vihari and Ajinkya Rahane have edged or missed a lower proportion of the balls they've faced. #AUSvIND

— The Cricket Prof. (@CricProf) December 29, 2018
8:22 hrs IST
Marsh wants to attack Jadeja
Neither Kohli, nor Jadeja will be too unhappy with this approach. This one is too risky, taking the ball out of the rough. Head has started well at the other end, Jadeja is leaking runs
8:14 hrs IST
Shami strikes
What a peach from Shami. Pitches on a length and seams away to hit Khawaja on the pads. He is gone, takes the review with him
7:58 hrs IST
Very positive from the batsmen
There seems to be a concerted effort to put pressure on the bowlers and so far, the batsmen have been successful. This positive approach can be very discouraging for the bowlers
7:50 hrs IST
Mayank cops one in the neck
Mayank Agarwal is heading off the field with the physio after being struck in the neck at bat-pad. KL Rahul replaces him
7:46 hrs IST
Rollicking start
3 boundaries in the very first over. Australia have come out all guns blazing. This promises to be really entertaining. Kohli and India cannot afford to get impatient
7:43 hrs IST
Yes, we are back
After the brief scare, we are back after Lunch. Shami angles on into Marsh and it has been clipped past Pant for a boundary to get things rolling in this session
7:37 hrs IST
It has started to rain
Music for Australia, worry for India as the covers have made their way to the centre at the MCG. Well, well...
7:03 hrs IST
Lunch
Aussies two wickets down and 355 more runs to get
Khawaja 26* and SMarsh 2*: and fighting hard. India look to be in command
6:47 hrs IST
Jadeja explodes
Jadeja fires on into the rough, Harris pokes, edges it to Mayank Agarwal who takes a sharp catch at short leg. This is going to be tough for the lefties
6:34 hrs IST
Review wasted
Khawaja was down the track, Jadeja shortened his length , he thrust his pad and the ball lobbed to Rahane at slip. Umpire Gould says not out, Kohli sends it upstairs. No bat involved at all and India lose their review very early.
6:31 hrs IST
Jadeja introduced
There is a significant patch of rough outside the left-hander's off-stump and it will pose problems. Khawaja is down and he has whacked the first ball over mid off. He wants to play a stroke every ball it seems
6:24 hrs IST
The struggles of Finch
Aaron Finch struggles hugely against the seaming ball. He averages just 11.50 against deliveries moving more than 0.75° off the pitch. Given that in Australia, 32% of balls move that much, it's a failing that could be fatal to his chances of succeeding as a Test opener. #AUSvIND

— The Cricket Prof. (@CricProf) December 29, 2018
6:20 hrs IST
Harris looking positive
The left-hander has looked good all series, he needs to convert a start into something substantial. India will keep coming at him all day today
6:11 hrs IST
Bumrah, the man
Length ball on off, it was rising too, Finch just guides it to second slip, Kohli accepts the catch with glee. India off and running. Nightmare for the hosts
6:03 hrs IST
All set for the chase
The openers are out. Ishant ready with the new nut. It is gloomy, umpires yelp play. Good shape from the first ball. The beauty of Test cricket
5:59 hrs IST
Optimism creeping in
India declares. 398 ahead. Overcast. But dry. We can still entertain the thoughts of a 4-day Test 😊🙌 #AusvInd #7cricket @7Cricket @1116sen

— Aakash Chopra (@cricketaakash) December 29, 2018
5:56 hrs IST
Pant departs, Kohli declares
Six and out. Pant tries a funky stroke and feathers it to Paine. Kohli has seen enough, he calls his boys in. Australia need 399, India need 10 wickets. How will the weather behave?
What a day in store for us!
5:48 hrs IST
Cummins refuses to go away
Another banged in ball, rises up steeply, Jadeja fends, takes the glove through to gully. 6th wicket for him. He has been relentless, the big quick from New South Wales. India's lead creeping towards 400
5:36 hrs IST
Memorable debut for Mayank
With scores of 76 & 42 Mayank Agarwal missed becoming the third Indian batsman after Dilawar Hussain in 1934 and Sunil Gavaskar in 1971 to register two fifties in debut Test match!#AusvInd#AusvsInd

— Mohandas Menon (@mohanstatsman) December 29, 2018
5:26 hrs IST
Bowled him
Full ball, Mayank was on the backfoot, the ball did not bounce, takes the inside edge and then dislodges the stumps. Not a good sign for the batsmen, great if you are the bowler
Well deserved 5-wicket haul for Pat Cummins
5:22 hrs IST
Vagaries of the pitch
Cummins beats everything with one that nips in a fair way off the pitch.

Chasing is not going to be much fun at all.

📺 Watch LIVE on Fox Cricket & 📰 join our match centre: https://t.co/1X1BKu1snw #AUSvIND pic.twitter.com/z2YPH1Ifit

— Fox Cricket (@FoxCricket) December 28, 2018
5:20 hrs IST
Mayank is on the move
2 sixes hit and Nathan Lyon is already bowling flat and fast. Mayank wants to take on Cummins as well. And the pitch is doing all sorts, the ball hitting the cracks and going bonkers. Declare Kohli.....
5:07 hrs IST
Cummins is on the money
He was on fire yesterday and has already started the day bang on the spot. India are watchful at the moment, they need to go after the bowlers. The forecast is not entirely good
5:00 hrs IST
Nathan Lyon begins
Tossed up ball, driven down to mid on by Mayank. India get rolling. There is the threat of rain, how will India approach this?
4:36 hrs IST
Was Kohli right in not enforcing the follow on?
With a 292-run first innings advantage, India skipper Virat Kohli could have enforced the follow-on but instead opted to turn the screws and add to the imposing total. Former Australia skipper Alan Border was quite surprised by Kohli's decision to not enforce the follow-on and he said that 'they could have had the game just about done today'.
4:19 hrs IST
Clap, clap
And the covers are off again! What an absolute roller coaster! #AUSvIND pic.twitter.com/LOZU1T7hJQ

— cricket.com.au (@cricketcomau) December 28, 2018
4:06 hrs IST
Ooops... the covers are back on
Spoke too soon ... covers are back on 🤦‍♂️ #AUSvIND pic.twitter.com/IOfJedPlJ4

— cricket.com.au (@cricketcomau) December 28, 2018
3:59 hrs IST
Kohli missed out on a number of records
Virat Kohli has been a force to be reckoned with in 2018 but the India skipper's year came to an anticlimatic end when was dismissed by Pat Cummins for a duck on Day 3 of the third Test match against Australia in Melbourne.
These are the number of records he missed out on.
3:49 hrs IST
Weather update
Melbourne received early showers today, but the covers are being dragged off which is great news for India.
A few showers very early this morning but the rain has stopped and the covers are coming off #AUSvIND 🤞 pic.twitter.com/tjselyftB6

— cricket.com.au (@cricketcomau) December 28, 2018
"Exciting news! Hindustan Times is now on WhatsApp Channels
Subscribe today by clicking the link and stay updated with the latest news!"
Click here!
Catch all the Latest
World Cup
news and
Live score
along with
World Cup Schedule
and
Asian Games 2023
related updates on Hindustan Times Website and APPs