India vs New Zealand, ICC World Cup 2019, Semi-Final Highlights: Play to resume on reserve day due to rain interruption
Ind vs NZ Highlights: Rain stopped play in Manchester after New Zealand reached 211/5 in 46.1 overs. Ross Taylor and Kane Williamson slammed fifties for New Zealand after they came under pressure from a top-quality Indian bowling attack. All five Indian bowlers scalped one wicket each before rain came down heavily at Old Trafford. Match will resume tomorrow on the exact place where it ended due to rain.
India vs New ZealandHighlights: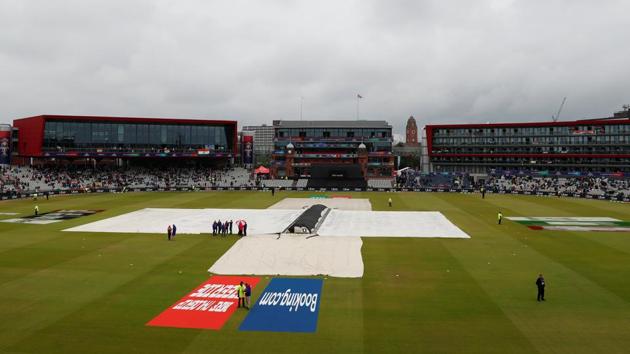 Updated on Jul 09, 2019 11:16 PM IST
23:12 hrs IST
Ticket Details
Fans with tickets for today can attend tomorrow's game on the same ticket.#CWC19

— BCCI (@BCCI) July 9, 2019
23:00 hrs IST
Play abandoned
The match is abandoned for today and the play will resume tomorrow. It was a long wait for the cricket fans but it was not possible to get any more action today. We have to wait for tomorrow now and New Zealand will start the innings from the place where they ended today.
22:42 hrs IST
Decision Time
The umpires are out in the middle and we will shortly be informed about whether there will be any more play today or not.
22:18 hrs IST
Final Inspection
The final inspection is stated for 10:40 IST and that will decide the fate of today's game. The rain is still there but the grounds staff is working on the pitch and the outfield.
21:09 hrs IST
Losing Overs
The deduction of overs have started and we will be losing one over every four minutes. The cut off time for the match to begin in roughly 23:00 IST but it can be extended by an hour if ICC believes that the situation is under control. However, right now, the chances are looking quite slim.
21:03 hrs IST
Rain update
The weather gods have relented and rain has slowed down a bit. However, till the time it doesn't stop to rain completely, the ground staff cannot begin their work. And even if they start their work, it seems they will take a bit of time to ready the ground for the match.
20:50 hrs IST
Rain update
It seems that rain has gotten a bit heavier in the last few minutes and we will start to lose overs pretty soon. We still haven't got an official word from the venue regarding it but will let you know once we do.
20:39 hrs IST
Rain update
The official broadcaster confirms that it is still raining at the venue. Although it has slowed down and has converted into a drizzle the condition of the outfield will hold the key. We will start to lose overs after 9:00 PM. Fingers crossed folks!
20:25 hrs IST
Washout scenario
If the match is washed out today, it will be continued tomorrow. If it is washed out tomorrow as well then India will progress courtesy of being table toppers.
🔷 🇮🇳 need to bat at least 20 overs for a result
🔷 If possible, a result will be reached today
🔷 If not, the game will continue tomorrow
🔷 If still no result is possible, 🇮🇳 will progress to the #CWC19 final, as group winners#INDvNZhttps://t.co/Xim0zBSCug

— Cricket World Cup (@cricketworldcup) July 9, 2019
20:12 hrs IST
Rain update
It appears that rain has slowed down in Manchester and the ground-staff are working hard to get the pitch ready for the match to restart. Despite the rain slowing down, we are still some distance away before we will see the players out in the middle again.
19:57 hrs IST
Rain memes!
Till the time rain is playing spoilsport, here are some best Tweets that will bring about a smile on your face -
#INDvNZ
Everytime #INDvNZ happens
Rain- pic.twitter.com/GkiDbIY4Zj

— Priyankarawat (@Priyank62435140) July 9, 2019
#INDvNZ
Indian Fans right now👇👇 pic.twitter.com/wczlWyfrK8

— Jagrat Agrawal (@JagratAgrawal1) July 9, 2019
Nobody's a fan of this bits and pieces rainfall!#INDvNZ #CWC19 #OrangeArmy #RiseWithUs pic.twitter.com/xngJVBMVBg

— SunRisers Hyderabad (@SunRisers) July 9, 2019
19:45 hrs IST
Super soppers at work
It is still raining down heavily at the venue and the ground staff are working double time to keep things dry. Super soppers are trying to keep water from logging on the covers. We will have an official word from the venue regarding the scenarios only after the rain stops.
19:30 hrs IST
Rain update
There is nothing to report from the venue as it is still raining and the pitch is still covered. There is still some time before we will start to lose overs but things aren't looking good at the moment.
19:14 hrs IST
Latest update
It seems that rain has picked up intensity at the venue and things aren't looking good at the moment. In case New Zealand doesn't get to bat today, here are the scenarios -
In case New Zealand doesn't bat again, India's target in
46 overs will be 237
40 overs will be 223
35 overs will be 209
30 overs will be 192
25 overs will be 172
20 overs will be 148#IndvNZ #NZvInd#CWC19 #CWC2019

— Mohandas Menon (@mohanstatsman) July 9, 2019
19:01 hrs IST
Rain update
The entire wickets has been covered at the moment and although it isn't raining heavily, it is still enough to make a mess of the wicket. The officials will try their best to complete the match today itself but if rain doesn't allow that, then the match will be continued tomorrow.
18:49 hrs IST
What happens in case of a washout?
If play is not possible due to rain today then ICC has reserved Wednesday for the match to resume. The match will restart from the exact same position if rain continues to play spoilsport today. If there is a washout tomorrow also then India will go through to the final as they were the higher ranked team during the round robin stage.
18:35 hrs IST
Rain stops play!
The players have made their way back into their respective dressing rooms as the match has been halted due to rain. New Zealand have put on 211/5 in 46.1 overs and they have 23 balls to get closer to the 250-run mark. The pitch has been covered entirely by the ground staff for the moment.
18:29 hrs IST
Comedy of errors
India should have conceded one run but they ended up giving away three. Yuzvendra Chahal threw the ball from the third man region after Ross Taylor had nudged the ball in that direction. MS Dhoni couldn't stop the ball and the batsmen went for the double. Then Virat Kohli had a shy after stopping the ball at mid-off and there was no one to back up and the batsmen scampered for one more. Seven runs from that Bumrah over.
18:22 hrs IST
Bhuvi strikes
OUT! A soft dismissal for Grandhomme. It was slower delivery from Bhuvneshwar, Grandhomme tried to nudge it down to thrid man but only manages to glove to Dhoni, behind the stumps, who takes the catch without any discomfort. New Zealand 5 down.
18:18 hrs IST
DRS to the rescue
DRS saves Ross Taylor. The Impact is outside off and he survives. Did not see that coming. He was actually walking off after looking at the first few replays but then had to come back. This is very full around off. Taylor looks to sweep the pacer but misses to get hit on the pads. An appeal and the umpire raises the finger. Taylor reviews after a chat with Colin. Replays roll in and they the on-field call has to be overturned.
18:16 hrs IST
18 runs
Biggest over in the New Zealand innings. Yuzvendra Chahal has been taken apart in the last over of his spell. Is this the over that will swing the momentum towards New Zealand?
18:14 hrs IST
Fifty for Taylor
SIX! What a way to get to your 50th ODI half-century. But it perhaps is Ross Taylor's toughest fifty so far. He has really struggled to get going but perhaps this six will get him going.
18:11 hrs IST
Grandhomme gets a boundary
FOUR! Brilliant from Grandhomme. Not the greatest of deliveries from Pandya, especially with a very fine third-man but credit to Grandhomme, he just dabbed it and found the gap to perfection. He's the only New Zealander in to get to double figures at better than a run-a-ball
18:05 hrs IST
Pandya gets Neesham
OUT! Jimmy Neesham departs. The slow nature of the wicket has done Neesham in. He looks to whip it over the leg side. But plays it early and ends up mistiming it towards wide long. Karthik takes a good catch running to his left. So just as Neesham looked to step on the gas, he departs.
18:01 hrs IST
Neesham breaks free
FOUR! New Zealand desperately needed that and Jimmy Neesham finally provides it. Not the ideal shot though but he will take it. Shorter in length again and on the body. Neesham drags it through backward square leg and the ball races away to the fence.
17:56 hrs IST
Brilliant Bumrah
You can't just get Bumrah away. He is just brilliant with his variation and what makes him even more dangerous is is accuracy. 4 runs from 40th over. This is getting more and more difficult for New Zealand
17:48 hrs IST
Rohit drops Neesham
In the air...and DROPPED! Rohit Sharma won't be happy with that. Tough chance though. Back of a length ball around off, the ball sticks on the pitch while it comes onto Jimmy. He top edges his pull and it falls to the right and behind of short mid-wicket. Rohit runs and stretches on that side. He gets his finger tips on it but cannot do anything else. Single taken.
17:46 hrs IST
Scratchy Taylor
It has been a real struggle for Ross Taylor. He just hasn't found the middle of the bat. 31 off 60 when you have 7 wickets in hand and only 12 overs remaining, is juts not good enough. But credit must be given to the Indian bowlers, the spinners in particular.
17:36 hrs IST
Williamson falls
OUT! Huge moment in the game, Kane Williamson falls for 67, Yuzvendra Chahal provides the breakthrough for India. He bowls it slower through the air around off, Williamson was looking to go after this one and rightfully so as New Zealand need to put the foot on the gas. Kane looks to loft his drive through the off side but gets a thick outside edge on it. The ball lobs up and goes straight to Jadeja at backward point.
Jimmy Neesham comes in at No. 5
17:30 hrs IST
Excruciating batting
The game plan from New Zealand is making no sense at the moment. Kane Williamson and Ross Taylor are two well set batsmen but they are showing no intent to accelerate the run rate and if they don't start soon, 250 or more is looking quite unlikely. NZ 128/2 after 34.2 overs.
17:22 hrs IST
Partnership Stats
50 partnership between Williamson/Taylor
The 30th 50+run partnership between the pair in ODIs
The 5th 50+ partnership for the 3rd wicket in this WC for NZ
17:16 hrs IST
Edged and just short
Jasprit Bumrah comes back into the attack and almost immediately gives India the breakthrough. Did that carry to MS Dhoni? It did look like it fell inches short from Dhoni's gloves but it was very close. Bumrah bowls a leg cutter, Taylor doesn't pick it, gets an outside edge and it falls short from Dhoni. But what a bowler this Bumrah is.
17:09 hrs IST
Some Williamson stas
Kane Williamson's 39th fifty in ODIs
His 8th fifty vs India in ODIs
His 4th 50+ score in this WC
Only the 2nd time a NZ captain has scored a 50+ knock against India in WC Glenn Turner scored a 114* in 1975
17:06 hrs IST
Fifty for Williamson
There's the half-century for Williamson. A typical innings from the New Zealand captain, no risk, no flamboyance but all class. But he needs to give this innings a lift here, India have kept the run rate under control.
17:02 hrs IST
Two boundaries
2 boundaries coming from Chahal's 6th over. Good one from the New Zealand perspective. Both Williamson and Taylor found the boundary and New Zealand needed that, they are in desperate need of a move on.
16:58 hrs IST
Pandya gets through an over
Hardik Pandya starts his second spell and gingerly gets through his 5th over. He did not look comfortable at all but it looks like he will be able to complete his 10 overs, huge relief for Virat Kohli and India.
16:53 hrs IST
Brillant from Chahal
This is stunning from Yuzvendra Chahal. He started his spell by conceding 5 wides but since then have given nothing away. He has made the ball turn and kept Ross Taylor honest.
16:44 hrs IST
Pandya back
Good news for India, Hardik Pandya is back on the field but he doesn't look a 100%. Virat Kohli would be hoping, he can somehow get through his remaining 6 overs and don't forget, if New Zealand get a decent score then India will Pandya the batsman too.
16:39 hrs IST
Good period for India
The ball is turning, Jadeja and Chahal have found their rhythm, it's a good period for India. You get a feeling Williamson is the key here. If India get him early, then it will be difficult for New Zealand's middle-order to cope with Chahal and Jadeja.
16:29 hrs IST
Jadeja strikes
BOWLED! Straight through the defences of Henry Nicholls, Ravindra Jadeja strikes and India get their second wicket. Nothing special about that ball, Nicholls just missed the line and it somehow snuck through between his bat and pad and clipped the top off the stumps.
16:26 hrs IST
Chahal gives 8 runs in his first over
8 runs from Chahal's first over, a very good one from the New Zealand point of view. Chahal won't be happy with his first ball which resulted in 5 wides.
16:17 hrs IST
Injury concern for Pandya
Only 2 runs from Hardik Pandya's over and that too from wides but that's none of India's concerns now. Pandya was really struggling with his left hamstring, he somehow managed to complete his over and then walked off the field. This could be a huge moment in the game. India are playing only 5 bowlers and Pandya is one of them.
16:07 hrs IST
50 up for New Zealand
50-run partnership between Nicholls/Williamson
Only the 2nd 50-run partnership for the 2nd wicket for New Zealand in this World Cup
After 5 ODI innings against India has the 2nd wicket New Zealand pair put up atleast 50 runs stand
16:00 hrs IST
5 from Jadeja's 2nd
This is good batting from both Williamson and Nicholls. They have not allowed Jadeja to settle into a good rhythm. After taking 7 from his first over they have now milked him for 5 in his second over. New Zealand 44/1 after 13.
15:55 hrs IST
Jadeja into the attack
The spinner has been on the money right from ball 1, Nicholls has decided to sweep him from ball one. Williamson is looking as solid as ever. This will be a crucial phase for both sides, this is where this game will be decided.
15:35 hrs IST
Solid Kane
After the struggles of Martin Guptill, Kane Williamson has looked far more settled. New Zealand, however, have not been able to break the shackles, Indian bowlers are bossing proceedings right now. There are absolutely no freebies on offer at all.
15:18 hrs IST
Boom...BUMRAH
What an absolute peach. Length ball angled in, the ball seams away, Guptill prods forward, ball takes the outside edge and captain Kohli gobbles it up in second slip. What a start by India, Bumrah has been absolutely brilliant, he has been relentless and it is some catch by the skipper.
15:10 hrs IST
Brilliant start by India
Two maidens on the bounce, there are no freebies on offer. New Zealand are jittery, the Indian seamers are confident and up and running quickly off the blocks
15:07 hrs IST
Bumrah from the other end
And he is on the money right away, length ball angled away, Nicholls shoulders arms, and the next ball he pokes at it and is beaten. Bumrah is right on the money
15:03 hrs IST
Guptill survives scare
What a ball to get started. Length ball angled in, traps Guptill right in front. Huge appeal, the crowd erupts too, umpire is unmoved and after a long long deliberation, Kohli refers it. Well, the ball is missing the stumps and India have lost their review off the very first ball.
14:37 hrs IST
India playing XI
Lokesh Rahul, Rohit Sharma, Virat Kohli(c), Rishabh Pant, MS Dhoni(w), Dinesh Karthik, Hardik Pandya, Ravindra Jadeja, Bhuvneshwar Kumar, Yuzvendra Chahal, Jasprit Bumrah
14:36 hrs IST
Playing XIs
New Zealand (Playing XI): Martin Guptill, Henry Nicholls, Kane Williamson(c), Ross Taylor, Tom Latham(w), James Neesham, Colin de Grandhomme, Mitchell Santner, Lockie Ferguson, Matt Henry, Trent Boult
14:35 hrs IST
Kohli speaks
It's going to remain similar throughout the course of the game. We've played really good cricket in Manchester, two good games, and it's about focussing on the basics. We need to remember why we are in the semis. Chahal comes back in for Kuldeep Yadav.
14:34 hrs IST
Toss updates
Kane Williamson has called correctly, New Zealand will bat first.
Kane Williamson: We're going to have a bat. It looks like a good surface. We have played a number of games here. A toss-up with the overheads, but it'll be around all day, so we need to get the job first up. We are used to the routine, but we have a great opportunity to put up a good performance against a side like India. Ferguson comes in for Southee.
14:28 hrs IST
Gloomy
Lights on... #cwc19 #indvnz pic.twitter.com/KmQRCO1kac

— Innocent Bystander (@InnoBystander) July 9, 2019
14:25 hrs IST
Pitch and conditions report
Even though it's overcast, the wicket looks dry. It's fresh, and it's definitely a bat-first wicket. Semi-final, there will be a lot of scoreboard pressure. Perhaps India might try Jadeja for batting depth. Jadhav has got Williamson and Taylor out before, so he might pip Karthik into the Playing XI: says VVS Laxman.
14:19 hrs IST
Forecast
Weather at Old Trafford, Manchester
Cloudy and light rain expected periodically
Chances of rain
11:00 am - 50%
3:00 pm - 90%
4:00 pm - 80%
5:00 pm - 70%
6:00 pm - 10%#IndvNZ #NZvInd#CWC19 #CWC2019https://t.co/cq9rAQcITJ

— Mohandas Menon (@mohanstatsman) July 9, 2019
14:06 hrs IST
What if the match is washed out today?
If the weather forces the game to be washed out, it will recommence the following day from where it was stopped. The result of the toss, too, will be taken forward even if not a single ball is bowled.
13:56 hrs IST
Ready to go
Good Morning from Old Trafford 👋👋#TeamIndia #CWC19 pic.twitter.com/Xgc6QiuEnN

— BCCI (@BCCI) July 9, 2019
13:47 hrs IST
Here's how the pitch looks like
Canvas for the big game.

Win the toss and ? #TeamIndia #CWC19 pic.twitter.com/uiZUQT29yF

— BCCI (@BCCI) July 9, 2019
13:42 hrs IST
So far so good
The weather has cleared out and it looks like there won't be any problems to start the game on time. There are chances of rain again in the evening but nothing much to worry as it might just be a passing shower
13:34 hrs IST
Predicted XIs
India: Rohit Sharma, KL Rahul, Virat Kohli, Rishabh Pant, MS Dhoni, Hardik Pandya, Ravindra Jadeja, Kuldeep Yadav, Mohammed Shami, Yuzvendra Chahal, Jasprit Bumrah
New Zealand: Martin Guptill, Colin Munro, Kane Williamson, Ross Taylor, Tom Latham, James Neesham, Colin de Grandhomme, Mitchell Santner, Matt Henry, Lockie Ferguson, Trent Boult
13:24 hrs IST
Team India on their way
Virat Kohli and Co are making their way to the stadium from the hotel now. The official broadcasters just showed the footage of the players boarding the bus amid huge fan fare. The players also acknowledged the support of the fans who were standing outside the team hotel.
13:14 hrs IST
MS Dhoni vs Mitchell Santner
MS Dhoni has scored 223 runs in 8 matches with one half century but his strike rate has been the subject of a lot of criticism among fans and experts alike. However, the team and skipper Virat Kohli has defended him time and time again with the semifinal providing him with the perfect opportunity to silence his critics with a brilliant innings. However, against the off-spinner Santner, he has not been able to run quickly. In the 95 balls Dhoni has faced against Santner, he has scored just 54 runs with a strike rate of 56.84 and he will be looking to improve that statistic.
13:05 hrs IST
Ross Taylor vs Mohammed Shami
Ross Taylor has been a mainstay in the New Zealand middle order for quite some time now and although he has scored just two fifties in the tournament, he was part of a number of significant partnerships with skipper Kane Williamson. With the opening partnership not working that well for the Kiwis, a lot of responsibility is on his shoulders and he is the one who is tasked with steadying the innings in middle overs. But, with Mohammed Shami in the form that he is enjoying, it is much easier said than done. With 14 wickets from 4 matches, he has established himself as a credible threat and on Tuesday, he will once again be looking to strike early for Team India.
12:55 hrs IST
Virat Kohli vs Lockie Ferguson
Kohli may not have scored a single century in the ICC World Cup 2019 till now but his knocks have been quite significant for his side. With 442 runs and five fifties, he has once again proved his huge importance for the Indian cricket team and against New Zealand, he will be once again be the batsman to watch out for. However, his task will not be easy as he will be up against the in-form pacer Lockie Ferguson. Ferguson has impressed everyone with his pace and bounce and with 17 wickets from 7 matches, it will be unwise to underestimate the threat posed by him.
12:49 hrs IST
Kane Williamson vs Jasprit Bumrah
Jasprit Bumrah came into the tournament as the top ranked ODI bowler in the world and he has certainly lived up to the expectations. With 17 wickets under his kitty, he has been quite impactful for the Indian cricket team and his death over bowling has been crucial for his team's fortunes. For New Zealand, Kane Williamson has been equally (if not more) impactful with the bat. The Kiwi skipper has scored two centuries and one fifty till now and with 481 runs, he will be looking to nullify the threat of Bumrah when the two teams face off in the semifinals.
12:40 hrs IST
Rohit Sharma vs Trent Boult
Rohit Sharma has been the standout performer for the Indian cricket team in ICC World Cup 2019 till now. With 5 centuries and 647 runs in 8 matches, the opener has been head and shoulders above his immediate competition. On the other hand, there is Trent Boult who has been the strike bowler for New Zealand and although he will not be happy with his tally of 15 wickets, he has made it a habit to take early wickets. Before the tournament, Boult troubled India in their warm-up encounter and he will certainly be the biggest concern for Rohit on Tuesday.
12:27 hrs IST
Rohit eyes history
Rohit Sharma has a chance to break two massive World Records. He needs only 27 runs to better Sachin Tendulkar's tally of most runs in a single edition of a World Cup and needs 1 more century to equal Tendulkar's record for most hundreds in World Cups. Rohit, who has scored 5 hundreds in World Cup 2019 - a record - like Tendulkar, has 6 World Cup centuries to his name.
12:16 hrs IST
What happens if it's a wash out?
If the match indeed is washed out, there is a reserve day in the offing. However, the forecast is not too bright even on Wednesday. If the match is washed out on the reserve day too then India will progress through to the finals as they finished at number 1 points table with 15 points while New Zealand scraped through with 11 points and were placed at number 4 on the points table.
12:04 hrs IST
Aakash Chopra provides an update
"Really Overcast. But dry right now. Fingers toes crossed. Reporting from Manchester, tweeted former India opener Aakash Chopra.
Really Overcast. But dry right now. Fingers toes crossed. Reporting from Manchester #IndvNZ #CWC19

— Aakash Chopra (@cricketaakash) July 9, 2019
11:55 hrs IST
Weather update
According to the British Met department, the skies are likely to remain rather cloudy throughout Tuesday. There will be the risk of the odd light shower again. Also, as per forecasts, there are chances of cloudier skies and intermittent showers right through the day. The maximum temperature in Manchester is expected to be around 20 degrees.
11:45 hrs IST
A sneak-peek into mood of both India and New Zealand
There was certainly no lack of confidence in either camp ahead of the 🇮🇳 v 🇳🇿 semi-final in Manchester 💪 #TeamIndia | #BackTheBlackCaps | #CWC19pic.twitter.com/8C3iG7q9pZ

— Cricket World Cup (@cricketworldcup) July 9, 2019
11:35 hrs IST
Kane Williamson speaks
"What we didn't expect coming into the tournament was the large variety of conditions that we faced. That definitely made batting with any rhythm a challenge for everybody," Williamson said ahead of the semi-final
11:21 hrs IST
Kohli on handling pressure
"It comes back to the same point, handling pressure. You make two bad decisions while you are chasing and the game goes away from you, too far to pull it back. So I assume that that is going to be the case because having been in so many chases, I understand that the pressure can be very high if you don't go with the pace of the game, and then understanding the magnitude of the tournament like this you probably are going to end up making a couple of mistakes and the opposition is not going to let you off after that," Kohli said.
11:01 hrs IST
Coach Shastri speaks
India head coach, Ravi Shastri, lauded team India's performance ahead of the India-New Zealand semi-final match on Tuesday in the ongoing ICC Men's Cricket World Cup. In a video posted by the International Cricket Council (ICC) on Twitter, Shastri praised Indian players for their brilliant performance in the tournament. Shastri hailed Rohit Sharma and said that he is one of the greatest ODI players. The 32-year-old Indian batsman has been in great form in the World Cup so far scoring 647 runs from eight innings.
10:37 hrs IST
Preview
Plenty of water and runs have flown under the bridge between Malaysia and Manchester. Kohli and Williamson have become era-defining batsmen and undisputed modern-day greats. They have not only experienced playing in World Cup semi-finals in the past, but also winning (Kohli in 2011, Williamson in 2015) and losing (Williamson in 2011, Kohli in 2015).
Read the preview here.
10:15 hrs IST
Kohli vs Kane, India vs New Zealand
Virat Kohli took on Kane Williamson in a semi-final 11 years ago. India tripped New Zealand, entered the finals and then lifted the Under-19 trophy. The scenario is similar, the stakes are much higher and like that night back in 2008, there is also forecast of rain. The pressure will be on India and New Zealand know this. They are comfortable being the underdogs, they are very good at punching above their weight and this is what makes them dangerous. India have the momentum and New Zealand have the fight - it all boils down to handling the nerves on the day after that first ball is bowled.
Close Story