India vs Pakistan, Asia Cup 2018 Highlights: Rohit, Dhawan slam centuries as India win by 9 wickets
Sep 24, 2018 08:24 AM IST
HIGHLIGHTS: Shikhar Dhawan and Rohit Sharma scored brilliant centuries as India defeated Pakistan by nine wickets to take a big step towards booking their spot in Asia Cup 2018 final. Rohit was unbeaten on 111 while Dhawan made 114. Earlier, Jasprit Bumrah, Yuzvendra Chahal and Kuldeep Yadav took two wickets each as India restricted Pakistan to 237/7 in the Asia Cup 2018 Super Four encounter. Shoaib Malik was the top scorer for Pakistan with 78 and he was well supported by skipper Sarfraz Khan (30) and Asif Ali (30). Malik and Sarfraz steadied the Pakistan innings after they lost a number of early wickets. Pakistan won the toss and opted to bat. Catch all the highlights from the India vs Pakistan, Asia Cup 2018 Live Updates here:
00:34 hrs IST
India win big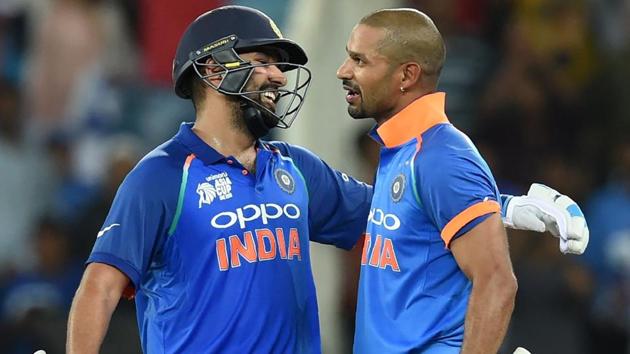 Rohit Sharma notched 119-ball 111 not out for his 19th one-day hundred while Shikhar Dhawan made a 100-ball 114 for his eighth century as the pair put on 210 for the opening stand -- second best in all India-Pakistan one-day internationals. What a show by the openers and what a win for India!
00:13 hrs IST
More records
Biggest wins for Ind vs Pak (balls left):
126 Dubai, 2018 (Tar: 163)
105 Multan, 2006 (162)
92 Toronto, 1997 (117)
63 Dubai, 2018 (238) *
53 Dhaka, 1998 (213)
00:08 hrs IST
Sarfraz frustrated with catching
"If you don't take catches, even 280 won't be enough," says a frustrated Pakistan skipper Sarfraz Ahmed after the nine-wicket loss to India
00:03 hrs IST
Record win for India
India's 9 wicket victory is their largest victory against Pakistan in terms of wickets in ODIs. The previous record of 8 wickets came in their last match in the same competition.
23:54 hrs IST
India rout Pakistan
A special show from Rohit Sharma and Shikhar Dhawan as India beat Pakistan by nine wickets in Dubai! It was a great performance by India and they are almost through to the summit clash of Asia Cup 2018.
23:49 hrs IST
More records for India
Two 100s in the same ODI for India vs Pakistan
S Tendulkar (118) & N Sidhu (101) Sharjah 1996
V Sehwag (108) & R Dravid (104) Kochi 2005
S DHAWAN (114) & R SHARMA (100*) Dubai 2018
23:43 hrs IST
The Rohit Sharma show
Fewest innings to reach 19th ODI 100...
104 - Hashim Amla
124 - Virat Kohli
171 - AB de Villiers
181 - ROHIT SHARMA#AsiaCup2018#PakvInd#INDvsPAK

— Mohandas Menon (@mohanstatsman) September 23, 2018
23:39 hrs IST
Rohit Sharma hits ton
19th ODI hundred for Rohit Sharma! India 220/1 in 35.2 overs.He is currently level with Brian Lara, Mahela Jayawardene and Ross Taylor when it comes to the number of ODI centuries.
23:33 hrs IST
Rohit Sharma scores 7000 runs
Fewest innings to 7000 ODI runs:
150 H Amla
161 V Kohli
166 AB de Villiers
174 S Ganguly
181 R SHARMA
183 B Lara
22:29 hrs IST
Dhawan departs
Finally Shikhar Dhawan's innings comes to an end as he is run out for 114, India 210/1. It was a misunderstanding between the batsmen and Shoaib Malik finished a simple run out chance.
22:24 hrs IST
Century for Dhawan
15th ODI century for Shikhar Dhawan! What a performance!
Fewest innings to reach 15th ODI 100...
86 - Hashim Amla
106 - Virat Kohli
108 - SHIKHAR DHAWAN
143 - Saeed Anwar#AsiaCup2018#PakvInd#INDvsPAK

— Mohandas Menon (@mohanstatsman) September 23, 2018
22:22 hrs IST
Pakistan's shambolic fielding performance
Well I might have to retract my statement re Pakistan's fielding ranking... they are having a "stinker" I hear! #PakvIndia @StarSportsIndia
🤦🏻‍♂️🤦🏻‍♂️🤦🏻‍♂️🤦🏻‍♂️😫😫😫

— Dean Jones (@ProfDeano) September 23, 2018
23:17 hrs IST
Stat Attack: Opening stand record
The opening stand between Shikhar Dhawan and Rohit Sharma is the best opening stand for India vs Pakistan ODIs. The previous record belonged to Sachin Tendulkar and Sourav Ganguly - 159 in Dhaka (1998).
23:11 hrs IST
Too easy for India
The partnership is now worth 179 off 180 balls. This has been a special show by both Shikhar Dhawan and Rohit Sharma with India comfortably sitting on 179/0 after 30 overs.
23:05 hrs IST
Six and a drop!
It is all happening in the Shadab Khan over. Rohit Sharma hoisted the ball over the mid wicket boundary for a six and in the very next ball, he was dropped by Fakhar Zaman! India 164 for no loss.
22:59 hrs IST
Rohit Sharma on a roll
Exquisite batting by Rohit Sharma. First, he slog swept Shadab Khan for a six on the leg side and then played a brilliant drive to get a boundary through the extra cover region. India 152/0 after 26 overs.
22:55 hrs IST
Cheeky one from Michael Vaughan
I see Pakistan are struggling against India AGAIN ... #AsiaCup18

— Michael Vaughan (@MichaelVaughan) September 23, 2018
22:50 hrs IST
Superb opening partnership
A huge six over fine leg for Shikhar Dhawan. It has been a special opening stand till now and here's a look at some of the stats regarding the partnership -
First 100+ run opening stand for IND in 13 ODI innings.
Last opening partnership of 100 plus runs (115)came vs SL at Mohali,2017
This is 13th three digit opening stand between R Sharma and S Dhawan.
5th opening stand of hundred plus run at Dubai (D.S.C)
22:42 hrs IST
Fifty for Rohit Sharma
Third consecutive fifty for India skipper Rohit Sharma. He has enjoyed a brilliant run of form in Asia Cup 2018 till now and this partnership is slowly taking this game out of Pakistan's reach. India 120/0
22:38 hrs IST
Stat Attack: Rohit-Dhawan
Rohit Sharma has completed 500 runs against Pakistan in ODIs. He becomes the 17th Indian batsman to cross the 500 run mark against Pakistan in ODIs. On the other hand, S Dhawan completes his 26th ODI fifty. This is his 3rd fifty vs Pakistan.
22:30 hrs IST
100-run partnership
The 100-run partnership between Shikhar Dhawan and Rohit Sharma comes up in the 20th over. However, Dhawan is not slowing down as he slams Shadab Khan straight down the ground for a boundary. IND 107/0
22:25 hrs IST
Praise for Dhawan
Whatttte fifty Gabbar!! Beauty! 🙌🏻 @SDhawan25 #PAKvIND #AsiaCup2018

— Harbhajan Turbanator (@harbhajan_singh) September 23, 2018
22:22 hrs IST
Fifty for Shikhar Dhawan
Another four for Shikhar Dhawan through square leg and that brings up his 26th half century. This has been a brilliant start for India and Pakistan need something special to make a comeback into this match. IND 91/0
22:17 hrs IST
Rohit, Dhawan on fire
Rohit Sharma sweeps Nawaz past the fine leg fielder for a boundary and he now has 35 off 48 balls. On the other hand, even Dhawan is nearing another half century as he has 45 off 53 balls. India 85/0
22:14 hrs IST
Pakistan not attacking enough
16 overs gone and Pakistan are still not going for the kill. There are just four fielders inside the field and just one in an attacking position. With the two openers taking singles at will, they are not under much pressure and this is not a strategy that will get them the expected results. India 75/0
22:09 hrs IST
Clear difference between the teams
PAK: 28/1 after 10 over (RR 2.80) (2 boundaries)
IND: 53/0 after 10 overs (RR 5.30) ( 9 boundaries)
22:02 hrs IST
Stat Attack: Rohit-Dhawan
Shikhar and Rohit have completed 500 partnership runs this year for the 1st wicket, they become the 3rd pair to reach this feat in 2018. It was also the 13th fifty plus stand in ODI career for the opening wicket between the pair. India 62/0 after 12 overs.
21:58 hrs IST
50-run stand
Two boundaries for Shikhar Dhawan and he brings up the 50-run partnership for the first wicket. This was the third 50-plus stand between him and Rohit Sharma as India are 57/0 after 11 overs.
21:52 hrs IST
More laurels for Rohit Sharma
Rohit Sharma has completed 500 runs in this calendar year in ODIs
Since 2013, Rohit has scored minimum 500 runs in every year in ODIs and never went below the average of 50
He also becomes the 7th opener in ODIs this year to cross the 500 run mark
21:48 hrs IST
Spin introduced
Mohammad Nawaz is introduced into the attack and after eight overs of pace bowling, Pakistan are now looking at their spin options to provide the breakthrough. Case in point - It was Yuzvendra Chahal who took the first wicket for India today. Can Pakistan do the same?
21:39 hrs IST
Dhawan on a roll
Shikhar Dhawan has faced more than 5000 deliveries in ODIs. He becomes the 17th Indian batsman to do so. The experience was there on show as he caressed the delivery from Hasan Ali to the boundary and then scored another four through the slips! India 37/0
21:37 hrs IST
Imam drops sitter
Huge miss for Pakistan! Imam ul Haq drops Rohit Sharma for 14 as India are 29/0 after 6 overs. Unlucky for Shaheen Afridi as it was a straight forward chance for Imam but he made a mess of the catch!
21:34 hrs IST
Rohit Sharma joins the party
Rohit Sharma is not going to play second fiddle for long and he gets a four and a six. Both shots were through the square leg region as India have started the run chase brilliantly. After 5.3 overs, India are 29/0
21:27 hrs IST
Dhawan dealing in boundaries
Two boundaries in two overs for Shikhar Dhawan! First, he slammed Mohammed Amir to the extra cover boundary and then he used his wrists to get his second boundary off Shaheen Afridi. India 18/0
21:20 hrs IST
Congratulations Chahal
50 ODI wickets for @yuzi_chahal
Congratulations 👌🏻🤙🏻👏 #TeamIndia #AsiaCup #INDvPAK pic.twitter.com/IiTCwnwGCk

— BCCI (@BCCI) September 23, 2018
21:14 hrs IST
Rohit, Dhawan open for India
The opening pair of Shikhar Dhawan and Rohit Sharma are out in the middle and considering their record since 2017, a lot will depend on this partnership. Here's a look at their records. India 6/0
20:40 hrs IST
Analysis: Pakistan innings
The Pakistan innings could be segregated into three distinct parts. A slow tart where India made inroads followed by solid middle-overs batting before failing to utilise the launch pad fully with Jasprit Bumrah (2/29 in 10 overs) being brilliant at the death.
20:27 hrs IST
Pakistan 237/7 in 50 overs
Two wickets each for Jasprit Bumrah, Yuzvendra Chahal and Kuldeep Yadav as India restrict Pakistan to 237/7. Shoaib Malik and Sarfraz Ahmed played well for Pakistan but a comeback by the Indian bowlers made sure that the total did not exceed 250.
20:22 hrs IST
Bumrah strikes
Jasprit Bumrah strikes again and this time, his victim is Shadab Khan (10). Pakistan 234/7 after 49.3 overs
20:13 hrs IST
Miser Bumrah
1,2,1,W,1L,1,1,1,0,0,0,0 - Bumrah's last two overs. Brilliant consistency from the top ranked ODI bowler as Pakistan are 225 for the loss of six wickets after 48 overs.
20:06 hrs IST
Stat Attack: Yuzvendra Chahal
Chahal is the 37th Indian bowler, 14th spinner for India to take 50 ODI wickets.
He is also the 5th fastest IND to reach this landmark in terms of matches played.
20:01 hrs IST
Chahal strikes
50 ODI wickets for Yuzvendra Chahal as he castles Asif Ali for 30, Pakistan 211 for the loss of 6 wickets. Asif Ali missed the straighter one completely and the ball went on to hit the middle stump!
19:56 hrs IST
Shaoaib Malik departs
Jasprit Bumrah strikes for India! Shoaib Malik departs for 78 as Pakistan are 203 for the loss of 5 wickets. Malik tried to glance it down to fine leg but instead ended up guiding it into the mitts of the Indian keeper MS Dhoni.
19:52 hrs IST
Pakistan poised for big total
22 runs off B Kumar's 42nd over makes it the most expensive over of the innings. With 203/4 after 42.3 overs, Pakistan are in a great position to go for the kill in the final overs and let's see if they can post a big total today.
19:47 hrs IST
Asif hammers Bhuvneshwar
6,4,6 - Asif Ali took Bhuvneshwar Kumar to the cleaners with three brilliant shots. A boundary through the point region and two sixes over long-on means that Pakistan are 193/4 after 42 overs.
19:42 hrs IST
Asif Ali hits a six
With India and Pakistan winning their first matches in the Super Four, the winner today is almost guaranteed to secure a place in the final. Asif Ali is the new batsman for Pakistan and he has already made his intentions clear with a six off Bhuvneshwar Kumar. Pakistan 182/4
19:30 hrs IST
Kuldeep strikes
Finally the breakthrough for India! Kuldeep Yadav dismisses Sarfraz Ahmed for 44, Pakistan 165/4. Sarfraz went for a drive but ended up giving an easy catch to Rohit Sharma and India have struck at a crucial time!
19:21 hrs IST
Pacers need to step up
12 overs of pace bowling from Bhuvneshwar Kumar and Jasprit Bumrah with both of them collectively conceding 26 runs. However, they have not taken any wicket till now and if India want to make a comeback in this game, they will have to be a major role, Pakistan 146/3
19:13 hrs IST
Fifty for Shoaib Malik
A well-deserved half century for Shoaib Malik as he slams his second consecutive fifty.
Most 50+ scores by a Pakistani batsman (including 100s) against India in ODIs.
Inzamam ul Haq - 16
Shoaib Malik - 15
Mohammad Yousuf - 13
19:06 hrs IST
Great show by Shoaib, Sarfraz
The partnership between S Malik and S Ahmed completes a fifty run stand (56*).
6th fifty plus partnership between the these batsmen for any wicket.
This is the first fifty plus run stand for PAK for the 4th wicket after 9 ODI innings.
Last fifty plus run stand (119*) was between S Malik and B Azam at Sharjah vs SL
18:59 hrs IST
Pakistan dealing in boundaries
Two boundaries for Pakistan in the Kedar Jadhav over. First, Sarfraz Khan drove the spinner through the covers and then Shoaib Malik guided the ball through the gully region. Solid batting by the duo as Pakistan are 129/3
18:55 hrs IST
Rohit Sharma confident
Here's a look at what Rohit Sharma said about the Indian bowling at the toss earlier today - "If we continue to bowl the way we are bowling, the last two games, we restricted the teams to decent totals and I'll be happy if we do that again. No pressure, I don't think about too many things when I bat. It's important to get the team off to good starts. That's all I concentrate on and while doing that, the runs come. Today will be no different."
18:49 hrs IST
50-run partnership
The 50-run partnership comes up between Shoaib Malik and Sarfraz Khan, Pakistan 108/3 in 28 overs. It has been a good show from both the Pakistan batsmen and Shoaib Malik brought up the milestone with a huge six off Yuzvendra Chahal.
18:45 hrs IST
Time for Kedar Jadhav
The last time India faced Pakistan, it was Kedar Jadhav who claimed three wickets to break the opposition's backbone. With Shoaib Malik and Sarfraz Khan forming a good partnership, Rohit Sharma has handed the ball once again to the part-time spin option. Can he provide the breakthrough once again? PAK 99/3
18:40 hrs IST
Slow but steady
The partnership between Shoaib Malik and Sarfraz Khan is currently worth 36 off 57 balls and Pakistan will be mighty pleased with how they have batted till now. Both of them have taken minimum risks and this is exactly the kind of show they needed from the experienced campaigners. PAK 96/3
18:32 hrs IST
First boundary for Sarfraz
Kuldeep Yadav and Ravindra Jadeja are bowling at tandem but the Pakistan batsmen are not looking that uncomfortable. It was a flat delivery from Jadeja and Sarfraz hits it for a boundary through midwicket. This is a crucial partnership for Pakistan as they reach 83/3 after 23 overs.
18:24 hrs IST
Shoaib Malik steady
The hero of Pakistan's last encounter - Shoaib Malik - has once again started quite well and guided Ravindra Jadeja for a boundary through the offside. The all-rounder, who scored a brilliant half century to beat Afghanistan, will look to bring Pakistan back into the game along with skipper Sarfraz Ahmed, Pakistan 73/3
18:15 hrs IST
Spinners hold fort
The Indian spinners have made it all the more difficult for the Pakistan batsmen here as they have bowled to their field and made scoring runs very difficult for them. Shoaib Malik is at the crease and he will need to hold fort here for the Pakistan unit along with skipper Sarfraz. The Indians would love another wicket here.
18:04 hrs IST
Babar run out
Brilliant work from Chahal and Jadeja as Babar Azam goes for just 9. Pakistan losing the plot here as the Indian fans in the crowd celebrate. The score reads 58/3 as the Indian players have looked to dominate from the word go here in this Super Four encounter. The Indian bowlers have kept the pressure to ensure that the Pakistan batsmen make mistakes and here it was a miscommunication while trying to steal a single.
17:59 hrs IST
Kuldeep gets Fakhar Zaman
The pressure finally gets to Fakhar as he tries one sweep too many and falls in the process. Fakhar is caught plumb in front by Kuldeep for 31 and Babar is against the opener wasting a review as that hit the batsman on the full and that was plumb. No, wait...that ball did hit the gloves on its way. The Indians are celebrating as they have been on top of this game from the word go. The score reads 55/2.
17:55 hrs IST
Something is going to give here
This is some intense pressure building from the Indian bowlers here. Looks like we could either have a fightback over here from the Pakistan batsmen or another wicket for the Indians as the Indian bowlers have looked to keep things simple and bowled to their field. Rohit Sharma looks a very happy captain here as the score reads 44/1 after 13 overs.
17:45 hrs IST
Rohit keeping it tight
Rohit Sharma has been brilliant with his captaincy and he is keeping things really tight here as the Pakistan batsmen have found the going really tough in the first 10 overs here. Just 28 runs in the first 10 and also losing the wicket of Imam. Babar Azam and Fakhar Zaman now need to ensure that they provide the perfect platform for an onslaught later in the innings.
17:34 hrs IST
MS Dhoni does it with the DRS
Once again it is that man who encourages Rohit Sharma to go for the review and Chahal gets his first wicket here. Imam walks back for 10 as the DRS shows that the ball from Chahal is hitting the leg stump. The on-field umpire was not in favour of giving that out, but Rohit went up after MSD shook his head. The score reads 24/1 after 8 overs.
17:30 hrs IST
Pak openers struggling
Imam and Fakhar have been looking to take the attack to the Indian bowlers here, but the duo of Bhuvneshwar and Bumrah have bowled a very tight line here and have hardly offered them any free delivery here. This is good first up from the Indians in this crunch encounter.
17:20 hrs IST
Bhuvi comes back well
Having started off rustily in the first over, Bhuvi has come back strongly here as he is keeping the Pakistan batsmen under check here. They are looking for the bad balls, but there have been very few bad balls here from the Indian pace spearhead. The Indian bowlers will now want a wicket in this crunch encounter.
17:10 IST
Bumrah starts with a maiden
Bumrah has bowled a good line here and he has by far been the most impressive bowler for India in recent times with both the red and white ball. Bumrah has managed to hit the right areas and make the batsmen work their way for runs and here the Pakistan openers happily play him out as they want to start well and set a good foundation here.
17:05 hrs IST
Bhuvi looking rusty
Bhuvneshwar Kumar starts off with a wide and continues to bowl mostly on and outside the leg stump. This is not the line that he generally bowls and Rohit will want his key bowler to hit the right length at the earliest here as the pressure is bound to be high in an India-Pakistan clash. The score reads 7/0 after the first over.
16:55 hrs IST
Sarfraz asks boys to rise to challenge
Pakistan skipper Sarfraz Ahmed: "We would like to bat. It's a used pitch. Looks like a flat wicket so we would like to put a good score on the board today. Amir will play today, and Fakhar has been asked to dig in there and hopefully he can be more steady if he can spend more time out in the middle. Shadab is in for Haris and Amir is in for Usman Shenwari. We need to perform well in all three departments and today's performance is crucial for all of us. We will try to score over 250 and defend the score."
16:50 hrs IST
Rohit wants boys to keep it simple
India skipper Rohit Sharma: "If we continue to bowl the way we have, and today will be no different. If we can repeat the feats of the last two games, I'll be a happy captain. I don't think about stats when I play (about India's chances improving when he scores a 50). It's important for me to get my team off to a good start. That's my job. That's the role I play. It is important to not lose early wickets, and if the runs come for me then that is in the best interest of the team. I'm happy with the wrist spinners. They went wicketless in the last game but they know what they're doing, they know what is expected of them in the middle overs. They're still learning, and they know what is expected of them. It is important to come out with some good tactical nous when the batsmen go after them in the middle overs. They have done it in the past a lot of times, and a few off-games doesn't mean they are bad bowlers. Sometimes the opposition has to be appreciated for the way they play Chahal and Kuldeep, especially given the fact that batsmen try to read them off the hand - what with all the technology and slow-motion videos available. We're going in with the same team today."
16:40 hrs IST
PLAYING XIs
Teams: India (Playing XI): Rohit Sharma(c), Shikhar Dhawan, Ambati Rayudu, MS Dhoni(w), Dinesh Karthik, Kedar Jadhav, Ravindra Jadeja, Bhuvneshwar Kumar, Kuldeep Yadav, Jasprit Bumrah, Yuzvendra Chahal
Pakistan (Playing XI): Fakhar Zaman, Imam-ul-Haq, Babar Azam, Shoaib Malik, Sarfraz Ahmed(w/c), Asif Ali, Shadab Khan, Mohammad Nawaz, Hasan Ali, Mohammad Amir, Shaheen Afridi
16:30 hrs IST
Pakistan win toss, will bat
Pakistan skipper Sarfraz Ahmed wins the toss and decides to have a bat first. He feels that the team would be more comfortable batting first and putting a good score on the board. Rohit wants the boys to chase well and put in a good effort here. Rohit is happy with the way the boys have performed so far in the tournament. Wants the boys to just keep calm and continue being clinical in their effort.
16:20 hrs IST
PITCH REPORT
Sunil Gavaskar: "The last time India played Pakistan here, it was an easy win for India. It's a similar track. The ball was coming on to the bat, albeit a little slowly. The Indian spinners used it to good effect, to slow it off the pitch. For Pakistan, having done well chasing against Afghanistan, might want to field first. The pitch may open a few little cracks later and it may be good for the spinners later on. In general though, it will be certainly a graveyard for the bowlers, and they have to bowl stump to stump to have any chance of getting a wicket. The batsmen, if they get stuck in, it's certainly a pitch made for them."
16:10 hrs IST
Gavaskar warns Rohit and boys
While Pakistan have looked good only in patches, Gavaskar feels they will come back strongly against India. "Pakistan's narrow win over Afghanistan will give them great heart, because narrow wins show the team's character and determination to do well. What they will want is a better start to their innings for against both India and Afghanistan they didn't get that. Maybe after two failures, Fakhar Zaman will come good on Sunday. That will certainly be a new challenge for India. Shoaib Malik has shown what experience can do and if the Pakistanis stitch a big partnership then India may have to work harder than they have so far. It's an India versus Pakistan encounter and as we all know nobody can ever predict the result," he said.
16:00 hrs IST
Hello and welcome
Favourites India have no grounds for complacency as they wait to see 'which' Pakistan turns up in the Asia Cup here Sunday, well aware of the unpredictable arch-rivals' penchant for surprising not just opponents but themselves, too. India are eyeing a place in the final after three wins in as many matches, while Pakistan will look to step up their game in the Super Four match, after a scare against Afghanistan. India walloped Pakistan by eight wickets in the group game three days ago but if history is any indication, the Men in Blue will take their traditional rivals lightly at their own peril. After being made to work hard by minnows Hong Kong in their tournament opener, India got their act together in the much-awaited group game against Pakistan and produced a clinical display to make short work of Sarfraz Ahmed's team.