India's kit sponsor changes without official announcement, new jersey launched for Sri Lanka T20Is
Jan 03, 2023 11:09 AM IST
India's kit sponsor in the right chest logo has changed with MPL giving away the rights to Kewal Kiran Clothing Limit.
India will begin their 2023 with a T20I series vs Sri Lanka, scheduled to begin on Tuesday in Mumbai. Ahead of the T20Is, fans have been given a huge surprise as the Indian team's kit sponsor has changed without any official announcement, and they will be donning a new jersey for the upcoming games.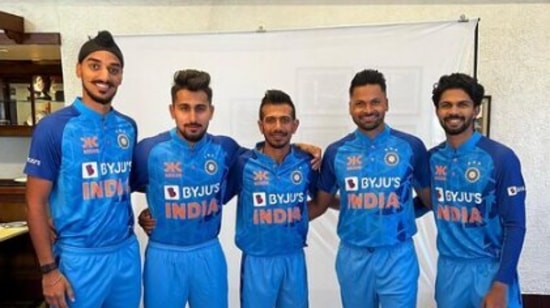 In December last year, BCCI reportedly received an email from kit sponsor MPL to assign their rights to Kewal Kiran Clothing Limit (KKCL) for the remainder of the contract. But the Indian board suggested MPL to continue their association atleast until March 2023 due to a packed calendar, or make a partial change for the right chest logo in the jersey. So, MPL has given the rights for the chest logo to Kewal Kiran Clothing Limit (KKCL), which owns brands like Killer Jeans and Lawman PG3 Jeans. So now instead of MPL, Killer is mentioned in the right chest logo.
Also Read | 'I have seen Gavaskar, Tendulkar closely but never someone so special': Ex-coach ahead of Suryakumar's Wankhede debut
Recently Yuzvendra Chahal shared a photo on Instagram, where the spinner could be seen donning the new jersey with Arshdeep Singh, Umran Malik, Mukesh Kumar and Ruturaj Gaikwad. He captioned the photo as, "Fantastic five All set for the T20I series."
Here is the photo:
Reacting to the post, one fan asked, "What happened to MPL?"
"Mpl left. Now killer jeans will be kit sponsor till 31 Dec 2023", another fan added.
"Kon kon new sponsor Killer ke bare me jaanne aaye ho", another fan said.
Reacting to the photo, one fan said, "5 outstanding bowlers in one Frame".
Reacting to the news on Twitter, one fan wrote, "Killer to feature in Team India's Jersey as MPL Sports terminate their contract with BCCI. It will be till 31st March after that new sponsor will come because MPL make their jersey through Killer that's why killer is written in the new Indian kit."
For the Sri Lanka T20Is, India will be without senior players like Rohit Sharma and Virat Kohli, with the leadership role given to Hardik Pandya and Suryakumar Yadav has been installed as the vice-captain. Pandya was the captain in the series vs New Zealand, which India won 1-0.