RR vs KXIP Highlights, IPL 2020 Match Today: Rajasthan Royals chase down highest total to beat Kings XI Punjab by 4 wickets
Updated on Sep 28, 2020 12:03 AM IST
IPL 2020 Highlights, Rajasthan Royals (RR) vs Kings XI Punjab (KXIP): Rahul Tewatia(51 off 31 balls) hit five sixes in an over after Sanju Samson(85 off 42) and Steve Smith(50 off 27) hit sparkling fifties as Rajasthan Royals chased down the highest ever total of IPL to beat Kings XI Punjab by 4 wickets in Sharjah. Earlier, Mayank Agarwal scored his maiden IPL ton off 45 balls and KL Rahul scored 69 as their record opening partnership propelled Kings XI Punjab to 223 for 2 after being sent in to bat first by Rajasthan Royals captain Steve Smith who won the toss and opted to bowl first. Buttler and Ankit Rajpoot came in place of Yashasvi Jaiswal and David Miller. KXIP went in with an unchanged squad. Follow IPL 2020, RR vs KXIP Highlights here: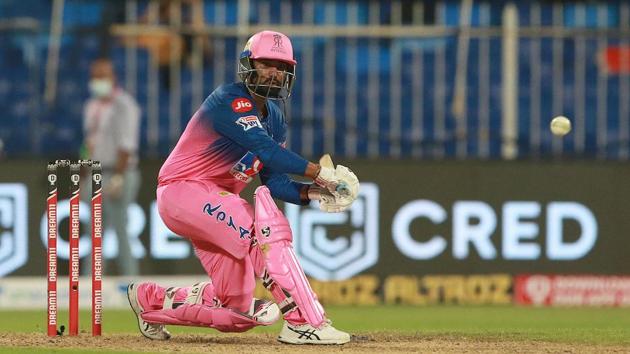 Hindustan Times, New Delhi |
hindustantimes.com
23:24 hrs IST
KL Rahul reflects on the loss
"Look, this is T20 cricket, we have seen it so many years now, we did a lot of things right, lot of positives tonight, but such things do happen. The game keeps you humble all the time," said KXIP captain KL Rahul.
23:17 hrs IST
The unbelievable Rahul Tewatia innings
First 19 balls: Eight runs (No boundaries)
Last 12 balls: 45 runs with seven sixes.
23:14 hrs IST
Rajasthan Royals beat Kings XI Punjab
FOUR! Tom Curran finishes it with a boundary. Rajasthan Royals have chased down the highest total in IPL to beat Kings XI Punjab by 4 wickets.
23:13 hrs IST
Two wickets for KXIP
What's happening? Shami got Rahul Tewatia and then M Ashwin got rid of Riyan Parag. RR still need 2 off 4 balls.
23:08 hrs IST
Rahul Tweatia gets to fifty
SIX! Rahul Tewatia hits fifty. Unbelievable, he has hit six sixes off last 7 balls to get to fifty of 30 balls. Royals need only 2 to win now.
23:06 hrs IST
IPL live score: RR vs KXIP
OUT and then SIX! Mohammed Shami gets Robin Uthappa off his first ball but then concedes a six to Jofra Archer. What a match we are having tonight.
23:03 hrs IST
Rahul Tewatia hits five sixes in an over
My word! What are we witnessing here? Rahul Tewatia was perhaps being deemed as the villain of the match for wasting deliveries but he has completely turned it around by hitting 5 sixes of Sheldon Cottrell. Royals now need only 21 runs off 12 balls.
23:01 hrs IST
Vengeance for Rahul Tewatia
SIX, SIX, SIX, SIX goes Rahul Tewatia. Four sixes, would you believe it? I can't. A batsman who couldn't clear the 30 yards ring for the first 20 balls has now hit four sixes in a row against Sheldon Cottrell.
22:57 hrs IST
IPL live score: Robin Uthappa starts well
Two boundaries to finish the Shami over. That's what happenes when you have a batsman who can play proper shots. 51 runs needed off 18 balls now for Rajasthan Royals.
22:52 hrs IST
Sanju Samson departs for 85
OUT! That's the game one would feel. Mohammed Shami has got the wicket of Sanju Samson. It was a short one, Samson tried to ramp it over the keeper, gets a glove and provides a simple catch to KL Rahul. But what an innings this from the young man. He goes after scoring 85 off 42 balls. RR 161/3 after 16.1 overs.
22:48 hrs IST
Sanju Samson hits consecutive sixes
SIX, SIX! Sanju Samson can't put a foot wrong. He hits Glenn Maxwell for back-to-back sixes. This match is not over folks. He is still there.
22:44 hrs IST
Rahul Tewatia hits a six
SIX! Finally, finally, Rahul Tewatia gets one out of the middle and it sails over for a six. But one gets a feeling, it's too little too late in the evening. He really has to go bang bang now.
22:40 hrs IST
Not happening for Rahul Tewatia
It's just not happening for Rahul Tewatia. You have to feel for the left-hander. He is trying his level best but it's just not his night. Neither is he getting out nor is able to hit it out of the park. RR now need 92 off 36 balls.
22:32 hrs IST
IPL 2020 live score - What an over by Ravi Bishnoi
Three dots to finish, only 4 runs from the over from young Ravi Bishnoi in the circumstances. Have Rajasthan Royals made an error by sending Rahul Tewatia ahead of Robin Uthappa? It sure likes it, as he has scored only 5 runs off 13 balls. RR 122 for 3 after 13 overs.
22:27 hrs IST
Fifty for Sanju Samson
DROPPED! It was a difficult chance but you have to take them to dismiss a player like Sanju Samson in this placid track. The drop chance will allow Samson to come back for a couple and it also brings up consecutive fifties for the young man. RR 118/2 after 12 overs.
22:23 hrs IST
KXIP vs RR, IPL 2020 live score - 11 overs bowled
Jimmy Neesham backs up Maxwell's good over with another equally good one. 8 runs from the over and the KXIP are coming back into this game after getting Steve Smith out.
22:19 hrs IST
IPL live score: Fantastic over Glenn by Maxwell
Only 4 runs off the over, the most economical of the RR innings. We are halfway through the RR chase and they are 104 for 2 after 10 overs, need 120 runs off 60 balls.
22:15 hrs IST
Jimmy Neesham gets Steve Smith
OUT! Neesham knows the importance of this wicket, it's Steve Smith. A full delivery outside off, Smith didn't get the best of timings and gets out caught in the deep for 50 off 27 balls. RR:100/2 after 9 overs.
22:13 hrs IST
Fifty for Steve Smith
What was that a bouncer? A wide In the end nothing Steve Smith had to wait ages for that ball to arrive and he pulls it for a single to complete his 10th IPL fifty off just 2 balls.
22:08 hrs IST
Sanju Samson is producing an exhibition
Samosn just hit a six out of the park off Murugan Ashwin and now he hits with the smoothest of touches through thirdman.
22:05 hrs IST
Nicholas Pooran does the unthinkable
Oh my word! Forget the sixes and fours and even the bouncers and the yorkers. This is something you will rarely (probably never) see in any form of cricket. Nicholas Pooran flies, literally catches the ball in the mid-wicket boundary and then mid-air, throws the ball back into the play inches before touching the ground. Now way, unreal stuff.
21:59 hrs IST
IPL 2020 live score: Ravi Bishnoi ends it well
Oh what a fantastic fielding effort by Sheldon Cottrell, he saves two runs for his side, Bishnoi comes back well after conceding a six, his over leaks 11. RR:80/1 after 7 overs as the umpire signals for the first strategic timeout.
21:57 hrs IST
Steve Smith hits another six
SIX! You can't pitch it up young Bishnoi. IF you do, you will be whacked out of the park just like Steve Smith did it now. The margin for error is so thin here.
21:55 hrs IST
RR vs KXIP: Steve Smith on fire
Two fours to end the Jimmy Neesham over, 14 from it. 50 partnership between Steve Smith and Sanju Samson off just 24 balls. RR:69/1 after 6 overs
21:51 hrs IST
5 overs bowled in RR chase
11 runs from Ravi Bishnoi's first over. A six and a four hit by Sanju Samson. The Rajasthan Royals are really going after the target and why wouldn't they. They have got Steve Smith and Sanju Samson who are in the form of their lives. RR: 55/1 after 5 overs.
21:46 hrs IST
IPL live score: Rajasthan Royals off to a good start
14 runs from Mohammed Shami's over, an expensive from the strike bowler. But seems like Steve Smith and Sanju Samson have decided that they are not going to die wondering. They are off to a flier. RR 44/1 after 4 overs.
21:41 hrs IST
Blazing start from Sanju Samson
A six and four! That's how you start your innings, Sanju Samson is in top form. But he has to carry on here, can't get carried away so early into the innings. RR: 30/1 after 3 overs.
21:37 hrs IST
Sheldon Cottrell gets Jos Buttler
OUT! HUGE WICKET! It's Jos Buttler. A good sharp catch at mid-wicket by Sarfaraz Khan and Sheldon Cottrell provides the all important breakthrough. Out comes the salute. Buttler tried to clip past square leg but didn't get the timing.
21:35 hrs IST
IPL 2020 live score: End of 2nd over in RR chase
8 runs off Mohammed Shami's first over, Steve Smith hit him for a gorgeous straight boundary but nothing really apart from that. Rajasthan Royals are 19/0 after 2 overs.
21: 33 hrs IST
Mohammed Shami working it up
Oh big appeal, did Jos Buttler get an outside on that? The umpire shakes his head. KL Rahul and Shami are not that confident and they decide not to take the DRS. But what a beautiful delivery from Shami.
21:29 hrs IST
Cottrell to Smith - FOUR!
Steve Smith slams one towards the off-side for another boundary after two wides. Cottrell gives away 11 runs in his first over.
21:26 hrs IST
IPL 2020, KXIP vs RR: Cottrell to Smith - FOUR!
FOUR! First boundary of the match and it comes from Steve Smith's bat. Straying delivery, and Smith just flicked it towards mid wicket for a boundary.
21:20 hrs IST
Steve Smith, Jos Buttler out to open
This is it - the test of spirits. Jos Buttler and Steve Smith out to open the innings for Rajasthan Royals. Sheldon Cottrells starts the attack for RR.
21:08 hrs IST
KXIP finish with 223 for 2
Six to finish the innings. This has been a very good little cameo from Nicholas Pooran. He ends up with 25 off 8 as Kings Xi Punjab finish with 223 for 2 after being sent in to bat first. Mayank Agarwal top-scored with 106, KL Rahul scored 69 as they put together a 183-run opening stand to send RR bowlers into submission.
21:05 hrs IST
Nicholas Pooran hits his 2nd six
SIX! Deep into the stands, a god little innings from Pooran, that's exactly what KXIP needed. Can they get to 225 now?
21:03 hrs IST
IPL 2020: KXIP cross 200
Nicholas Pooran ruins Curran's brilliant over with a six over long on, 11 runs off the 19th over. Kings XI Punjab 2015 for 2 with one over to play.
21:01 hrs IST
IPL Live Cricket Score: Curran bowling well
Two singles and a dot, great start to the 19th over by Tom Curran, only 14 runs have been scored since Mayank Agarwal got out. This is a good comeback by RR.
20:57 hrs IST
IPL 2020 Live Score, KL Rahul is out
OUT! KL Rahul has sliced it straight it third man, Ankit Rajpoot has a got wicket. Rahul departs for 69 off 54 balls and KXIP are 194 for 2 after 18 overs.
20:50 hrs IST
Mayank Agarwal falls for 106
OUT! They won't get the IPL record. Mayank Agarwal has hit the full toss straight to mid wicket. What an innings this has been. He goes for 106 and the 183-run opening stand - the third highest in IPL (highest is 185) - has been broken by Tom Curran.
20:48 hrs IST
Excellent over by Ankit Rajpoot
NO BOUNDARIES, I repeat, No boundaries in this over from Ankit Rajpoot, that is as rare as anything in this match now. Only 6 runs from it, he stuck to his plans and bowled it wide outside the off stump. KXIP 178/0 after 16 overs
20:42 hrs IST
Maiden IPL hundred for Mayank Agarwal
FOUR! MAIDEN IPL CENTURY FOR MAYANK AGARWAL. What a moment for the opener, what an innings this has been. A four over extra over to get to his century off just 45 balls
20:37 hrs IST
The assault continues
Jofra Archer who? KL Rahul and Mayank Agarwal will spare no one today, 13 runs off the over and all cricketing shots. KXIP 161 for no loss after 14 overs as Agarwal nears his maiden IPL ton. The umpires have called for the 2nd strategic timeout
20:34 hrs IST
150 up for KXIP against RR
Good stop in the boundary, but Rahul and Agarwal still get a couple, which brings up the 150 for KXIP, this is the first time a KXIP opening pair has put a 150-run stand in the IPL, and I get the feeling this is not the only record we'll see tonight.
20:27 hrs IST
Fifty for KL Rahul
KL Rahul gets to his fifty off 39 balls. KXIP 138 for no loss after 12 overs. This is now the highest opening partnership for KXIP in the IPL.
20:22 hrs IST
KXIP vs RR live - 11 overs bowled in RR innings
10 runs from Jaydev Unadkat's 3rd over. KXIP 120 for no loss at the end of 11 overs. What's the highest opener partnership? Our stat guys tell us that they are still pretty far from creating that record.
20:18 hrs IST
Tom Curran stars well
You will consider an 8 run over a good one when the others are going for 12-13 on an average. So, Tom Curran starts well, only one boundary off his first over. RR desperately need a wicket, otherwise this can hurt them.
20:14 hrs IST
IPL 2020, KXIP vs RR - 9 overs bowled
16 runs off the 9th over, another one of those expensive ones as Kings XI Punjab have crossed 100. They are 102/0 at the end of 9 overs with Agarwal at 63 off 29 and Rahul at 34 off 26.
KXIP - 101/0 in 8.4 overs. #RRvKXIP | #HallaBol | #RoyalsFamily pic.twitter.com/5bKZ6d8Bsp

— Rajasthan Royals (@rajasthanroyals) September 27, 2020
20:11 hrs IST
Fifty for Mayank Agarwal
SIX! Another one that wasn't quite of the middle of the bat but it sails over the long off fence, Mayank Agarwal gets to fifty off 26 balls.
20:07 hrs IST
Mayank Agarwal in punishing mode
Two sixes and a four from Mayank Agarwal's bat in the first over of Rahul Tewatia, 19 runs from the over. The runs are now flowing like water from an open tap. KXIP are 86 for no loss after 8 overs as the umpires signla for a strategic timeout, boy do the Royals need it.
20:03 hrs IST
Good start by Shreyas Gopal
The leg-spinners starts well, gives away only 7 runs in his first over and he has to play a crucial role if RR have to pull things back after this blazing start. KXIP 67/0 after 7 overs.
20:01 hrs IST
Riyan Parag saves a six
Almost, almost a wicket there for RR. Brilliant effort by young Riyan Parag at long on. That was going over but he flicked it back in the field. It was a misshit from Agarwal to be honest but the straight boundaries in Sharjah are short so it nearly carried over.
19:57 hrs IST
End of powerplay, KXIP on top
Brilliant comeback by Jofra Archer, only 2 runs off the over and so far the best one bowled by an RR bowler today. He got back to his basics and hit the hard length. It's hard to say why he didn't do it earlier. Anyway, KXIP are 60 for no loss after 6 overs.
19:51 hrs IST
KXIP cross 50 inside 5 overs
The boundaries are flowing at the moment from both Rahul and Agarwal's bat. KXIP have raced to their fifty inside five overs, some early problems for Steve Smith And Rajasthan Royals. 17 runs off the fifth over and KXIP are 58/0.
19:45 hrs IST
KL Rahul hits Jofra Archer for three fours
FOUR FOUR FOUR! That's how KL Rahul has greeted Jofra Archer into the attack, a hat-trick of boundaries and all of them through the off side. Boy! This guy is in some form.
19:43 hrs IST
Mayank Agarwal hits 100th six of IPL 2020
SIX! That's the 100th six of this IPL and it comes off Mayank Agarwal's bat. Only 9 games and we have had 100 sixes, that means were going at more than 10 sixes per match. It was pulled off the front foot with disdain and KXIP are already off to a great start. KXIP 28 for no loss after 3 overs.
19:39 hrs IST
Mayank Agarwal hits first six
Slam-bang and Mayank Agarwal is away. What a delightful shot that was, straight over mid-off. This is where RR have missed a trick by not giving the new ball to Archer. 8 runs off Rajpoot's first over. RR: 11/0 after 2 overs.
19:35 hrs IST
Ankit Rajpoot with the 2nd over
Surprise, surprise! No Jofra Archer with the new ball. Ankit Rajpoot will partner with Jaydev Unadkat. Don't think that's a very good idea. RR should've tried to get Rahul and Mayank out early and their best bet was Archer.
19:34 hrs IST
RR vs KXIP - 1st over bowled
Very good first over by Jaydev Unadkat. He was on the money with all of his deliveries and the result? Only 3 runs off the first over of the match.
19:27 hrs IST
IPL 2020, RR vs KXIP live score - Players out
The Rajasthan Royals players are out in the middle. And so are KXIP openers KL Rahul and Mayank Agarwal. We are all set for live action. It looks like it will be Jaydev Unadkat with the new ball for Rajasthan Royals.
19:16 hrs IST
No Gayle storm in Sharjah
No place for Chirs Gayle in the KXIP Playing for the third match in a row. I'm not sure about anyone else but the Royals' will be very happy not to see Gayle in today's match.
19:13 hrs IST
Royals' middle-order a worry
The Jos Buttler in place of David Miller was a no-brainer but it's a bit of surprise that the Royals have decided to drop young Yashasvi Jaiswal after just one game. It's probably to make sure Buttler and Smith open the batting. But that means the RR middle-order will be pretty thin. It's over to the all-rounders after top four.
19:10 hrs IST
KXIP Playing XI vs RR
Kings XI Punjab (Playing XI): Mayank Agarwal, Lokesh Rahul(w/c), Nicholas Pooran, Glenn Maxwell, Karun Nair, Sarfaraz Khan, James Neesham, Murugan Ashwin, Ravi Bishnoi, Mohammed Shami, Sheldon Cottrell
19:05 hrs IST
RR Playing XI vs KXIP
Rajasthan Royals (Playing XI): Jos Buttler, Steven Smith(c), Sanju Samson(w), Robin Uthappa, Rahul Tewatia, Riyan Parag, Tom Curran, Jofra Archer, Shreyas Gopal, Jaydev Unadkat, Ankit Rajpoot
19:00 hrs IST
Toss update - RR vs KXIP
Rajasthan Royals win toss, opt to bowl against Kings XI Punjab.
18:50 hrs IST
Should Chris Gayle play? Sunil Gavaskar answers
If we all wanna go home early then Chris Gayle shouldn't play. But for the millions of viewers sake and for their entertainment, Gayle should play, it's a small ground: Sunil Gavaskar in the pre-match show on Star Sports.
18:45 hrs IST
RR vs KXIP - pitch report
It's a batsman's paradise. As a spinner you got to pull your lengths back. The team that bats first might win this game: Kevin Pietersen and Rohan Gavaskar with the pitch report.
18:42 hrs IST
Shane Warne has his say on RR opening pair
"Your best players should face most balls. If you look at our side Buttler, Smith and Samson are our best batsmen. But it's not up to me alone, I'm sure McDonald and Smith will make the right calls," said Shane Warne in an interview to Star Sports.
18:39 hrs IST
KXIP Predicted XI vs RR
KL Rahul, Mayank Agarwal, Nicholas Pooran, Karun Nair, Glenn Maxwell, Jimmy Neesham, Sarfaraz Khan, Murugan Ashwin, Mohammed Shami, Ravi Bishnoi, Sheldon Cottrell.
18:35 hrs IST
RR predicted XI vs KXIP
Jos Buttler, Yashasvi Jaiswal, Sanju Samson, Steve Smith, Robin Uthappa, Riyan Parag, Tom Curran, Jofra Archer, Kartik Tyagi, Shreyas Gopal, Jaydev Unadkat
18:30 hrs IST
RR bowlers need to support Jofra Archer
Jofra Archer just conceded 26 runs from 4 overs and picked up the important wicket of Du Plessis. His economy of 6.5 was the best in the match. All the other RR bowlers conceded at an economy of 10.81, the fast bowlers Unadkat and Curran especially struggled conceding at an economy of 11 and 13.25.
In IPL 2019 RR's fast bowlers had an economy close to 9, which was 5th best only because of Archer. Archer had an economy of 6.76, which was the best among RR bowlers (minimum 8 overs bowled). However, all the fast bowlers who bowled more than 8 overs conceded at an economy of more than 9.50, highlighting RR's reliance on Archer to keep the opposition run rate in check. Also, Archer has a pretty good record against KXIP in IPL.
He has bowled 15.4 overs against KXIP at the economy of 6.64.His economy of 6.64 is the 5th best against KXIP in IPL since 2017 among the bowlers with 10+ overs bowled.
18:20 hrs IST
Sanju Samson to be the key for RR
RR started their IPL 2020 superbly winning their first game against CSK.
• They became the first team in IPL 2020 to score 200 (216) against the best bowling attack of IPL 2019.
• Sanju Samson led the batting scoring 74 runs of just 32 balls, correcting his poor record against CSK.
• Samson top scored in the match and had the highest strike rate in the match. (More than 6 balls faced).
• RR sent him at no 3 which is where Samson has produced his best form.
18:10 hrs IST
RR vs KXIP - head-to-head in IPL
Oh it's been very close between these two teams. Rajasthan Royals and Kings XI Punjab have played each other 19 times in the IPL, in which RR emerged on the winning side 10 times and KXIP have won 8 times while 1 ended in a tie.
18:00 hrs IST
RR vs KXIP - 1 hour to go for toss
Hello and welcome to Match 9 of #Dream11IPL.

Steve Smith led @rajasthanroyals will take on KL Rahul's @lionsdenkxip.#RRvKXIP pic.twitter.com/GriivsvjpV

— IndianPremierLeague (@IPL) September 27, 2020
17:55 hrs IST
Sharjah's dimensions can be a factor
Sharjah is easily the smallest ground in this year's IPL. We saw what happened when Sanju Samson and Steve Smith used the short straight boundary to perfection against CSK so this might be a factor today. KXIP have Shami and Cottrell, who have been fantastic in the big grounds in Dubai and Abu Dhabi but things might be a bit different here.
17:45 hrs IST
Will Chris Gayle play against RR today?
How long can you keep Chris Gayle in the benches? KXIP have been really brave with team selections and to be fair to them they have got the results to show. Mayak Agarwal and KL Rahul have producing the goods at the top. But their problem is in the middle order. Is there a case of playing Gayle at No.3 in place of Nicholas Pooran? Gayle hasn't really batted anywhere else apart from the top so it might not be easy for him. But it's worth a shot.
17:35 hrs IST
IPL 2020 RR vs KXIP - Sharjah venue insight
Highest Team Total: 216/7 By Rajasthan Royals Against Chennai Super Kings In 2020.
Lowest Team Total: 121/10 By Sunrisers Hyderabad Against Kings XI Punjab in 2014.
Highest Individual Score: 95 By Glenn Maxwell (Kings XI Punjab) Against Sunrisers Hyderabad in 2014.
Best Bowling Figures: 4/13 By Lakshmipathy Balaji (Kings XI Punjab) Against Sunrisers Hyderabad in 2014.
Highest Partnership: 121 By Steven Smith And Sanju Samson (Rajasthan Royals) For 2nd Wicket Against Chennai Super Kings In 2020.
Win Rate Batting First: 42.86% (3 Won; 4 Lost)
17:25 hrs IST
Jos Buttler returns for Rajasthan Royals
It's a big boost for any side if you have Jos Buttler joining on the eve of the match. He has finally completed the quarantine formalities due to which he had to miss their opening match against CSK. Royals heavily rely on their foreigners and Buttler is one of them. His return against a strong KXIP bowling unit is sure to bring broad smiles on captain Smith's face.
17:15 hrs IST
RR vs KXIP - What do HT's experts think
Aritra: "Jos Buttler's return to the side tilts this slightly towards Rajasthan Royals, I believe. But it's ever so slightly. Kings XI can make it even by bringing in Chris Gayle, will they do that? Don't think so. But what a line-up we have today. Shami and Cottrell will go head on against Buttler, Smith and Samson. Archer will try and get the better of Kl Rahul, Mayank Agarwal. Karan, I know you've been looking forward to this contest. What do you think?"
Karan: "Look, Aritra. I think this is a good contest between two in-form thinks. Steve Smith with Sanju Samson on top for RR is a smart move. Both can do a lot of damage. Jofra Archer lower down the order and with the ball is a rare talent. On the other hand, Rahul and Mayank Agarwal on top of their game and Sandeep Sharma with the ball is outstanding. This will be the closest contest so far, mark my words."
17:07 hrs IST
Both RR and KXIP on a high
Not often have go the privilege to say this in the IPL but we have got it this year, both Rajasthan Royals and Kings XI Punjab have headed into the match registering comprehensive wins in their last encounters and both look to be the side to beat this year.
17:00 hrs IST
IPL 2020, RR vs KXIP live score
Hello and welcome to the live coverage of IPL 2020 match No.9 between Rajasthan Royals and Kings XI Punjab in Abu Dhabi. I'm Aritra Mukherjee (you guys must be tired of me, but can't help it, please tolerate for another day) and I have Karan Prashant Saxena. We will be with you during this interesting battle of today.
Close Story
Personalise your news feed. Follow trending topics