Sunrisers Hyderabad vs Delhi Daredevils, IPL 2018 highlights: SRH win by seven wickets, go on top of table
Updated on May 05, 2018 11:56 PM IST
Get highlights of Sunrisers Hyderabad vs Delhi Daredevils, IPL 2018 here. Yusuf Pathan's aggressive cameo helped SRH beat DD by seven wickets to go on top of the table.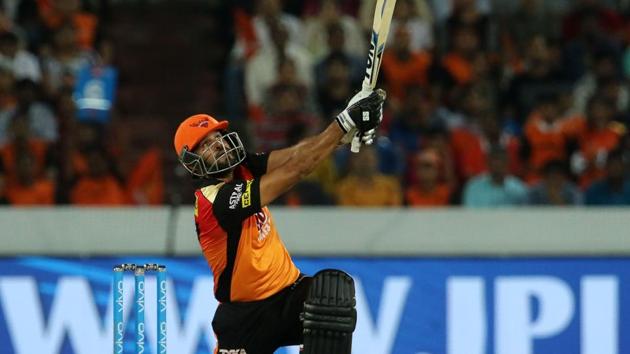 Prithvi Shaw slammed his second fifty off 25 balls and shared a magnificent partnership with Shreyas Iyer to boost Delhi Daredevils. However, following the dismissals of Shaw and Iyer, Delhi Daredevils stumbled in the death overs as Sunrisers Hyderabad, led by Rashid Khan, helped restrict Delhi Daredevils to 163/5. In response, Alex Hales started well and shared a wonderful opening stand with Shikhar Dhawan but Amit Mishra's two wickets dented the hosts' progress. However, an aggressive cameo from Yusuf Pathan and a solid knock from Kane Williamson helped Sunrisers get over the line by seven wickets and go on top of the table. Get highlights of Sunrisers Hyderabad vs Delhi Daredevils, IPL 2018 here. (SCORE | STREAMING)
23:55 hrs IST: That is all from us here. Join us for another double header tomorrow. Bye Bye.
23:54 hrs IST: Rashid Khan, Man of the Match: Feels really good to perform well. I had two bad matches, had to keep everything simple. That is the main strength - the quick arm action. I'm taking advantage of that. The main thing is to bowl at good length. Feeling like playing in Afghanistan.
23:50 hrs IST: Kane Williamson: I don't think there's any secret. Adapt to the surfaces. We were on a different one again. Both teams used the new ball well. We came back really well. In terms of getting more runs, they looked like they would. It was nice to restrict them under a par score.
23:45 hrs IST: Sheryas Iyer: Very disappointing to be honest. At certain point we were really in the game, on top but the momentum changed completely. It was a really good total to get on the board, even though we got a good start, we didn't capitalize later on, but 10 runs extra would have been nice
23:36 hrs IST: Brilliant Yusuf Pathan. What a player. Dan Christian bowls a full toss and Yusuf blasts a 96-meter six straight down the ground and then pulls a short ball over short fine leg for a boundary. Williamson then seals the win with a whip to deep mid wicket and they register a seven-wicket win to go on top of the table. Brilliant stuff from Sunrisers Hyderabad. They have dispelled the notion that they cannot chase big totals.
23:27 hrs IST: Yusuf Pathan keeps Sunrisers Hyderabad in the hunt with a lofted six over long on and a sliced four through deep backward point. Boult responds with five good deliveries and it has boiled down to the last over. Can Sunrisers Hyderabad pull it off or Delhi Daredevils hold their nerve to clinch this thriller?
23:20 hrs IST: Another magnificent over from Plunkett. He nails the yorkers and gives no room to the batsman as they concede just four runs in the 18th over. Uphill task now for Sunrisers Hyderabad and it is slowly becoming apparent that chasing is not such a strong suit for Williamson's side.
23:16 hrs IST: Brilliant over from Boult as he concedes just seven runs in the 17th over. In the first ball of the 18th over, Pandey looks to slog a full cutter outside off and ends up mistiming it, Prithvi Shaw runs back and takes an important catch. All eyes on Kane Williamson and Yusuf Pathan now.
23:07 hrs IST: Avesh Khan bowls four great deliveries and the pressure mounts. However, Williamson keeps Sunrisers Hyderabad in the hunt by upper-cutting a slow bouncer over third man for a vital six and stealing a couple off the last ball. Delhi Daredevils need to put in a couple of tight overs.
23:02 hrs IST: A couple of boundaries by Manish Pandey off Christian relieve some pressure from SRH. They are 115/2 in 15 overs.
22:58 hrs IST: Six runs from Plunkett's over. SRH 102/2 in 14 overs.
22:52 hrs IST: Good over from Mishra. Just the four runs off it.
22:48 hrs IST: Six runs off Plunkett's over. SRH 92/2 in 12 overs.
22:42 hrs IST: OUT! Shikhar Dhawan goes for a big hit, misses and the ball removes the bails off his stumps. Amit Mishra gets the crucial wicket. SRH 86/2 in 11 overs.
22:38 hrs IST: Dhawan is holding firm and Sunrisers Hyderabad will need Kane Williamson to step up and ensure the run-rate does not go out of control. After 10 overs, SRH are 82/1. The run-rate is 8.2 and the required rate is also 8.2
22:30 hrs IST: Dhawan continues to bat in his merry ways as he paddles a quick full toss on the pads from Mishra to the fine leg fence. However, the legspinner has the last laugh as he cleans up Hales with a ripping legbreak that pitches on leg stump and breaks away sharply to hit the top of off stump. Hales once again falls for 45 and Sunrisers Hyderabad are 76/1 after nine overs.
22:21 hrs IST: Superb over from Amit Mishra as he brings some sanity for Delhi Daredevils with just three runs in the seventh over.
22:17 hrs IST: Brilliant stuff from Hales and Dhawan. Avesh Khan starts the over poorly with a no-ball and Dhawan launches the free-hit into the deep mid wicket stands. However, Alex Hales targets Avesh for some special punishment as he blasts three sixes, one over deep mid wicket and two over long off. 27 runs in the over and Sunrisers Hyderabad are 61/0 after six overs.
22:12 hrs IST: Bad start for Liam Plunkett. Hales glances a full ball to the fine leg fence and the England pacer ends the over in a similar way, with Dhawan nudging a full ball on the pads to the boundary. Delhi Daredevils need wickets.
22:07 hrs IST: Glenn Maxwell starts the bowling in the fourth over and concedes just four runs. Trent Boult slightly loses his radar as Sunrisers Hyderabad reach 23/0 after four overs. Perhaps, batting second on this deck is necessarily not easy.
21:58 hrs IST: Alex Hales gets going with two boundaries off Avesh Khan, who is bowling at good pace. One boundary is a pull to the fine leg fence and the next is a ramp upper-cut to the third man fence. Delhi Daredevils do not help themselves with Glenn Maxwell not holding onto a catch from Hales. After two overs, Sunrisers Hyderabad are 11/0.
21:53 hrs IST: Good start from Trent Boult as he gets good pace and bounce in this wicket. Alex Hales and Shikhar Dhawan are opening the batting for Sunrisers Hyderabad and they will be hoping to give the team a good start.
21:36 hrs IST: Good hitting from Vijay Shankar as he launches a six and a four off Bhuvneshwar Kumar to help Delhi Daredevils reach 163/5. It is still a good total but at one point, they promised a lot more.
21:28 hrs IST: Just seven runs in the 19th over. In the last five overs, just 28 runs have been scored by Delhi Daredevils. They will be bitterly disappointed with this finish and they might end up just reaching 155, which is not a par score on this deck.
21:23 hrs IST: Just four runs in the 18th over. From promising a score in excess of 190, Delhi Daredevils might struggle to even reach 160. This has been a magnificent comeback from the Sunrisers Hyderabad bowlers who have shown they are the best in the business in this department for the IPL 2018.
21:19 hrs IST: Rishabh Pant falls and even the review cannot save him. The legbreak spins back in from a short of a length and Pant misses the pull shot to be hit on the back leg, the umpire gives it out and replays show it pitched just in line and was hitting the top of middle stump. Delhi Daredevils are not ending on a good note and the total could be under-par.
21:14 hrs IST: Rishabh Pant gets going with a boundary off Kaul. Full ball and he drills it down the ground. That will give him some confidence. However, in the very next over, Naman Ojha calls for a single but is sent back and Rashid Khan immediately swoops on the ball and effects the run-out. Delhi Daredevils losing their way in the death overs.
21:06 hrs IST: The pressure of the last few overs have told on Iyer and he falls. This is a serious loss in momentum. Slow, knuckle ball from Kaul on leg stump, Iyer attempts the lofted shot but miscues it totally and Dhawan takes the catch at deep mid wicket to do the 'Thigh Five'. This is where Sunrisers Hyderabad are so good.
21:03 hrs IST: Sunrisers Hyderabad have pulled things back remarkably in the last couple of overs. Shreryas Iyer moves closer to his fifty thanks to a misfield from Shikhar Dhawan but at the other end, Rishabh Pant is unable to get the ball off the square as he struggles to cope with the variations of Sandeep and Kaul.After 15 overs, Delhi Daredevils are 125/2.
20:54 hrs IST: Rashid Khan is denied his second wicket as Iyer gets a faint inside edge only for Wriddhiman Saha to spill the chance. The Delhi Daredevils skipper then makes the bowler pay by mauling a full ball just over long off for a six. After 13 overs, Delhi Daredevils are 110/2
20:51 hrs IST: Fantastic over from Kaul. Sunrisers Hyderabad are clawing back into the contest as he concedes just three runs in his second over after going for 20 in his first. The run-rate, from close to 10, has now slipped to eight.
20:46 hrs IST: Excellent over from Rashid Khan as he concedes just three runs in the over. Troubled both Iyer and Pant with spin and accuracy. This is a chance for Sunrisers Hyderabad to pull things back after the onslaught from Shaw and Iyer. After 11 overs, Delhi Daredevils are 98/2.
20:42 hrs IST: Prithvi Shaw registers his highest score in the IPL but in the quest for aggression, he looks to slog Rashid Khan over deep mid wicket but ends up miscuing the ball and it lobs up to short third man where Kaul takes an easy catch. Onus is now on Iyer and Pant to get DD to a score close to 200.
20:37 hrs IST: Sheryas Iyer compliments Shaw magnificently as runs continue to be plundered by the Delhi Daredevils. The Mumbai lad launches Shakib over long on and then bisects the gap at backward point brilliantly with a square cut. Excellent batting from Shaw and Iyer. Delhi Daredevils are 89/1 after nine overs.
20:33 hrs IST: The introduction of Rashid Khan cannot stop the flow of runs. Short ball and Shaw hammers the pull shot to the deep square leg fence. The run-rate is close to 10 and Delhi Daredevils are on course for a big score.
20:29 hrs IST: Fantastic stuff from Shaw as he notches up his second IPL fifty off just 25 balls. It has been a brilliant effort from him and Delhi Daredevils have moved to 66/1 after seven overs. Sunrisers Hyderabad, after three games, are finally under pressure.
20:25 hrs IST: Carnage at Uppal as Prithvi Shaw tears Sunrisers Hyderabad apart. He launches a big six over long off of Siddarth Kaul's knuckle ball while he helps himself to a hat-trick of boundaries, one to deep mid wicket, another to fine leg and the third a wonderful drive past cover. 20 runs in Kaul's first over as Delhi Daredevils reach 60/1 after six overs.
20:19 hrs IST: Iyer decides to join in the fun and he aggressively drills a full ball past Bhuvneshwar as Delhi Daredevils reach 40/1 in the fifth over. On this deck, Delhi Daredevils need a total in excess of 200 as Sunrisers Hyderabad's batting is not their strong suit.
20:16 hrs IST: Shaw continues to bat aggressively but he ends up toe-ending one full ball from Sandeep Sharma to deep extra cover which lands safely. However, he ends the over in style with a boundary to fine leg by helping a short ball non-chalantly. Delhi Daredevils' middle order, consisting of youngsters Shreyas Iyer, Rishabh Pant and Shaw, once they get going, it could be the future of Indian cricket.
20:12 hrs IST: Shaw is looking in great touch again as he crunches a flighted delivery from Shakib Al Hasan over deep extra cover for his second six. Boy, is the Under-19 World Cup winning captain in great form or what? Delhi Daredevils are 25/1 after three overs.
20:09 hrs IST: Prithvi Shaw gets going by hoicking Sandeep Sharma over long on for a big six but couple of balls later, he drives a full ball back to the bowler who gets a fingertip to it and Maxwell is out of is crease to be run out for 2. Shaw is unfazed and he hammers a boundary to the deep backward point fence. 13 runs in Sandeep's over and Delhi Daredevils are 15/0 after two overs.
20:02 hrs IST: Bhuvneshwar Kumar starts well for Sunrisers Hyderabad. Gets some swing and hits the right areas as Prithvi Shaw and Glenn Maxwell both get off the mark. Bhuvi is getting some inswing and Delhi Daredevils are 2/0 after the first over.
19:34 hrs IST: Delhi Daredevils have chosen to bat against Sunrisers Hyderabad. Shreyas Iyer's side have made two changes, with Naman Ojha coming in and Dan Christian replacing Colin Munro. For Sunrisers, Bhuvneshwar Kumar returns in place of Basil Thampi. Here are the playing XIs.
Sunrisers Hyderabad: Alex Hales, Shikhar Dhawan, Kane Williamson(c), Manish Pandey, Shakib Al Hasan, Yusuf Pathan, Wriddhiman Saha(w), Bhuvneshwar Kumar, Rashid Khan, Siddarth Kaul, Sandeep Sharma
Delhi Daredevils: Prithvi Shaw, Naman Ojha, Shreyas Iyer(c), Rishabh Pant(w), Glenn Maxwell, Vijay Shankar, Daniel Christian, Liam Plunkett, Amit Mishra, Avesh Khan, Trent Boult
19:11 hrs IST: A warm welcome to the game between Sunrisers Hyderabad and Delhi Daredevils from the Uppal stadium. Kane Williamson's side are fresh off a break and will be aiming to continue their winning run while for Delhi Daredevils, they will be boosted by their performance against Rajasthan Royals where they defeated them by four runs in a thriller.
Williamson has led Sunrisers Hyderabad by example, amassing 322 runs from eight innings with an average of 46. However, the New Zealand international has not received proper support from Shikhar Dhawan and Wriddhiman Saha whose performances have been below par in the competition.
For Delhi Daredevils, the trio of Prithvi Shaw, Shreyas Iyer and Rishabh Pant have been DD's batting mainstay even as their foreign recruits like Colin Munro and Glenn Maxwell have failed to fire.
Personalise your news feed. Follow trending topics