India vs South Africa, 1st Test, Day 4, highlights: SA beat IND by 72 runs, Philander 6/42
Vernon Philander took six wickets as South Africa beat India by 72 runs in the first Test match in Cape Town. Get highlights of India vs South Africa, first Test, Day 4, here.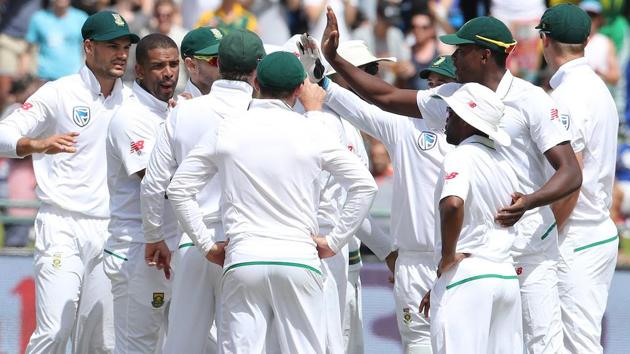 Updated on Jan 08, 2018 08:50 PM IST
Vernon Philander took six wickets while Morne Morkel and Kagiso Rabada took two each as South Africa defeated India to take a 1-0 lead in the series in Cape Town. Chasing 208, India were bundled out for 135 in their second innings. Rohit Sharma and Virat Kohli tried to steady the Indian innings but were unable to succeed against the hosts' stacked bowling attack. Earlier, Mohammed Shami and Jasprit Bumrah took three wickets each while Bhuvneshwar Kumar claimed two to bowl out South Africa for 130 in their second innings. Get highlights of India vs South Africa, first Test, Day 4, here. (SCORECARD | LIVE STREAMING)
20:48 hrs IST: The second Test will begin on January 13 in Johannesburg.
20:46 hrs IST: "Plan was to get 200 runs, to get 350 and to have a crack at them tonight. But we were surprised how much it was doing. When we came in today, the pitch was green again, almost like the day 1 pitch. I think it was a fantastic cricket wicket. Really important in a three-match series to put the opposition under pressure," Faf du Plessis said at the post-match presentation.
20:41 hrs IST: Vernon Philander is the man of the match thanks to his heroics with the ball.
20:41 hrs IST: Virat Kohli also praised Hardik Pandya. "He's (Hardik Pandya) a strong character. He's performing for us now, even away from home. That knock was brilliant." he said.
20:39 hrs IST: Virat Kohli's statement at the presentation ceremony - If we had taken our chances in the first innings, even after them counter-attacking, we could have kept them to 220. We're not a team which thinks of what-ifs though. We were thinking 250, 275 if they play well. It was a great effort by the bowlers. We needed someone to get a 75-80. Credit to them, they were a bowler short and still bowled their heart out."
20:27 hrs IST: What a day! It was a brilliant show by the bowlers as 18 wickets tumbled today!
20:21 hrs IST: That's it! Philander picks up his sixth wicket as South Africa complete a brilliant win!
20:17 hrs IST: OUT! 12th 5-wicket haul for Vernon Philander as Mohammed Shami departs. South Africa are just one wicket away from victory. IND 135/8
20:14 hrs IST: Philander gets his fourth wicket as Ashwin is caught behind. IND 131/8
20:12 hrs IST: Looks like luck is on Ashwn's side as the ball took his edge but there was no slip fielder in place. IND 130/7
20:05 hrs IST: The partnership between Ashwin and Bhuvneshwar is now 43 off 69 balls. IND 125/7
19:57 hrs IST: India need 96 runs more to win. But 3 wickets remaining, it looks like a difficult climb for the visitors.
19:52 hrs IST: Ashwin edges one to the slips but du Plessis was unable to take the catch. IND 112/7
19:46 hrs IST: Ravichandran Ashwin and Bhuvneshwar Kumar are playing quite cautiously. South Africa are also trying out new stuff as Keshav Maharaj is going to bowl for the first time in the second innings. IND 101/7
19:39 hrs IST: The Indian batsmen have struggled against the disciplined bowling line-up of South Africa and it seems highly unlikely that the visitors will be able to achieve a positive result in this game. IND 97/7
19:30 hrs IST: Morne Morkel strays down the leg side and Ashwin gets a boundary through fine leg. IND 92/7
19:25 hrs IST: These two can still bat. India would feel they've an outside chance of sealing an unlikely win.
19:22 hrs IST: Morkel continues to keep it tight. India are 84/7, need 124 more to win. Rabada now.
19:18 hrs IST: Ashwin to take strike. Morkel to resume the proceedings. It has been an absolutely brilliant show from South Africa pacers.
19:17 hrs IST: Welcome back! Can Ashwin and Bhuvi do the unthinkable?
19:00 hrs IST: It's tea on Day 4. South Africa are just three wickets away from a brilliant victory.
18:57 hrs IST: OUT! Kagiso Rabada strikes for South Africa as Wriddhiman Saha is trapped LBW. IND 82/7
18:49 hrs IST: A lot of questions will be asked about Ajinkya Rahane's exclusion after this match. It remains to be seen how Virat Kohli addresses the issue. IND 82/6
18:41 hrs IST: Wriddhiman Saha and Ravichandran Ashwin are the last recognised batting pair for India and everything depends on their performance. IND 77/6
18:35 hrs IST: OUT! Hardik Pandya gifts his wicket as he ended up giving an easy catch to AB de Villiers in gully. IND 77/6
18:30 hrs IST: OUT! Fourth wicket for Philander as he castles Rohit Sharma. India 76 for the loss of 5 wickets.
18:25 hrs IST: Huge chance for South Africa. Rohit Sharma top-edged it but Keshav Maharaj made a mess of the catch. IND 76/4
18:20 hrs IST: Huge wicket for South Africa! Philander gets his third wicket as Virat Kohli is trapped LBW. IND 71/4
18:13 hrs IST: As expected. Kagiso Rabada is introduced into the attack. IND 70/3
18:07 hrs IST: Morne Morkel and Vernon Philander are both looking quite tired. Looks like we will see Kagiso Rabada in action very soon. IND 65/3
17:58 hrs IST: Cracking shot by Virat Kohli as he drives the ball for a boundary. IND 58/3
17:53 hrs IST: Virat Kohli and Rohit Sharma have played till now. India were rattled by the South African bowlers early in their second innings as Pujara, Dhawan and Vijay ended up gifting their wickets. IND 53/3
17:45 hrs IST: 15 overs gone, India are 50 for the loss of 3 wickets. They need 158 runs more to win the match.
17:35 hrs IST: OUT! Third wicket down! An unplayable delivery by Morne Morkel and Cheteshwar Pujara ended up giving a catch to the slip fielder. IND 39/3
17:32 hrs IST: Boundary for Cheteshwar Pujara as he looks to rebuild the Indian innings after two quick wickets. IND 38/2
17:27 hrs IST: Wriddhiman Saha created a new record in this match as he became the first Indian wicketkeeper to take 10 catches in a Test match away from home, breaking MS Dhoni and Nayan Mongia's record.
17:19 hrs IST: Philander strikes! It was a thick outside edge from Murali Vijay and de Villiers made no mistake at second slip. IND 30/2
17:12 hrs IST: OUT! Morne Morkel strikes! That's the end of Shikhar Dhawan as he was caught by Chris Morris in the slips. IND 30/1
17:07 hrs IST: Murali Vijay survives another scare. He was given out but DRS shows once again that the ball did not hit the bat. IND 28/0
16:57 hrs IST: An outside edge from Shikhar Dhawan and the ball rushes to the thirdman boundary. IND 13/0
16:52 hrs IST: Sheer elegance by Murali Vijay as he caresses the ball through the covers. IND 9/0
16:47 hrs IST: Murali Vijay was given out LBW by the umpire, but DRS shows that the ball was missing the leg stump. IND 4/0
16:39 hrs IST: Shikhar Dhawan and Murali Vijay are opening for India. The hosts will be looking at the two openers to provide them with a solid foundation. IND 1/0
16:36 hrs IST: Vernon Philander to start the proceedings for South Africa.
16:32 hrs IST: Wriddhiman Saha took nine dismissals in this game - the joint second by any Indian wicketkeeper along with MS Dhoni.
16:24 hrs IST: STAT ATTACK - Jasprit Bumrah is the second Indian bowler (after Amit Mishra) to remove AB de Villiers twice in the same Test.
16:12 hrs IST: Time for Rabada and Morkel to step up in Steyn's absence. The game is still evenly poised.
16:00 hrs IST: It will be lunch in Cape Town as India finish with eight wickets in the first session. The pitch helped the Indian pacers and their discipline left the South African batsmen stunned.
15:56 hrs IST: OUT! Jasprit Bumrah takes the final wicket as South Africa are bowled out for 130. India need 208 runs to win this match.
15:51 hrs IST: OUT! Another wicket for Bhuvneshwar Kumar! A bouncer from the Indian pacer and Morne Morkel ended up giving an easy catch to Wriddhiman Saha. SA 130/9
15:49 hrs IST: AB de Villiers is not bothered by the fall of wickets as he slaps Jasprit Bumrah's length ball for a six over long off. SA 130/8
15:43 hrs IST: Dale Steyn is padding up! Looks like he will bat for South Africa in this game. SA 122/8
15:41 hrs IST: OUT! Bhuvneshwar Kumar joins the party as he dismisses Keshav Maharaj for 15. SA 122/8
15:38 hrs IST: Keshav Maharaj also gets a boundary as South Africa inch towards a lead of 200 runs. SA 119/7
15:30 hrs IST: AB de Villiers is fighting a lone battle for South Africa. He will need support from the tail-enders and he will be key to the hosts' plans right now. SA 109/7
15:23 hrs IST: The lead is currently 176 runs. South Africa will be looking to take it past 250 at least but anything above 200 will be a challenge for India. SA 99/7
15:18 hrs IST: A confident LBW call from Mohammed Shami but the ball was missing the leg stump. SA 95/7
15:12 hrs IST: OUT! Third wicket of the day for Mohammed Shami as he dismisses Vernon Philander LBW for a duck. SA 95/7
15:10 hrs IST: The movement in the pitch will not last after two hours, according to local experts. That can be good news for India if they are able to dismiss South Africa in the first session itself. SA 94/6
15:03 hrs IST: It has been a brilliant session for India as Jasprit Bumrah and Mohammed Shami have take two wickets each to bring the visitors back into the game. SA 92/6
14:57 hrs IST: OUT! Quinton de Kock is the next one to be dismissed as he nicked one off the bowling of Jasprit Bumrah and the keeper took the catch comfortably. SA 92/6
14:51 hrs IST: 30 overs gone. India will be extremely happy with their performance till now as they have taken three quick wickets to reduce the hosts to 87/5.
14:44 hrs IST: OUT! Brilliant bowling by Jasprit Bumrah as Faf du Plessis is caught behind for a duck. SA 82/5
14:39 hrs IST: A bouncer from Mohammed Shami and AB de Villiers guides it comfortably to the third-man boundary for a four. SA 78/4
14:34 hrs IST: Big chance for India! Bumrah was able to induce a contact from AB de Villiers, but the ball fell agonisingly short of Wriddhiman Saha. SA 74/4
14:29 hrs IST: OUT! Shami strikes once again! The ball bounced sharply for Rabada and Virat Kohli made no mistake in taking the catch in the slips. SA 73/4
14:27 hrs IST: Dale Steyn has been ruled out of the series against India, after seeing a foot and ankle specialist on Sunday. He will be reassessed in four to six weeks time. SA 68/3
14:20 hrs IST: Kagiso Rabada is not looking confident against Mohammed Shami's pace. Will Shami get another wicket? SA 67/3
14:15 hrs IST: AB de Villiers is the new batsman for South Africa. A lot will depend on his performance in this innings. SA 67/3
14:06 hrs IST: OUT! Huge wicket for India as Mohammed Shami dismisses Hashim Amla. Amla edged it to the second slip and Rohit Sharma took a brilliant catch. SA 66/3
14:03 hrs IST: Good movement for Bhuvneshwar Kumar from the very first ball, but Hashim Amla was cautious. SA 65/2
13:59 hrs IST: Bhuvneshwar Kumar to bowl the first over of the day. SA 65/2
13:57 hrs IST: We are minutes away from the start of the match. India need quick wickets while South Africa will look to slowly move towards a big lead. Let's see who comes out on the top.
13:51 hrs IST: The weather prediction says that there will be no more rain in the next two days and a total of around 190 overs will be bowled.
13:45 hrs IST: Update from our correspondent Somshuvra Laha - "Beautiful sunny day here in Cape Town."
13:38 hrs IST: Big news ahead of the 2018 Indian Premier League (IPL) auction - Aussie all-rounder Chris Lynn has picked up another injury. Read full report here.
13:27 hrs IST: South Africa will be raring to go after no action took place on Day 3. Hashim Amla, AB de Villiers and Faf du Plessis will surely be looking forward to extend that lead over 250 if not more.
13:18 hrs IST: Not a single ball was bowled on Day 3 due to heavy rain. It will be interesting to see how the pitch changes because of that. The Indian pacers should get some movement off the track.
13:06 hrs IST: Meanwhile, Australia romped to an innings and 123 victory over England after dismissing the tourists for 180 on the final day of the fifth Test to complete a 4-0 Ashes triumph that fell short of a whitewash was but was little less emphatic. Read full report here
12:57 hrs IST: Good news. In all likelihood, play will start in time. 98 overs to be bowled on the remaining two days.
12:54 hrs IST: Hello and welcome to HT's live coverage of the fourth day of the first Test between South Africa and India in Cape Town.
Day 2 was a day of comebacks for India. They looked all but finished at 92/7 but Hardik Pandya fearlessly took on the South African bowling attack, very nearly scoring what would have been a well-deserved century. The fact that he also removed both South African cricket team openers gives India hope, despite the hosts' 142-run lead being quite formidable.
South Africa will be confident of setting India a good target, despite Day 3 getting washed out. Hashim Amla and nightwatchman Rabada will take the crease on Day 4, meaning two of their best batsmen - AB De Villiers and skipper Du Plessis - can later wreak havoc on a pitch that is likely to get easier to bat on as the Test wears on.
Close Story
Personalise your news feed. Follow trending topics