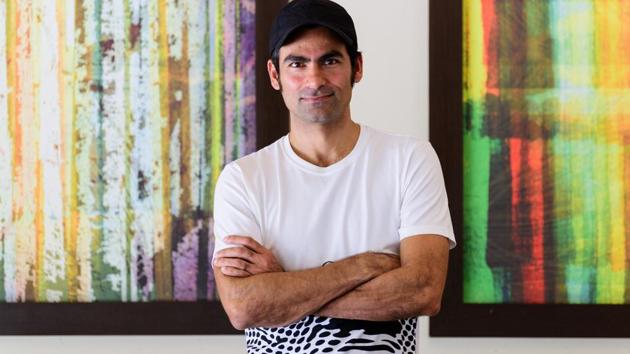 Mohammad Kaif: I'm a family man, so I share my thoughts on social media sensibly
Former Indian cricketer Mohammad Kaif, who recently discouraged the idea of an SC/ST quota in cricket via a tweet, says that Twitter has given him a voice where he had none before, and that he's happy to make a difference.
UPDATED ON AUG 08, 2018 04:01 PM IST
His career in the Indian cricket team has lasted only about seven years, but Mohammad Kaif, who announced his retirement three weeks ago, will likely have instant recall — and be held in high regard — among cricket fans for years to come. Which is why, what he says on social media carries weight. Kaif knows it, and wields this power with care.
The cricketer recently tweeted his thoughts, criticising the idea of an SC/ST quota in cricket, as put forth by a news organisation. "That [tweet] doesn't mean ki SC, ST [players] ko khelna nahi aata or that they aren't good players," says Kaif. But, he explains, "Cricket is a sport that's [about] merit. If you are good, and able to perform, you get picked. And if I'm batting, I don't think if a black or a white [player] is bowling. Sport is above all caste and religion. You play with different countries and want to be the best player for your team." (On social media, Kaif asked the news organisation: "How many prime time journalists are SC or ST or for that matter how many senior editors in your organisation are SC or ST?")
This is one of those rare occasions when Kaif has made a hard-hitting statement. Throughout his career, he let his game do the talking — having left his home town in Uttar Pradesh at the age of 11 to play cricket, he is one of the few players from the state to have made the cut for an India cap, and he got much acclaim for his on-field agility.
Fans know about his shy nature, and that's one thing, Kaif feels, that obstructed his rise in the national team. "I didn't have a voice and [now I have] got the voice," says the former player, who has become very active on social media, which he agrees is a boon in his case. "I'm not an 'in your face' kind of person. But since I've got this platform (Twitter) where I can make a difference, being a celebrity or a player or a youth icon — jo bhi aap bol lo (whatever you call it) — I share my thoughts, making the youth believe that this is the way I feel," he adds.
But, unlike some other celebrities, Kaif is not trigger-happy on Twitter — he thinks before he posts. "I'm a family man, a father, a husband; so share my thoughts sensibly. I think a lot before tweeting. Being a sportsperson, I have the plan; every single word I write, I know how it would sound to others. I have the vision to see its impact, and want to be honest. Sometimes people disagree, but that's good. You want to have that debate. I get lots of comments and fans ask questions. That's great because I want to connect with them and let them know how I'm feeling. If due to my [posts], even one out of five people changes their thought process, I'd be happy to contribute my experience," he says.
That's classic Mohammed Kaif, whose game was based on the same strategy: less is more. At 37, looking back at his national cricket career, he says, "In a career of six-seven years, I was able to create moments for Indian fans, who follow the game as a religion... Chai aur paan ki dukan pe jao to woh kaise passionately match ko dekhte hain (Just look at even a tea stall or paan vendor's shop, and see how passionately they watch a cricket match). That's why I'm very happy with the way I've played the game. Quantity nahi, quality thi meri game mein (My game had quality, not quantity)."
Interact with the author at Twitter/@HennaRakheja
Topics
Close