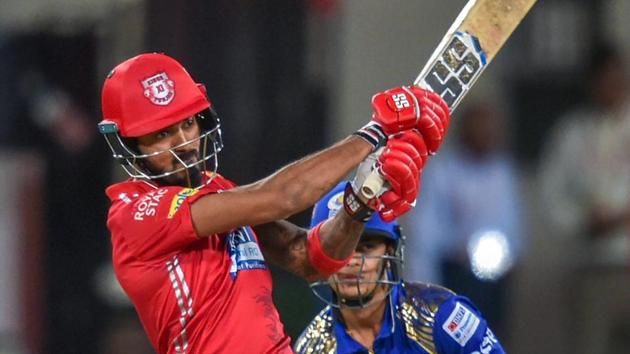 Kings XI Punjab's KL Rahul says most comfortable opening the batting
KL Rahul, Kings XI Punjab opening batsman says he is most comfortable opening the batting in a T20 match as it gives you time.
UPDATED ON MAY 05, 2018 12:02 PM IST
KL Rahul's life has almost come full circle in the last year. A shoulder surgery just before the 2017 Indian Premier League (IPL) saw him missing subsequent national assignments as he got pushed to a back-up role.
Already part of Indian ODI cricket team's middle-order experiment, the recently-concluded Nidahas T20 Trophy in Sri Lanka saw him batting at No. 3. Cut to 2018 IPL, and the 26-year-old is back to revelling in his favourite opening position for Kings XI Punjab (KXIP).
Rahul started his KXIP innings with a 14-ball half-century – the fastest in IPL. Thanks to his exploits, with 292 runs in seven games, the Ravichandran Ashwin-led side has a strong chance of qualifying for play-offs.
As KXIP begin their final march to seal a place among the top four teams, Rahul talks on his journey so far.
Q: Does opening the batting have a lot to do with your current form?
A: That's the position I am most comfortable in. I have opened the batting all my life. I know exactly how to pace my innings when I open the batting. While batting in powerplay, you have so much time. You have the whole 20 overs to yourself. I always enjoy batting top of the order and it has been good fun so far.
READ | Krunal Pandya cameo keeps Mumbai Indians alive with 6-wicket win over Kings XI Punjab
Q: Your opening partner Chris Gayle is a natural hitter. What tricks have you picked up from him?
A: I love how Chris Gayle is so still at the crease. He believes in his strength and that he can clear any ground. That's mostly why he hits those big sixes, because he's always in great position without trying to hit the ball too hard. Watching that from the other end, even I try to do that. Maybe I can't hit the ball as far as he does but I try to stay balanced in the crease. That gives me the best opportunity to get as many runs as I can.
Q: How do you see Ashwin as a captain?
A: I have been lucky enough to play under some fabulous captains starting from MS Dhoni, Virat Kohli and now Ashwin. I was under David Warner at Sunrisers Hyderabad. That's the beauty of IPL as you play with different people.
Ashwin has been great with the team. He is someone who is proactive and spends a lot of time with the younger bowlers. He has been clear about what he expects out of the team and that is to be fearless and do as your instincts tell you. He has given the players cushion and freedom. He has told them that they will get chance to perform.
READ | Virat Kohli to get only nominal wages, no fat contract for Surrey deal
Q: As a player, are you feeling better than 2016 when you scored close to 400 runs?
A: That year gave me lot of confidence. The coaches and team members observed that 'KL Rahul is not only a Test player but he can play all formats.' That gives you confidence. So, 2016 was revolutionary year for me. It was where I discovered my own self and own game. Right now, I am batting a little bit better.
Q: But you were not retained by RCB?
A: That's how the IPL goes. Each team has a different plan. I would love to play for RCB because it is close to me. The team played a big part in where I am today, because of the opportunities that they gave me. But this is how the game goes. But I am honoured by the love that Kings XI has given. I am loving the new challenge."
Close