'Dhoni asked everyone to bowl 6 deliveries': Ex-India star reveals why MSD picked Sehwag to open in bowl-out vs Pakistan
Feb 05, 2023 11:24 AM IST
The result of the tied T20 World Cup match between India and Pakistan was ascertained by a bowl-out, and Virender Sehwag was picked as India's first bowler in the lineup.
Team India created history in 2007 when it lifted the inaugural T20 World Cup trophy under the captaincy of a young Mahendra Singh Dhoni. It was the former wicketkeeper-batter's first assignment as skipper of the side, and the team defeated arch-rivals Pakistan in a dramatic final in Johannesburg. The tournament kickstarted an incredible captaincy run for Dhoni, as he steered India to ODI World Cup win in 2011 and the Champions Trophy victory two years later. Under Dhoni's captaincy, India also won the ICC Test Mace on two occasions.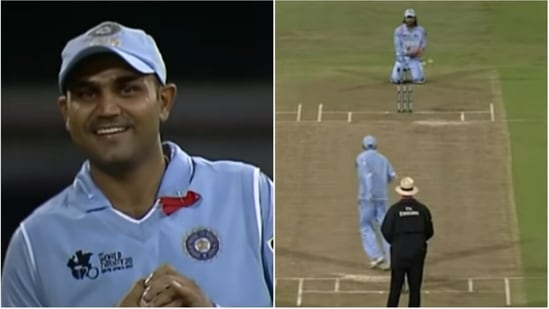 In the 2007 edition, India began their campaign against Pakistan as well, and in a dramatic turn of events, the game had ended in a tie. At the time, Super Over hadn't been introduced and the result of the match was instead decided on a bowl-out, where six bowlers from each team would attempt at hitting the stumps. The team with most successful attempts was then declared winner.
Also read: 'I played for MS Dhoni, then I played for my country': Suresh Raina's incredible remark on retiring right after MSD
Former India pacer Rudra Pratap Singh has now revealed that Dhoni and Lalchand Rajpoot, the former India cricketer who travelled with the side as coach for the tournament, made it a practice to ask every player in the team to bowl six deliveries after the end of day's training.
"We didn't pay much attention to it (before the Pakistan game). But after every practice session, Lalchand Rajpoot and MS Dhoni used to give balls to everyone to bowl six balls at the stumps. Dhoni and Rajpoot used to note who had hit the wickets most. And Virender Sehwag actually had the 100 percent strike rate in that. That's why he was given the first ball. We had to build the pressure right from the start," RP Singh revealed during his commentary stint during SAT20 league.
In the bowl-out, Sehwag, Harbhajan Singh, and Robin Uthappa made successful attempts for the side while Pakistan bowlers failed to hit the stump on all three occasions. Yasir Arafat, Umar Gul, and Shahid Afridi took the attempts for Pakistan.
"There were two others who had also been selected for the bowl-out, but they didn't need to bowl there. They were Irfan Pathan and Sreesanth. I wasn't there!" RP Singh further revealed.