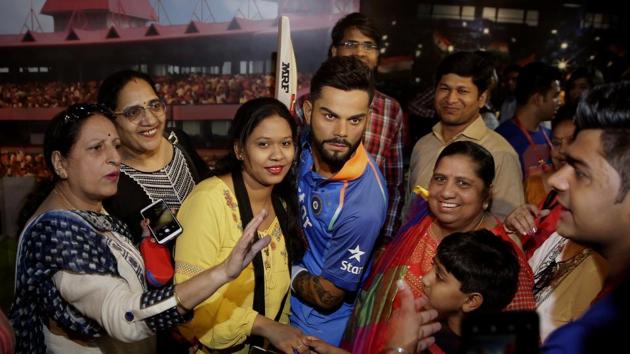 No better platform for stardom than Indian cricket
The power of cricket is reflected in mega- crore commercial deals, frenzy of Indian Premier League (IPL) games and the presence of fans waiting outside the hotel of the Indian cricket team, hoping to catch a fleeting glimpse of star players.
Hindustan Times | By Amrit Mathur
UPDATED ON JUN 15, 2018 09:51 AM IST
What is it about cricket, the question is asked, that top politicians, bureaucrats, corporate czars, socially climbing acrobats and retired Supreme Court judges want to be part of it? Often, those posing this question themselves suggest an answer: It must be for money.
No, it isn't money; it is way off target, a wide ball. People in the business of running cricket are not poor and many are seriously loaded. What drive them are power, authority and control.
ALSO READ: Smriti Mandhana set to become first Indian to play in Kia Super League
Actually, the question why cricket attracts the famous and powerful deserves no answer and ought to be summarily dismissed. Cricket is important in India, its reach and influence is fantastic. Anyone failing to recognise this must be divorced from reality and living on another planet.
Cricket's importance is confirmed when Bangladesh play Afghanistan in Dehradun and the stadium (10 km from the city, not connected by public transport) is sold out. The power of cricket is reflected in mega- crore commercial deals, frenzy of IPL games and the presence of fans waiting outside the Indian team hotel hoping to catch a fleeting glimpse of star players.
ALSO READ: Dinesh Chandimal ton boosts Sri Lanka after Shannon Gabriel 5/59
It is this power that makes Virat Kohli a national icon, a youth role model and a successful athlete on the Forbes list with an annual income of $24 million. Someone with a wax statue in Madame Tussauds, 2.5 crore followers on Twitter, and the confidence to issue a fitness challenge to the Prime Minister!
Not just King Kohli, cricket benefits commoner cricketers downstream too. Kuldeep Yadav is a brand ambassador for the Election Commission in UP and under-19 Shubman Gill (veteran of two Ranji matches) is already signing commercial endorsement deals. Cricket is the modern day OTP, a password that opens doors and provides access to an exclusive club. It is the passport to fame and relentless media attention. Always prime time on national TV channels and headline making breaking news, cricket manufactures celebrity.
ALSO READ: Steve Smith-led Australia behaved like 'spoilt brats' - Justin Langer
For anyone with ambition and the drive for self-promotion, there is no better platform than Indian cricket. Of course, there are opportunities more material that come from patronage and by wielding authority. There are people who pay serious money to buy fancy mobile numbers and car registration numbers -- just imagine the value they'd put on having SRT/MSD/Virat on speed dial. Surely this is a priceless, money- can't-buy privilege.
Raj Singh Dungarpur once provided perspective about cricket's standing in the Indian context. Its importance, he said, can be gauged from the fact that the announcement of the Indian team is as significant as a cabinet reshuffle. A similar comment was made when the match-fixing scandal hit Indian cricket.
The one thing we learnt, said someone on watching daily press conferences on the subject, is that Mr SS Dhindsa is the Sports Minister of India. Before the cricket scandal not many knew that! Cricket is part of the national narrative and our DNA, and it impacts the national mood. That is why the Supreme Court, led by successive CJIs, is making strenuous efforts to reform it.
(Amrit Mathur is a senior cricket writer and has been involved with IPL in official capacity)
Disclaimer: Views expressed are personal
Close