No Bumrah but India's pacers keep the faith
Jan 20, 2023 05:05 PM IST
India's fast bowling depth has been put to its severest test without Bumrah but it has held up well so far.
Jasprit Bumrah can rattle batters in ways few bowlers can. That India can't do without him keeps hitting us every time Bumrah is named and then dramatically withdrawn. While it has stoked concern as to how many more matches and years Bumrah has in him, not enough has been said about India holding up rather well in his absence. India's fast bowling is acquiring, albeit slowly, a sense of responsibility.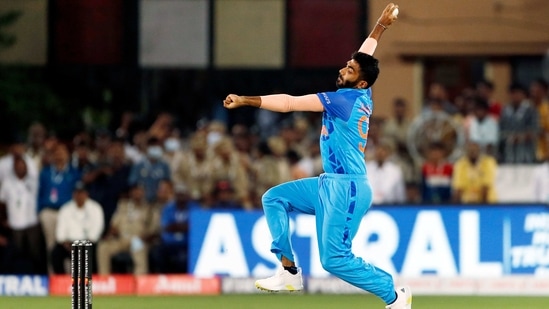 That assurance yet again was on display in the last ODI against New Zealand when Michael Bracewell almost ran away with the game until the fast bowlers pulled it back, first through Mohammed Siraj who took two wickets in two balls before Shardul Thakur pinned Bracewell leg-before.
Thakur, who was having a bad game otherwise, was asked to defend 20 runs in the last over. Bracewell whacked him for a six over long-on off the first ball but Thakur bounced back brilliantly by chasing him with a short slower ball before firing in the yorker.
In the series before this, India hardly broke a sweat to restrict Sri Lanka for 306/8 before bundling them for 215 and 73. Kuldeep Yadav's wrist spin was a major factor but the fast bowling was commendable too, getting the outside edge, baiting catches at midwicket and point, taking the ball away and bringing the odd one back sharply. Mohammed Shami has been the automatic leader of the attack in Bumrah's absence but more impressive has been Siraj's improvement.
"Siraj has been brilliant, of late even in the other two formats," said Rohit Sharma after the Hyderabad game. "He's gone from strength to strength, running hard and clear about what he wants to do. He's not afraid to use the short ball as well, which is exciting."
Not always highlighted but India have kept finding ways to fill the gap left by Bumrah, even when the lack of experience has shown. Gabba, 2021, was a victory orchestrated with the help of a second-string side with net bowlers. The 2021 home Test wins against England and New Zealand; ODI victories strung in Pune, Colombo, Ahmedabad and Port of Spain before South Africa and Sri Lanka were routed at home; or for that matter the T20 World Cup run where India were outclassed in the semi-finals—all were achieved without Bumrah.
More than any individual being, the sum of India's entire fast bowling machinery has been making it count for a while now. That success is reflected in the numbers as well.
Since the start of 2021 till the Sri Lanka series, India's fast bowling has in fact performed a shade better in almost every format when Bumrah hasn't played.
The difference is marginal in ODIs (bowling average of 28.64, economy of 5.39 and strike rate of 29.8 without Bumrah as opposed to 29.29, 5.52 and 31.8 when he was involved) and in T20Is (economy of 8.17 and strike rate of 16.9 without him compared to 8.33 and 19.6) but obvious nevertheless. Test numbers too have been decent enough for India to contemplate a future without Bumrah, at least at home where spinners have been more prolific, and that was evident in the way Sharma has been talking up Siraj's significance.
This is not to say India don't have a bench strength problem. No one has officially spoken about Bhuvneshwar Kumar's future. Deepak Chahar is back at the NCA after getting injured once again in Bangladesh. Navdeep Saini has strained his abdominal muscle. And the status of Prasidh Krishna—whose natural bounce would have been an asset anywhere—is unclear after he fell off the grid in September owing to a back injury.
But over the years India have also harnessed a massive pool of talent and experience that they are learning how not to squander opportunities. Which is why Umesh Yadav can always be summoned for duties beyond Tests, Thakur is still in the reckoning and Arshdeep Singh is being nurtured carefully.
For all the theatre that batters are conjuring at home, the real takeaway has been India's will to not wilt to the pressure of filling the gap left by Bumrah. If that means letting Umran Malik bowl full blast at batters without worrying about runs, India have done exactly that. Hardik Pandya too has stood up and made himself count in the middle overs while Siraj's transition from relative oblivion in white-ball cricket to making regular inroads with both new and old ball has been almost seamless.
All these have given reasons to keep faith in India's fast bowling depth despite being put to its severest test without a class act like Bumrah.
Enjoy unlimited digital access with HT Premium
Subscribe Now to continue reading
Topics