Pakistan cricketer Hasan Ali's 'wicket celebration' at Wagah border causes stir
Pakistan cricketer Hasan Ali's involvement in the flag-lowering ceremony at the Wagah border on Saturday didn't go down well with the Indian side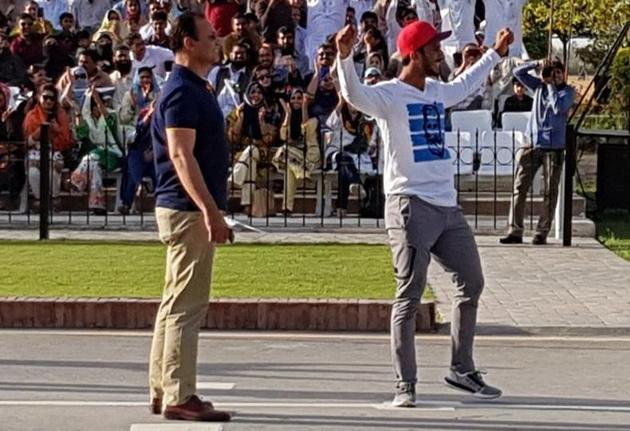 Updated on Apr 22, 2018 12:39 PM IST
Pakistan cricketer Hasan Ali's signature wicket-taking celebration during the flag-lowering ceremony at the Wagah border has not gone down well with the Border Security Force (BSF) of India.
A video of Ali taking part in the beating retreat ceremony, which is performed by soldiers from BSF and Pakistan Rangers every evening at the Wagah border, had earlier gone viral on social media.
The video showed the Pakistan pacer patting his thighs and raising his arms before breaking into the kind of unique celebration he does on the cricket field after claiming a wicket, as soldiers from Pakistan Rangers stood in the background. He was later escorted back by a man in civilian clothes amid thunderous applause from the audience.
Taking a strong exception to Ali's involvement in the ceremony, the BSF has now decided to lodge an official protest with Pakistan Rangers over the breach of a protocol. It is learnt that according to ceremony protocol, only the BSF on the Indian side and Rangers on the Pakistan side can take part in the flag-lowering ceremony.
READ | Pakistan Cricket Board, BCCI set for face-off over Emerging Nations Cup
"The act has hit the sanctity of the parade. We will lodge a protest with Pakistan Rangers," BSF Inspector General (Punjab Frontier) Mukul Goel was quoted as saying by The Sunday Express.
"Anyone can make any aggressive gesture in the viewers' gallery on both sides but no public person can interfere in the parade. Before or after the parade, the people are free to do such things, but not in the middle of the parade," Goel said.
The Sunday Express had also quoted DIG R S Kataria saying, "I am on leave. I have inquired into it. A BSF officer at Attari has told me that the national cricket team of Pakistan had come to witness the ceremony at Wagah. One of the cricketers from their team started making provocative gestures during the drill. It happened on Pakistani side. Pakistani officers later made that player sit. Since it is a drill of forces of two countries, BSF is lodging protest with Pakistan Rangers."
Close Story
Personalise your news feed. Follow trending topics