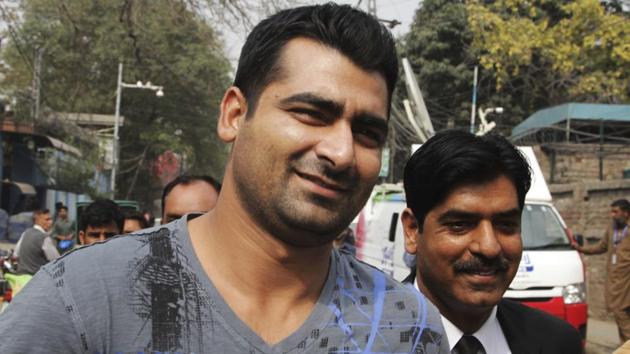 Pakistan's Shahzaib Hasan banned for one year in PSL spot-fixing case
The Pakistan Cricket Board's (PCB) Anti-Corruption Tribunal has handed Shahzaib Hasan a one-year ban for his involvement in the spot-fixing row that hit the Pakistan Super League (PSL) last year.
Agence France-Presse, Lahore | By Agence France-Presse
UPDATED ON FEB 28, 2018 06:56 PM IST
Pakistan Wednesday hit former opener Shahzaib Hasan with a one-year ban and a million rupee ($9,050) fine for a spot-fixing incident that rocked the country's Twenty20 League (Pakistan Super League) last year.
Hasan, 28, was a member of Pakistan's World Twenty20 winning team in 2009 but had not played any international cricket in the past eight years.
(Read | Pakistan fast bowler Rumman Raees reveals his 'dream' encounter with Virat Kohli)
Hasan, who was playing for the Karachi Kings, was one of six players charged with various breaches of the Pakistan Cricket Board's anti-corruption code during the second edition of the Pakistan Super League (PSL) held in the United Arab Emirates.
"Hasan has been banned for one year and fined one million rupees on one charge and we have requested for more action against him on inducing other players for fixing," board legal adviser Taffazul Rizvi told the media.
(Read | Kuldeep Yadav, Yuzvendra Chahal's rise good for the game: Mohammad Hafeez)
Hasan, an aggressive opener, played three one-day internationals and 10 Twenty20 internationals before losing his place due to poor performance in 2010.
The PSL was rocked by scandal in February last year when it was announced that several players were caught in a spot-fixing incident.
Spot-fixing involves determining the outcome of a specific part of a match rather than the overall result, and is therefore harder to detect than match-fixing.
(Read | BCCI confirms use of Decision Review System in IPL 2018)
The PCB formed a three-man tribunal which later banned Sharjeel Khan for five years (two and a half suspended) while Khalid Latif was banned for five full years and fined one million rupees.
Mohammad Irfan was banned for one year (six months suspended), Mohammad Nawaz for two months (one suspended) and Nasir Jamshed for one year.
The third edition of the PSL is currently being staged in the UAE, with two play-offs in Lahore and the final in Karachi on March 25.
(Read | Dawlat Zadran takes hat-trick as Afghanistan stun West Indies in ICC World Cup qualifier warm-up)
The PCB took extra measures to stem spot-fixing, with all six teams in this year's league monitored by anti-corruption officers.
Pakistan has a history of fixing, with former captain Salim Malik and Ataur Rehman banned for life in 2000.
A spot-fixing case during Pakistan's tour of England in 2010 ended in five-year bans on then Test captain Salman Butt, Mohammad Asif and Mohammad Amir.
Pakistan leg-spinner Danish Kaneria is also serving a life ban on charges of spot-fixing during a county match in England in 2009.
Close