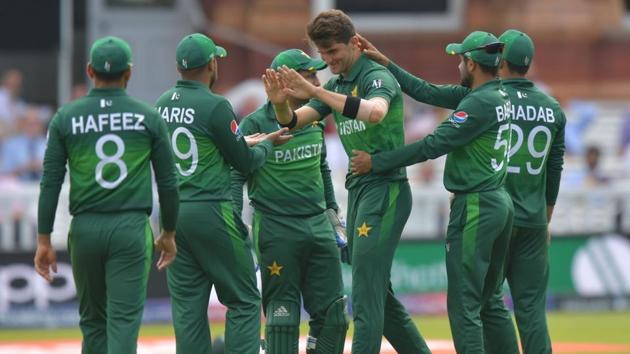 Pakistan vs Bangladesh Highlights, World Cup 2019: Shaheen Afridi guides Pakistan to 94-run win
Highlights Pakistan vs Bangladesh, ICC World Cup 2019: Shaheen Afridi starred in Pakistan's 94-run win for Pakistan against Bangladesh. The left-armer picked six wickets including the crucial dismissals of Mushfiqur Rahim and Shakib al Hasan. The left-armer also dismissed Tamim Iqbal. Bangladesh were bundled out for 221 in 316-run chase. Pakistan stumbled in their bid to get to a higher total with Mustafizur Rahman picking five wickets and Mohammad Saifuddin picking up three. Imam-ul-Haq scored a ton while Babar Azam was dismissed for 96. But the middle order failed to get going and Pakistan could only muster 315/9 in 50 overs.
Follow Pakistan vs Bangladesh Highlights here:
UPDATED ON JUL 06, 2019 07:59 AM IST
22:31 hrs IST
Pakistan win!
Excellent yorker Fizz has been cleaned up. Shaheen AFridi finishes with 6/35. Bangladesh are all out for 221. Pakistan win by 94 runs.
22:16 hrs IST
GONE!
Mohammed Saifuddin has been caught inside the circle and Shaheen Afridi gets his fourth. He departs first ball for a duck. BAN 197/7
22:11 hrs IST
GONE!
Mossadek Hossain has been caught as he tried to increase the run rate. Bangladesh are now six wickets down. This is getting easy for Pakistan. BAN 197/6 in 40 overs
22:06 hrs IST
Partnership building
Mahmudullah and Mossadek Hossain have built a good partnership here now. But the reqd run rate is increasing. They need 125 to win in 67 balls. Someone needs to start hitting big shots.
21:34 hrs IST
GONE!
An off cutter from Shaheen Afridi, just pitched it outside off stump, a bit of bounce and Shakib took a swing at it. Gets and edge and it is caught. BAN 154/5
21:14 hrs IST
GONE!
A slow ball from Shaheen Afridi and Liton Das goes for a swing. The ball goes straight to Haris Sohail. BAN 136/4
21:12 hrs IST
FIFTY!
Shakib al Hasan has scored yet another half century and he has also became Bangladesh's top scorer. He is keeping Bangladesh in the hunt. 27 overs gone, BAN 123/3
2054 hrs IST
Shakib still going
Shakib al Hasan is still in the middle and he is with Liton Das. The duo chased down over 300 once before against West Indies. Can they do it again?
20:34 hrs IST
Cleaned up!
Wahab Riaz has dismissed Mushfiqur as the batsman chops on to the stumps. BIG WICKET! Bangladesh are 78/3.
20:30 hrs IST
Partnership building
Shakib and Mushfiqur, the duo are yet again building a partnership. They will hope to take their side to a win.
20:05 hrs IST
WOW!
Stunned by a slow delivery, Tamim Iqbal has been bamboozled. Shaheen Afridi strikes. Bangladesh are two wickets down for 48.
20:02 hrs IST
10 overs gone
10 overs gone, Bangladesh are now 47/1. Bangladesh would want Shakib al Hasan to take the side to a win and finish as the tournament's run scorer. He has had a fantastic tournament.
19:45 hrs IST
First blow for Bangladesh
Bangladesh have been given their first blow as Fakhar Zaman takes a good low catch to get rid of Soumya Sarkar. BAN 26/1
19:29 hrs IST
DROPPED!
Pakistan just dropped a catch at slips and also dropped the chance to qualify. Bangladesh reach 8/0 and this means, Pakistan are out of the contention and New Zealand have made it through.
19:20 hrs IST
Chase begins
The players are coming out in the middle and we are about to get underway with the Bangladesh chase. Tamim Iqbal and Soumya Sarkar are opening the innings for Bangladesh while Mohammad Hafeez has the new ball in his hands as Pakistan opt for spin early on.
18:50 hrs IST
End of innings
Mustafizur Rahman picked up two wickets and gave away six runs in the final over. Pakistan finish at 315/9. Bangladesh need 316 to win. Is that the magic number? Remember, Pakistan needed to win by 316 to qualify and that is the exact total here.
18:34 hrs IST
GOT HIM!
Fizz takes a one-handed diving low catch off his own bowling to get rid of Shadab Khan. Pakistan are seven wickets down for 288.
18:31 hrs IST
GOT HIM! AGAIN!
Mohammad Saifuddin cleans up Wahab Riaz with a menacing yorker. Pakistan are six wickets down for 288.
18:22 hrs IST
Sarfaraz walks off
Sarfaraz Ahmed has not been dismissed but he has walked off the field and Wahab Riaz has stepped in. A bid to accelerate the innings, maybe?
18:06 hrs IST
GONE!
Mustafizur Rahman strikes and gets his 100th ODI wicket. Haris Sohail tried to go after a short one, gets a top edge and it flies straight to Soumya Sarkar. Pakistan 255/5
17:59 hrs IST
Hafeez Out
Mohammed Hafeez has hit it straight to a fielder at midwicket. He departs for 27. The end of an era? Pakistan 248/4
17:54 hrs IST
GONE!
Imam ul Haq has been dismissed right after scoring his ton. He has hit the stumps on his own to set the dismissal. PAK 246/3
17:50 hrs IST
HUNDRED!
Imam has done it! Imam ul Haq has completely done it! He has brought his hundred in 99 balls. Pakistan 245/2 in 41.3 overs
17:38 hrs IST
Imam on path to 100
Imam ul Haq has been on the path to scoring a ton. Pakistan would hope he can bat for long as he can make a real impact in the final 10 overs.
17:10 hrs IST
Babar OUT
Babar Azam has been trapped LBW and the DRS could not save him. He is dismissed for 96, and once again misses out on his ton. Shaifuddin gets the prize. PAK 180/2
17:00 hrs IST
Babar Azam on fire
Babar Azam has found a second gear since scoring his half century. He smashed Mustafizur for two consecutive boundaries. 30 overs gone, Pakistan 163/1
16:42 hrs IST
FIFTY!
Imam ul Haq has also scored his fifty in 52 balls, courtesy of poor fielding from Bangladesh. Bangladesh are having a foregettable day on the field. PAK 135/1 in 26.4 overs
16:28 hrs IST
FIFTY!
Babar Azam brings up his half century, and he brings it up in style. Solid batting from Babar, and he needs to take this forward today.
16:17 hrs IST
Azam approaching fifty
Babar Azam has moved i nto late 40s and he could be on the verge of scoring his half century here. Another big innings on the cards - or a typical Azam innings which ends on 60s and 70s...? Time will tell.
15:57 hrs IST
Expensive first over from Shakib
11 runs from the over, so unlike Shakib. He started the over by giving 4 wides and then Babar Azam and Imam ul Haq were smart enough to deal in ones and twos, productive over for Pakistan.
15:48 hrs IST
Fifty up!
A nice dab down to third man from Imam-ul-Haq brings up Pakistan's fifty. It hasn't come in a quick time but considering they lost Zaman early, they will take it. Now for Babar Azam to really capitalize on the good start.
15:40 hrs IST
Powerplay ends
That's the end of the first Powerplay. The Bangladesh, bowlers, Mehidy Hasan in particular have not allowed Pakistan to get off to a flying start, which they needed so badly after opting to bat first. Shaifuddin in fact, gave them a body blow by removing Fakhar Zaman early. Pakistan 38 for 1 after 10 overs
15:25 hrs IST
Shaifuddin removes Zaman
OUT! Straight to the hands. Zaman wasn't timing the ball well today and he didn't even this time. Nothing special about the delivery from Shaifuddin and Zaman in fact, it was there to be hit but Zaman doesn't get the desired timing and provides a simple catch to the point fielder.
15:20 hrs IST
A photographer's delight
FOUR! Majestic, wonderful, serene - Get all your adjectives out and it may still fall short to describe that shot from Imam-ul-Haq. Everything right about that cover drive and it pierced the packed off side field to race away to the boundary.
15:10 hrs IST
Close shave for Fakhar
It was miles up in the air and thankfully for Pakistan and Fakhar Zaman, it lands just short of Tamim Iqbal, who ran in at least 20 metres from the long-off boundary. A flighted delivery oputside the off stump from Mehidy, Fakhar dances down the track and attempts an outrageous heave only to get a top edge. 2 runs
15:06 hrs IST
First boundary
SMASHED for four! Short and wide from Shaifuddin, it was there to be punished and was done so by Fakhar Zaman, just the ideal delivery for a batsman to get his innings going. Pakistan need a big one from Fakhar, if they have to post in excess of 400, then he has to come good.
15:03 hrs IST
Mehidy starts well
Very good start from Bangladesh off-spinner Mehidy Hasan, perfect line and length, no room provided to Fakhar Zaman to free his arms, only 1 run from it.
14:55 hrs IST
What the captains said
Sarfaraz Ahmed, Pakistan captain: Only chance we have is to bat first and put a big total on the board. So we will try our best. We are going with the same team, although we know that we need quick and big runs. It's a long tournament and one game is different from the others. Unfortunate to be in this position but we will try our best.
Mashrafe Mortaza, Bangladesh captain: I'd love to bat first on this wicket as it's a used wicket. Have to bowl well and restrict them to a chaseable total, We've been playing well against them but this is a fresh game and they're a good side. They're starting to take off in terms of momentum and we need to play well. Yes, it will be a good milestone for us if we manage to win four games in the World Cup. It is my final World Cup game and I will try my best.
14:42 hrs IST
Playing XIs
Bangladesh (Playing XI): Tamim Iqbal, Soumya Sarkar, Shakib Al Hasan, Mushfiqur Rahim(w), Mahmudullah, Liton Das, Mosaddek Hossain, Mohammad Saifuddin, Mehidy Hasan, Mashrafe Mortaza(c), Mustafizur Rahman
Pakistan (Playing XI): Fakhar Zaman, Imam-ul-Haq, Babar Azam, Mohammad Hafeez, Haris Sohail, Sarfaraz Ahmed(w/c), Imad Wasim, Shadab Khan, Wahab Riaz, Mohammad Amir, Shaheen Afridi
14:36 hrs IST
Team news
Pakistan are playing an unchanged side. Bangladesh have made two changes, Mahmudullah and Mehidy are in for Sabbir and Rubel
14:33 hrs IST
Toss
Pakistan win toss and opt to bat first against Bangladesh and more importantly, stay alive in the tournament for now.
14:29 hrs IST
Pitch report
"Right handers will target the 62m leg-side boundary and 58 meters point boundary. Straight boundaries are longer. It's pretty much the same at both ends. Lot of greenery on the surface but I guess whatever moisture is there will dry out. Looks a decent track to bat on." reckon Simon Doull and a highly optimistic Rameez Raja who is backing Pakistan to post a 400-plus total.
14:15 hrs IST
Venue insights
Highest team total: 334/4 by England vs India (60 overs) in 1975
Lowest team total: 107 by South Africa vs England in 2003
Highest individual score: 138* by Viv Richards (WI) vs England in 1979
Best bowling figures: 5/26 by Mitchell Starc (AUS) vs New Zealand in 2019 (this WC)
Biggest partnership: 226 by Andrew Flintoff and Andrew Strauss (ENG) vs West Indies for the 4th wicket in 2004.
14:00 hrs IST
Player battles
Tamim Iqbal vs Mohammad Amir
Soumya Sarkar vs Wahab Riaz
Shakib Al Hasan vs Shaheen Shah Afridi
Imam-ul-Haq vs Mustafizur Rahman
Babar Azam vs Shakib Al Hasan (Read full story here)
13:45 hrs IST
Record-breaking Shakib
Shakib is on the verge of joining legendary Sachin Tendulkar in an elite World Cup list. If the southpaw manages to cross the 50-run mark against Pakistan, Shakib will become only the second cricketer after Tendulkar to score seven 50+ scores in a single edition of the World Cup.(Read full story here)
13:30 hrs IST
Weather update
It promises to be a bright and sunny day London. The temperature is likely to hover between 14-22 degree Celsius. There are no chances of rain
13:15 hrs IST
What's there for Bangladesh?
Not much in terms of the outcome of the tournament is concerned but for the better part of the tournament, they were considered to ahead of Pakistan in the race to semi-finals. Mashrafe Mortaza men would look to grab bragging rights against Pakistan.
12:59 hrs IST
What Pakistan need to do
If Pakistan score 350, they must win by 311 runs.
If Pakistan score 400, they must win by 316 runs.
If Pakistan score 450, they must win by 321 runs (Read full story here)
12:45 hrs IST
Toss can end Pakistan's hopes
Would you believe it if we tell you that the coin- toss can end Pakistan's ray of hope? Yes, if Bangladesh win the toss and opt to bat first then Bangladesh will automatically be eliminated from the World Cup. To stand a chance for a semi-final berth, Pakistan first need to bat first then post a huge total.
12:30 hrs IST
Hello and welcome
Hello and eveyone and a very warm welcome to the live coverage of Pakistan vs Bangladesh ICC World Cup 2019 match at Lord's. This match promises to be a cracker of a contest between the two Asian giants with one of them still having a chance to qualify for the semis.
Close