Pro Wrestling League: Jaipur Ninjas enter semifinals, beat UP Dangal
Jan 12, 2017 11:47 PM IST
Jaipur Ninjas secured a narrow 4-3 win over UP Dangal in the Pro Wrestling League to enter the semi-finals.
Jaipur Ninjas registered a narrow 4-3 win over UP Dangal to book a berth in the semifinals of the Pro Wrestling League Season 2.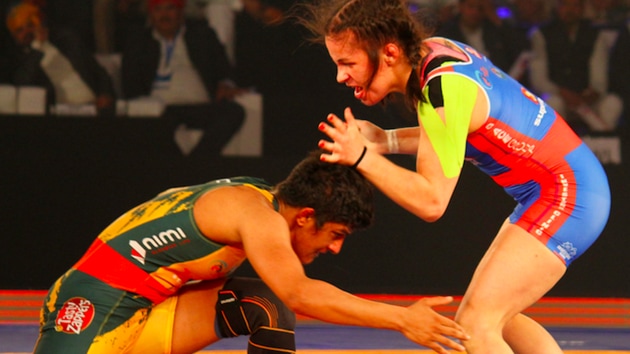 UP won the toss and decided to block the 57kg Men's category, thereby preventing Jaipur's impressive Indian grappler Utkarsh Kale from participating in the tie. UP blocked the 75kg Women's category, as Jaipur's key player Jenny Fransson had to sit out.
Stay tuned with breaking news on HT Channel on Facebook.
Join Now
With this victory, Jaipur Ninjas became the first team to qualify for the semifinals of PWL 2 with six points out of their four games.
Meanwhile, just two days after being declared fit, star wrestler Geeta Phogat shied away from taking the mat once again for UP Dangal, this time also on "medical grounds". In her place UP Dangal fielded Manisha, who had lost her previous bout 1-9 to Mumbai Maharathi's Sarita.
The real-life 'Dangal' girl is yet to feature in this PWL season. Her weight category, women's 58kg, was blocked by her own team in the opening match against Haryana Hammers, while in the second match against Mumbai Maharathi, she pulled out citing high fever. In the third match, Punjab Royals blocked Geeta's weight category after she was declared fit to play.
UP Dangal are now left with just one more match as they are have failed to make it to the semifinals. It would be interesting to see if Geeta is able to make herself available for the tie against Delhi Sultans, where she would be taking on Rio Olympics bronze medallist Sakshi Malik.
Today's contest began with a tight bout between two Georgian wrestlers, Tariel Gaphrindashvili from UP and Jakob Makarashvili from Jaipur.
UP, who are yet to win a tie in PWL 2, banked on Gaphrindashvili's youth and exuberance against the more seasoned Makarashvili. Although Gaphrindashvili used a double leg hold to score points, Makarashvili turned it around and took him down, getting a 2-0 lead going into Round 2.
Gaphrindashvili began the next round aggressively, taking down Makarashvili, before the latter effected two clean takedowns to establish the lead. The experienced Makarashvili held his nerve to keep an attacking Gaphrindashvili at bay to win 6-4 in the 74 kg Men's category.
Jaipur's Pooja Dhanda took on UP youngster Manisha in the 58 kg Women's category and ended with a dominant 8-4 victory. Manisha, who replaced star wrestler Geeta Phogat for the tie, found the going difficult as the more experienced Pooja Dhanda scored points with decisive attacking moves and affecting takedowns.
However, Manisha was quick to take advantage of a lapse by Pooja, who lost her grip while attempting a rollover, to bridge the points deficit. While Pinki fought with much resolve in the dying moments of the match, she was unable to score big as Pooja Dhanda secured a win.
UP made a comeback in the match as Andrey Kviatkovski prevailed over Jaipur's Rahul Mann in a closely fought 65 kg Men's category bout. Rahul scored early with a takedown that surprised Kviatkovski but the Ukrainian wrestler settled scores with a takedown from a standing position to win 8-4.