Ravi Shastri's deal-breaking statement on Umran Malik's World Cup chances, explains how India pacer can make it to squad
Feb 02, 2023 08:05 PM IST
Former coach Ravi Shastri has weighed in on Umran Malik's chances of making it to India's final 15-member World Cup squad.
Speed sensation Umran Malik has been making waves in international cricket ever since he made his debut. Of course, Umran's pace is what stands out the most about him, but if one is to look beyond his speed, there are other aspects of his bowling too that make him an obvious threat for the opposition. Umran can break partnerships, and even though he can leak runs – something that every pacer runs a risk of – he more often than not ends up picking wickets. Umran has inflicted more bowled dismissals than any other mode, which clearly implies that he is not easy to play, but beyond his ability to bowl fast, the 25-year-old tearaway quick has picked up 15 wickets in the last 8 matches, including 2 three-wicket-hauls and gone wicketless only once.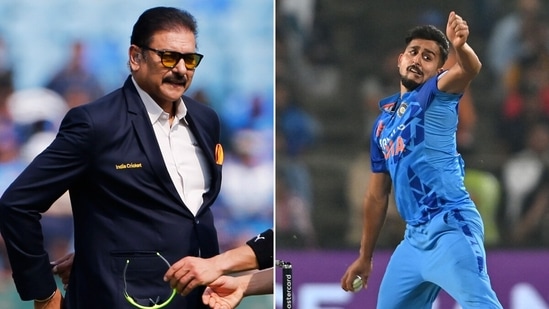 The competition in the Indian team for all slots is fierce, more so the fast-bowling department. With a World Cup approaching, the line-up looks stacked. Jasprit Bumrah will return, and accompanying him with the new ball will be his long-time partner-in-crime Mohammed Shami. Mohammed Siraj and Arshdeep Singh, with their impressive string of performances, will be knocking on the door as well, while Hardik Pandya's return to bowling full-tilt gives India another option.
Also Read: Watch Umran Malik's 150 km/h thunder sends bail flying way past 30-yard circle, dismisses Bracewell in 3rd T20I
In such a situation, whether the team management will be inclined towards including Umran makes for an interesting scenario. However, former India coach Ravi Shastri sees no reason why the India pacer cannot make it into the final 15. Shastri, who oversaw a golden period in Indian cricket, reckons Umran is more suited to ODIs than T20s, and given the amount of injuries that have been emerging lately, Umran will always be in with a chance to break into the World Cup squad.
"I think he plays an opportunity more in 50-over cricket than in T20s. And with the amount of cricket that is being played, he will always be in the mix because there could be injuries cropping up and any time. There is a deadline to announce your side for the World Cup. The fitness of players will be the key. That's why this IPL will be crucial to see how they (bowlers) take the load," Shastri said while commentating during the third ODI between India and New Zealand, where Umran returned figures of 2/9, including a 150 kph rocket to dismiss Michael Bracewell.
Umran, who was part of the Indian team as a net bowler during last year's T20 World Cup, will most likely be part of the Australia ODIs that will take place post the four-Test Border-Gavaskar Trophy, after which he will resume his duties for Sunrisers Hyderabad in the Indian Premier League 2023. Umran's real test will begin from there as he is expected to play all 14 matches at least and how his body holds up post the IPL will go a long way in determining his World Cup future.
Shastri made the equation sound tougher explaining the impact of a returning Bumrah. Once the senior pacer is back, he will automatically be the preferred choice for captain Rohit Sharma. And add to that the middle overs from Hardik, and other promising options, India appear a formidable side to beat if their record at home isn't already intimidating for the visiting teams.
"You would want Bumrah back, really because he is magical. He is a star. Him back in the side fully-fit will really lift this Indian team. And Hardik is such a key component. Him bowling for India makes this team a different side. India have got a great record at home. The boys are fit - Bumrah - it can make a big difference. You've got variety in Arshdeep as well, Kuldeep and Chahal have bowled well. Washington Sundar is threatening all the time so it's a good bunch," added Shastri.