'Ravi was beginning to lose it. He summoned Shardul and told him...': When Thakur disobeyed and lied to Shastri
Feb 05, 2023 07:29 AM IST
Injured Ashwin and Hanuma Vihari had pulled off an epic heist in Sydney in the 2020/21 series against Australia. And although the two are largely credited for the one India's greatest draws, fast bowler Shardul Thakur too has hands in the win, without even rolling his arms.
The 2018/19 series win in Australia was a historic victory for India. But it was the 2020/21 win Down Under that will go down in the history as one of India's greatest ever overseas win, if not the all-time ever. From the infamous '36 all out' episode and with most mainstay players out with injuries, India got the better of the mighty Pat Cummins-led Australia with their second-string side. While the win at Gabba remains the most memorable of all, the immediate second on the list from the 2020/21 series was the miraculous escape in Sydney when injured Ashwin and Hanuma Vihari battled against the threatening Aussie attack to eke out a draw. And although the two are largely credited for the one India's greatest draws, fast bowler Shardul Thakur too has hands in the win, without even rolling his arms.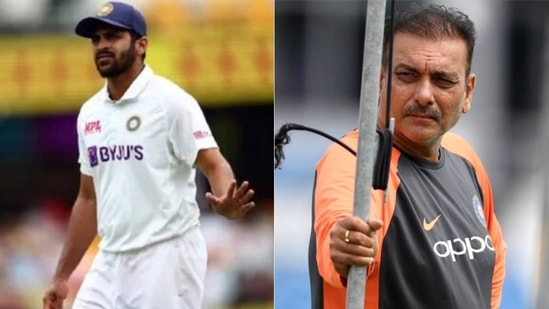 Rishabh Pant, who was also injured and had taken a painkiller before stepping in, had put India on the verge of victory with his stunning 118-ball 97 while also stitching a 148-run stand with Cheteshwar Pujara, who scored 77. Despite their valiant efforts, India were left in a tricky position. They had 127 runs to chase in the final session with two last batters in hand - Ashwin and Vihari. Jadeja too was part of the batting order, but had sustained a thumb injury. What hurt India more was that both Ashwin and Vihari were injured as well. While Vihari was struggling with a hamstring injury, Ashwin had hurt his back.
Former Team India fielding coach R Sridhar in his book 'Coaching Beyond: My Days with the Indian Cricket Team', revealed that at stroke of Tea, it was decided that Vihari, who faced difficulty in facing Nathan Lyon owing to his injury, would take on the pacers while Ashwin would face the offie.
ALSO READ: India legend gives savage '2018-19 and 2020-21' series reminder in reply to Ian Healy's 'unfair' pitch comment
"Vihari and Ashwin came in at tea, and while we converged to congratulate and encourage them, a tactical call was also made. Vihari had pulled his hamstring and was not able to play Lyon convincingly because his movements were restricted. He couldn't put in the good, long stride. Ashwin, meanwhile, was being subjected to a bouncer barrage from the quicks. So, it was decided that Ashwin, at home against Lyon, would take on the off-spinner and Vihari would negotiate the three-pronged pace attack," Sridhar wrote.
Sridhar added that despite the plan taking off perfectly in the early phase, was exposed when they two batters opted to take an unnecessary single. Then India head coach, Ravi Shastri was hence compelled to send Shardul Thakur, during drinks break, with the message that that Ashwin and Vihari have to stick to the plan.
"After having stuck to their respective ends of the bargain, for some strange reason, they took a single, which exposed Vihari to Lyon and Ashwin to the fast men. A couple of singles later, the situation was unaltered and Ravi was starting to lose his shirt. He summoned substitute Shardul Thakur and told him, 'Listen to me very carefully, and repeat this to them: No matter what happens, Vihari will handle the fast bowlers, Ashwin will play Lyon. No singles, no change of ends, period. Got it?'Shardul smiled coyly and said, 'Yes, sir', and charged to the middle with a bottle of water for Ashwin," Sridhar added.
The 52-year-old recalled that Shastri had confirmed with Shardul whether he had passed on the message and the bowler had agreed back then. However, much later it was revealed that Shardul had rather disobeyed Shastri's orders and lied to him. Sridhar felt that either the fast bowler forgot the orders on his way to the middle or he probably didn't want to disrupt the flow of the batters, who pulled off a 'blockathon' lasting 259 balls. He eventually ended up praising Shardul for his act.
"After exchanging a few words with the two batters, he ran back in. 'Did you pass on my message?' Ravi growled. 'Yes, sir, of course, Shardul replied.
"It was only much, much later, after we had pulled the fat out of the fire and escaped with one of the greatest draws, that the real story came out. It seems when Shardul went in, Ashwin asked him what was being said in the dressing room. Shardul replied, 'They are saying many things, but you guys don't worry. You are batting well, just continue doing the same things'. He didn't pass on Ravi's message; instead, he told the batters exactly what they wanted to hear at that time. Perhaps he sized up that passing on the instructions, however steeped in logic they might be, could disrupt the flow of the batters and the zone they were in, so he passed on a message he thought was the best under the circumstances. Hats off to him! In a direct way, that is linked to the kind of empowerment we gave the players, and which they learnt to use judiciously," Sridhar noted.