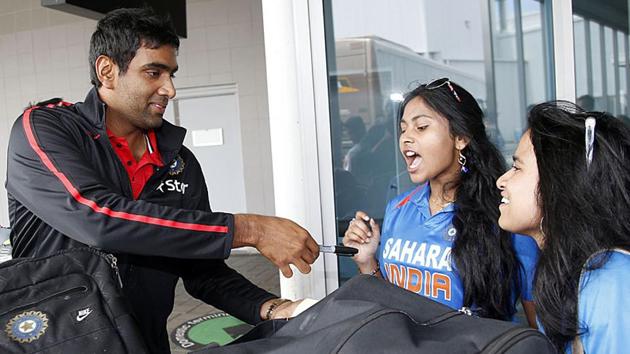 Ravichandran Ashwin was a 'brat' in school: 7 things you didn't know about him
Ravichandran Ashwin won two world titles at the ICC awards on Thursday. The Tamil Nadu all-rounder was voted the 2016 Cricketer of the Year and the Test Cricketer of the Year
UPDATED ON DEC 23, 2016 11:12 PM IST
The International Cricket Council on Thursday rewarded Ravichandran Ashwin's phenomenal run with the Cricketer of the Year and Test player of the Year 2016 awards.
While Ravichandran Ashwin's cricket's career so far has been a statistical wonder, here are some lesser-known facts about India's world No 1 off-spinner that will throw light on his personality.
Ashwin can bowl leg spin too
In an interview to Wisden India website, Ravichandran Ashwin revealed that he gave leg spin a try in his formative years, but was discouraged by people. "I did give leg-spin a try as well. I used to play a lot of under-arm cricket in the streets of Chennai. I can spin the legbreak a mile. But when I tried it, a lot of people discouraged me saying it was very difficult. They said that I batted anyway, so why not bowl off-spin? So I started, and a lot of people were impressed."
No bowling in selection trials
Ravichandran Ashwin was many times told by his school coaches to not bowl off spin in the selection trials since it affected chances of other players. They felt Ashwin would get selected on his batting credentials alone. "There was a time when I was studying in school when one of my coaches clearly told me I shouldn't be bowling at selection trials. We had a couple of off spinners from our own school and he said that if I bowled off spin, their chances would get affected. So, I didn't really bowl at the trials till I was in my late teens. It was Anirudha Srikkanth (Tamil Nadu and Chennai Super Kings teammate) who saw my bowling ability and gave me an opportunity. I went to the National Cricket Academy, captained my team and picked up seven-wicket haul. My career changed after that," Ashwin told Wisden India.
Injury at 14 hampered his batting slot
Ashwin was primarily an opening batsman in his early days. Spinning the ball was his secondary job. His batting, however, took a backseat at 14 when he injured his pelvic area that resulted in ligament tear in the hip bones. It required two months of bed rest and he was out of action for nearly a year. The injury also forced him to concentrate on bowling. "It was a turning point in many ways because he went back to his school side and found that someone else had taken his opening batting slot. I was the one who suggested he take to spin bowling, and it all turned out fine in the end," Ashwin's mother Chitra had told Mid-day.
Ashwin, not a meat guy
Ravichandran Ashwin is not a big fan of non-vegetarian food. You can either perceive it as the Brahmin culture influence or it's by choice. When he was asked about the dietary changes and giving a thought to eating meat, he told Wisden India: "There is a bit of reiteration about trying to eat something that I am not comfortable doing. Not exactly meat, I am not trying anything of that sort. It's not like it's something I wouldn't want to eat. It's a lifestyle choice I would not want to make. I will give certain things which are within my limitations a try but others I wouldn't. There is a bit of diet that I am following right now. The amount of protein that goes into my body is just not sufficient, so I am taking a lot of supplements."
'Annoying and mischievous in school'
Ashwin's wife Prithi, who studied with him in Class VIII and Class X, found Ashwin a brat in school. "I couldn't stand him in Class 8. He was extremely naughty and his group in class ended up getting pulled up for something or the other. They were the same bunch that went out and played cricket, they played ball-badminton, they played tennis or football or whatever, and they were also the same group that got into trouble… I was trying to be studious and all in school, but this guy (Ashwin) was a brat who would be up to something or the other," Prithi told ESPNCricinfo in an interview.
Night walk with his dogs
Whenever Ashwin is in Chennai, he makes it a point to take his dogs for a walk in the night irrespective of his stardom status. "At 10 o'clock every night, I take my dogs for a walk. And sometimes people do see me on the road. I actually don't bother a lot about what people think about what I am doing. At the end of the day, however big or whatever I have achieved, if I am not able to enjoy what I really enjoy, then there is no point having this life," Ashwin told Wisden India.
A movies buff
Ashwin and his father Ravichandran were a regular at Chennai's Sathyam Cinema, watching every new movie. "I just cannot avoid going to Sathyam Cinemas," Ashwin confessed in an interview to ESPNCricinfo.
Close