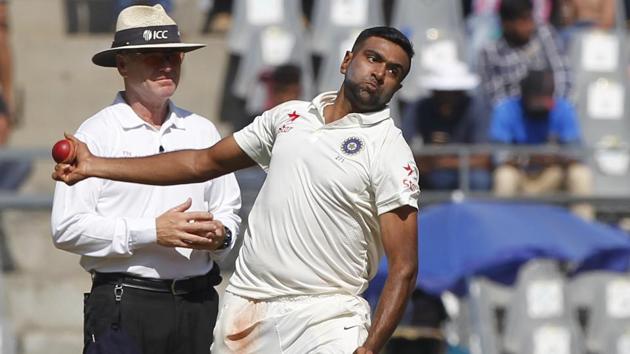 Ravichandran Ashwin does a Rahul Dravid at the ICC Awards -- this is how
Ravichandran Ashwin has been rewarded for a super 2016. Indian cricket team's lead spinner was voted as the Cricketer of the Year at the ICC awards in Dubai. He was also the Test Cricketer of the year 2016. Rahul Dravid won two titles in 2004
UPDATED ON DEC 22, 2016 06:33 PM IST
Ravichandran Ashwin has scaled yet another peak. After ending the year as the No. 1 all-rounder and Test bowler in the International Cricket Council rankings, the Indian cricket team off-spinner won the Cricketer of the Year title at the ICC awards in Dubai on Thursday. The Tamil Nadu all-rounder was also the Test Cricketer of the Year. (UPDATES)
Ravichandran Ashwin became the third India player and 12th player overall to win the prestigious Sir Garfield Sobers Trophy. Ashwin follows in the footsteps of Rahul Dravid (2004) and Sachin Tendulkar (2010).
Ravichandran Ashwin left in his wake several top cricketers who were serious contenders for the ICC Cricketer of the Year title. England's Joe Root and Australia's David Warner had a fabulous 2016 and India's Test captain Virat Kohli was not far behind.
Ashwin ended the year as the leading Test bowler and all-rounder in the world. In the ICC rankings released on Wednesday, Ravichandran Ashwin and Ravindra Jadeja scripted a rare one-two for India as they finished as the top two bowlers of the world at the end of the India versus England series.
Other recipients of the Sir Garfield Sobers Trophy include Andrew Flintoff and Jacques Kallis (joint-winners in 2005), Ricky Ponting (2006 and 2007), Shivnarine Chanderpaul (2008), Mitchell Johnson (2009 and 2014), Jonathan Trott (2011), Kumar Sangakkara (2012), Michael Clarke (2013) and Steve Smith (2015).
Ravichandran Ashwin, ICC Test Cricketer of the Year
Ashwin was also adjudged the ICC Test Cricketer of the Year, which has made him only the second India player after Dravid (2004) to bag the two coveted prizes in the same year. Kallis (2005), Ponting (2006), Sangakkara (2012), Clarke (2013), Johnson (2014) and Smith (2015) are the other players to annex both the awards in the same year.
During the voting period, which ran from September 14, 2015 to September 20, 2016, the 30-year-old from Chennai played eight Tests in which he took 48 wickets and scored 336 runs. Ashwin also claimed 27 wickets in 19 T20Is.
Ashwin had finished 2015 as the number-one ranked Test bowler in the world, a position he twice reclaimed in 2016.
Close