'Till the time I'm playing, I'd like to be an asset, not a liability': Senior India cricketer's big update on his future
Updated on Aug 10, 2022 07:48 AM IST
The senior India cricketer will likely play a role at the 2023 World Cup. But what lies beyond that, he is not sure of.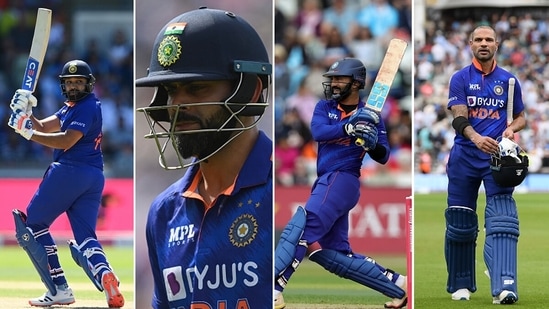 Indian cricket is nearing another transitional period. The team management is already shaping the youngsters to be stars of tomorrow as after the 2023 World Cup, certain seniors are expected to call time on one or two formats. Years ago, when Sachin Tendulkar, Rahul Dravid and Virender Sehwag retired, their places were taken up by Virat Kohli, Shikhar Dhawan, Cheteshwar Pujara, Ajinkya Rahane and Rohit Sharma. And almost 10 years later which saw these men turn into legends, another change in guard is inevitable.
If one is to look at it carefully, the shift has already begun. Virat Kohli is being given rest, and in his absence, youngsters are being tried out. Similarly, Rohit Sharma the captain too is at times given breaks to manage his workload and skip the low-profile tournaments. Shikhar Dhawan, who once was an inevitable part of all three formats of India, now plays only one despite being in form and prime fitness. In fact, Dhawan, who played his last Test in 2018 and is performing consistently in the IPL, is being repeatedly ignored from India's T20I setup. Having said that, Dhawan continues to play ODIs and will likely play a role at the 2023 World Cup. But what lies beyond that, Dhawan is not sure of.
Also Read | 'How can Ashwin even come in India's Asia Cup team? Look at his IPL record'
"Till the time I am playing for India, I would like to be an asset and not a liability. I am a calm, matured person. The performance is a reflection of my experience. My basics have been pretty strong and I have put in a lot of work to improve my technique. Understanding a format is also very important. I understand the dynamics of ODI format and that has helped me a lot," Dhawan told PTI.
"I never let this feeling creep into my system that "Oh God, I am playing only one format or I am playing an ODI series after a long time. Will my body respond well to the rigours of international cricket or will it not? Frankly speaking, I don't like entertaining these thoughts. I view it like this. If I am playing a format after a gap of two months or three months, it always gives me a chance to remain fresh and come into battle fully fit, and with enough time to work on my game."
While Dhawan played T20Is for India in July 2021, he has been among the runs in the IPL, having scored 618 runs in 2020, 587 in 2021 and 460 more earlier this year. Yet, a T20I call back to continues to elude him. In ODIs though, Dhawan has been a different beast altogether, having scored 971 runs from 22 ODIs since the beginning of 2020 and will be hoping to build on it when he leads Team India in Zimbabwe. At 36 for an opening batter to perform this well is something not many would have imagined.
"I am always counting my blessings and if I am playing one format for India, I should try and make the most of it and give it my all. I am a very positive person. You won't find a negative bone in my body. I think now, at 36, I am fitter than ever before and also skill-wise, I have gotten better. Gym sessions, skill sessions, running and yoga, these four things are core aspects of my training," he added.
Personalise your news feed. Follow trending topics