U-19 World Cup hero Manjot Kalra suspended for 1 year from Ranji Trophy for 'age-fraud'
Delhi senior team vice-captain Nitish Rana has been let off for the time being with more documents being sought to prove that he fudged his age at the junior level.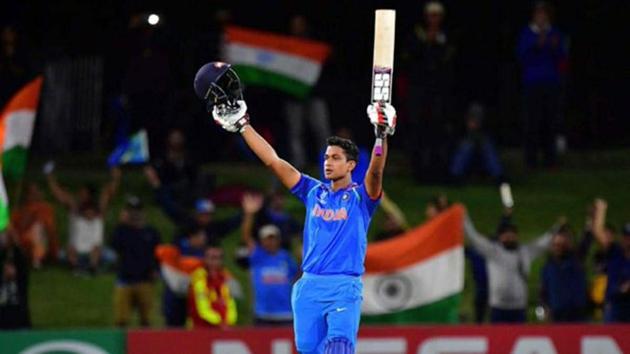 Updated on Jan 02, 2020 08:14 AM IST
Manjot Kalra, who struck a match-winning century in the U-19 World Cup final in 2018, has been handed a two-year ban from playing for Delhi for age fraud. The punishment will deprive the Delhi Ranji team, which is desperate to shore up its batting.
DDCA's outgoing ombudsman, Justice (retd) Badar Durrez Ahmed, whose tenure ended on December 16, issued the order on a complaint by ex-India cricketer Kirti Azad and member Sameer Bahadur.
The order states, "In the case of Mr Manjot Kalra, he shall submit an undertaking that he shall not be playing in age category matches for a period of 2 years from the date of this order. However, he shall be permitted to play in open category matches as well as club matches/tournaments from the second year."
READ: Virat Kohli names 'stand-out player' in 2008 ICC U-19 World Cup
Kalra, player of the final, could not break into the Ranji side last year. Delhi chief selector, Bantoo Singh, told HT, "We were thinking of including him, but now there is an order, we'll have to abide by it."
Delhi will be without India players Shikhar Dhawan and Ishant Sharma, who helped win the previous game against Hyderabad.
However, Delhi will retain the services of batsman Nitish Rana, who too faces an age-fraud enquiry along with Harsh Tyagi, U-19 pacer Shivam Mavi, Prashant Bhandari and Sarang Rawat.
While Tyagi and Mavi have shifted out of Delhi, Bhandari isn't playing anymore. Rawat has been banned for two years from state matches after he and his father tendered an apology.
READ: Top 5 batting performances in Test cricket in 2019
Rana will continue to play as Justice Ahmed asked DDCA's apex council to probe his original age from DAV Centenary Public School, which he left to join Vidya Jain School. The apex council has been asked to investigate the date of birth in the admission register, the basis of the date of birth, whether an application for change of date of birth made and on what basis. The ombudsman had asked them to return and file a reply.
However, since Justice Ahmed was removed at Sunday's acrimonious AGM, the issue will be placed before new ombudsman, Justice Deepak Verma.
Close Story