'Virat is umpire of the year': Babar fans thrash 'stat padder' Kohli after Pakistan captain named ODI Player of the Year
Jan 26, 2023 01:46 PM IST
Babar Azam was named the ODI Player of the Year by the ICC for a second consecutive year.
Pakistan captain Babar Azam won the ICC ODI Player of the Year award for the second time in a row on Thursday. Babar scored 679 runs from nine matches at an average of 84.87 with three centuries. Apart from his individual consistency, Babar also had a good year as captain. While Pakistan may have had a rather forgettable end to the year, particularly in Test cricket, they lost just one ODI in this period.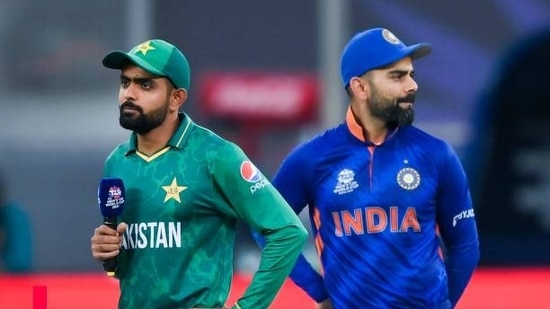 Meanwhile, former India captain Virat Kohli, a player with whom Babar is often compared, did not make the final list of nominations. While Kohli has experienced an uptick in his form in recent months, particularly in ODI cricket, he hardly played any game in the format as India reserved their best players for T20Is in preparation for the T20 World Cup, and Test cricket, which they only played sporadically in 2022.
ALSO READ | 'Ishan bhi bolega mujhe khilao, mai Ranchi ka hu...': Rohit's blunt comment on competition for spots in India squad
While most of fans of the two players do respect the other, just as Babar and Kohli themselves have expressed admiration for each other over the years, there have been a few fans of the Pakistan captain who decided to take this moment to throw shade on the former India skipper. This included a few tweets which stated that Kohli had won "ICC Umpire of the Year", in reference to accusations that were hurled at the 34-year-old for influencing umpire decisions during a thrilling match between India and Pakistan in the 2022 T20 World Cup.
The two players have often expressed admiration for each other. Babar voiced his support for Kohli while the latter went through a lean patch for nearly three years. Kohli, on the other hand, has said that he may not have felt too much kinship with Babar as the 28-year-old is many years junior to him, but he is not surprised by the success that the Pakistan captain has enjoyed in all formats.
"Babar is a very nice guy. I have always had good conversations with him. I am not sure about kinship since he is much younger to me, but there is respect. There is always respect," Kohli had said. "He was always keen to learn. He spoke to me after our game in the 2019 World Cup. I have always said he is keen to learn, and there's no surprise that he is playing like this in all formats of the game. He is obviously a very talented player," Kohli added.