Wasim Akram reveals he bowled 'leg-breaks' to India batters in 1987 Test: 'I dismissed Srikkanth and Amarnath with that'
Published on Aug 26, 2022 10:34 AM IST
The Pakistan bowling legend recalled a game in 1987 where he bowled 'leg-breaks' throughout the second innings, and even took the two important wickets of Mohinder Amarnath and Krishnamachari Srikkanth.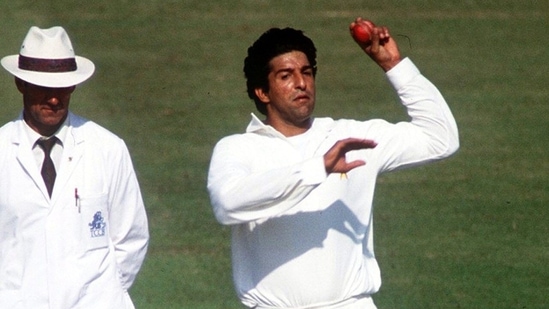 Team India will meet Pakistan in an electrifying encounter of the men's Asia Cup on August 28. This will be the first meeting (in men's cricket) between the two arch-rivals since the T20 World World Cup last year, where Babar Azam's Pakistan side outclassed India by 10 wickets in a group game. The matches between both teams are confined to continental (Asia Cup) and global (ICC) tournaments since last few years due to political tensions, and so, any India-Pakistan clash is preceded by significantly huge fanfare.
In fact, even home broadcasters Star Sports, on their official YouTube channel, had launched a video series where former cricketers recalled their best memories from the encounters between India and Pakistan. In one such video, Kapil Dev and Wasim Akram – two of the biggest legends from both the countries – talked about their favourite matches. During the video, Akram revealed that during one instance in a match between the two sides, he had actually bowled leg-spin throughout the entire innings!
Also read: Watch: Laxman signals six after Pant smashes Chahar; Both players jump into debate after pacer disagrees with decision
The match in question was the 1987 Test in Bengaluru (then Bangalore).
"There was some grass on the wicket," Akram began narrating the story before Kapil chipped in, saying, ".. but it was removed in the night before the match!"
Akram let out a chuckle, saying, "But still, it was there in patches. And the ball was turning a lot."
Kapil, then, remembered how Sunil Gavaskar had scored 96 off 264 deliveries in the final innings of his Test career in that game, saying that it almost felt he was batting on a different wicket.
"I have played with Sunil Gavaskar almost all through my career. It was his last Test. No one was able to read where the ball was going, but Gavaskar was timing it so brilliantly we thought he was batting on some different pitch. I think we lost by 16 runs in that game," Kapil recalled.
Akram, then, revealed that he was actually bowling leg-breaks during the second innings to exploit the massive amount of turn on the wicket. "The wicket was turning so much that in the second innings, I was only bowling leg-breaks with the new ball. And I even picked two wickets, Srikkanth and Mohinder Amarnath!" said Akram.
In the game, India had bowled Pakistan out on 116 in the first innings, but couldn't capitalize on the momentum, registering only a slender 29-run lead. Pakistan, then, scored a brave 249 before bowling India out on 204. After Gavaskar's 96, the next-best scorer from India was Mohammad Azharuddin (26).
Personalise your news feed. Follow trending topics