Wristy business: Kuldeep and Chahal tempt India, again
Jan 26, 2023 07:40 PM IST
India have preferred a lone wrist spinner in recent times but Indore showed a double act can make life easier.
Kuldeep Yadav and Yuzvendra Chahal were a thing when India had decided they needed wicket-taking options and not restrictive slow arm bowlers in the middle overs. That policy changed, Yadav's numbers waned, Chahal was first not selected for the 2021 World Cup, then picked but not fielded in the next one till India once again decided maybe it was a good time to retry wrist spin. But only one among the two can be accommodated in the current scheme of things where India feel secure with at least seven batting options if not eight.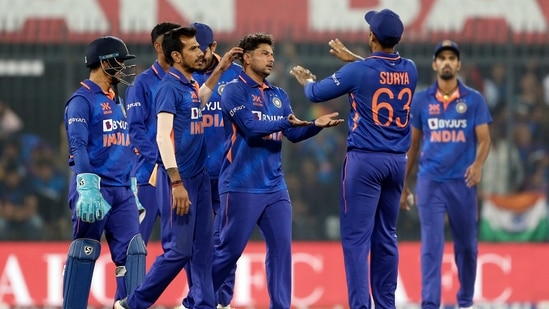 It took Mohammed Shami and Mohammed Siraj to sit out of the third ODI for India to fit in Chahal and Yadav in the eleven finally. They shared five wickets, wiping out the New Zealand lower order and finishing the match in 42 overs. It was a rare instance of India not caring about runs conceded, possibly because they had 385 to defend. But would they still go for two wrist spinners otherwise? This is the puzzle India will have to figure out, now that they have tried out all possible combinations.
Yadav's ODI numbers (130 wickets at an average of 27.43, strike rate of 31.6 and economy of 5.19) are not very different from Chahal's (121 wickets at an average of 27.13, strike rate of 30.9 and economy of 5.26). When they were bowling together, mainly in 2016, teams were losing wickets to them while trying to accelerate. India, however, couldn't hold on to that edge for long as batters got used to playing wrist spin. So they resorted to rotating Chahal, who proved to be more consistent than Yadav, with either a slow left-arm bowler or off-spinners.
Yadav may have challenged this strategy by mounting a spectacular comeback where he has taken 12 wickets in the last six ODIs at an average of 21.16, strike rate of 24.7 and an economy of 5.13. He isn't afraid of giving the ball more air, and the variations too have been timely and subtle. Not overthinking his bowling has helped Yadav improve.
"My mindset now has changed a lot," Yadav said in an interview to bcci.tv during the Sri Lanka series. "Earlier I thought I needed to give a good performance and take wickets. Now it is that I should bowl to my strengths and not bowl bad bowls. And as you know, wickets will definitely come if you're a wrist spinner bowling in good areas."
That this improved version of Yadav may have changed a few hearts was apparent when India captain Rohit Sharma said he plans to give him more game time. "Every time I've given Kuldeep the ball, he brings wickets," said Sharma after the third ODI in Indore. "Just need to give him more games under his belt, because wrist spinners get better as they play more."
Yadav wouldn't have been called had it not been for Chahal's shoulder injury during the ODI series against Sri Lanka, and he is aware of that.
"I also want to say thank you to Chahal," Yadav had said during the interview. "I walked into the team from a Test series, but you (Chahal) played the T20s and the last ODI. Your inputs on how to bowl helped, so thank you. Small inputs always help. It is unlucky we are not playing so much together these days on the field but your tips have helped me a lot."
Chahal is comparatively a more finished article than Yadav. It's difficult to drop him from a white-ball side, especially at home where he strikes every 31.6 balls and has an economy of 5.35. He may go for runs but is also a master at setting up catches in the deep with his slow leg-breaks.
There was a slip in form last year, perceivably because Chahal was bowling slow through the air, but that has changed as he was varying his speeds between 82 and 92 kph on a flat Indore track.
All in all, Chahal looked effective, probably more because Yadav too was operating from the other end. That's what two wrist spinners bowling in tandem can do to any side. But only time will tell whether this token performance would sway India into picking Yadav and Chahal even when all their bowling options are available.
Enjoy unlimited digital access with HT Premium
Subscribe Now to continue reading