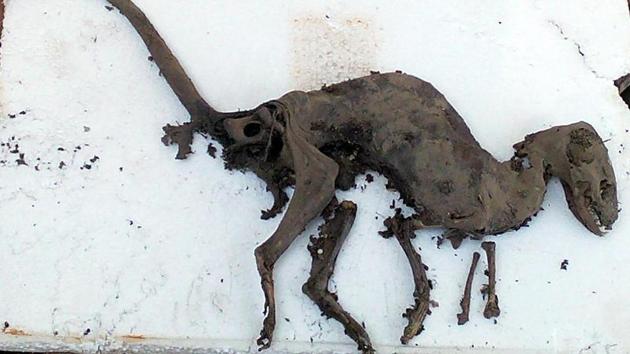 Archaeologists unearth cave burials in Uttarakhand's Malari
Archaeologists in Uttarakahnd have unearthed cave burials in Malari near Chamoli's Joshimath that date back to 500 years Before the Common Era (BCE) and are unique to the Himalayan region, said an archaeologist connected with the findings
Hindustan Times | By Abhinav Madhwal
PUBLISHED ON FEB 04, 2018 09:54 PM IST
Archaeologists in Uttarakahnd have unearthed cave burials in Malari near Chamoli's Joshimath that date back to 500 years Before the Common Era (BCE) and are unique to the Himalayan region, said an archaeologist connected with the findings.
The findings have offered glimpses into existence of the trans-Himalayan archaeological sites for the first time, Vinod Nautiyal--an archaeologist at the Garhwal University in Uttrakhand's Srinagar--who was part of the team carried out the excavations, said.
Similar excavations at Lipa village in Himachal Pradesh's Kinnaur district have also revealed materials and tools dating to the same period, he says.
The burial sites found at Lipa and Kaanam villages are cyst--stone-built coffin like box-- burial sites, he says and adds that one of the skeletons found inside the grave had copper bangles on both wrists.
"The Malari burial site in the Garhwal Himalayas is significant as it dates to back to 500 years BCE and offer glimpses into cave burials.
"The caves and the graves unearthed are still well preserved and there is need to conserve them as they are of archaeological importance," says Nautiyal.
He, however, says that the varsity department will request the Archaeological Survey of India to conserve the site.
Renowned Hindi scholar and travel writer Rahul Sankrityayan had mention about the Lipa burial sites in a book, based on which, the varsity team went to study the site and also the burial sites at Malari, he says.
"The two burials sites are of the same period and both are unique. The cave burials at Malari are very fascinating while the cyst or chamber burials at Lipa and Kaanam in Himachal Pradesh are also unique."
The Malari burial site could be one of the oldest sites of archaeological importance in Uttarakhand, he says.
"Ceramic pottery and metal tools unearthed at the Malari burial site will help in further study of the metallurgy of the period."
Close