Cyber security, drone centre comes up in Doon
Chief minister Trivendra Singh Rawat on Monday inaugurated the country's first drone application centre and cyber security centre here stating that the state-of-the-art unit will not only help train local youth in drone applications and cyber security but also help generate employment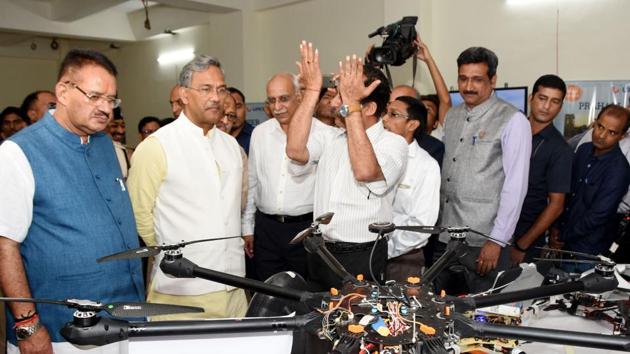 Published on Jul 09, 2018 10:00 PM IST
Chief minister Trivendra Singh Rawat on Monday inaugurated the country's first drone application centre and cyber security centre here stating that the state-of-the-art unit will not only help train local youth in drone applications and cyber security but also help generate employment.
Rawat also announced that the central government has also approved a coast guard recruitment centre for Uttarakhand. "The foundation stone of this centre will also be laid very soon," he said.
He said drone pilots, who are in great demand across the country, would also be trained at the centre.
"At the centre, certificate courses on drone application and cyber security will also be conducted for students, which will help them land employment," Rawat said dubbing the drone application centre and cyber security centre as the "country's first of its kind" initiative.
Rawat said the select groups of students from polytechnics would also be trained at the hi-tech centre in various drone applications so that they could land employment in different agencies.
The centre would also play a crucial role during natural calamities because officials trained in drone applications would be able to locate those in distress through state-of-the-art drone cameras.
"Such high resolution (drone) cameras that have an easy access to inaccessible hilly terrain will also be able to locate dead bodies of those killed in natural calamities," he said.
"Similarly, officials of different security agencies trained in cyber security could also keep an eye on the elements that misuse social media and also those involved in cybercrimes."
Amit Sinha, director, Information Technology Development Agency (ITDA), said the inauguration of the drone application lab and cyber security lab was a crucial development.
"At the drone lab pilot simulation training will be provided to officials, which will prove to be crucial during natural calamities in a state like Uttarakhand where terrain is usually steep," he said.
"Officials trained in this technique will be able to carry out relief and rescue operations using drone cameras which can have an easy access to inaccessible mountainous areas or forests."
At the cyber lab, Sinha said, officials would be trained in cyber hygiene and cyber security so that they could protect their crucial documents.
"We can use cyber lab in creating ethical hackers to nullify cyber-attacks on software of different departments. Similarly, it (cyber lab) help train youths as cyber warriors."
The cyber lab, he said, would go a long way in helping to tackle the increasing number of cybercrimes, cyber frauds and cyber threats in the state and the country.
"It will also play crucial role in providing assistance to the cybercrime police stations and cybercrime investigations and forensics within the country and abroad," he said.
IT secretary RK Sudhanshu said there was an increasing demand for cyber security experts in the country and the cyber lab would help bridge that gap.
Chief secretary Utpal Kumar Singh said both the centres would act as nucleus, which would "help develop an ecosystem in which the local youths who are amply talented" would be benefited by the facility.
"We want the local youth to associate with the cutting edge technologies relating to cyber security and drone applications and acquire necessary expertise and be useful to society," he said. "For our youth sky is the limit in both areas."
Alok Joshi, chairman, National Technical Research Organisation, said terrains of Dehradun, which are a mix of hills and plains and its atmospheric variations, are ideally suited for the drone application and research lab.
"Cyber security is a collaborative effort," he said and hoped that the state police would create a collaborative regime in which all security agencies like paramilitary forces would be involved to achieve better results.
Close Story