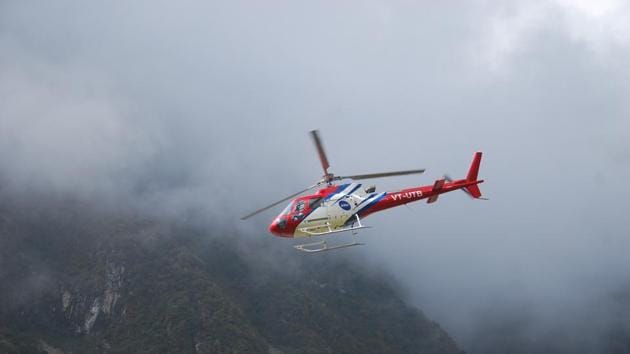 Date for inviting tender for Kedarnath chopper service extended
This seems to be a season of controversies in Uttarakhand. After mayhem over medical fee issue and liquor policy, now aviation policy is under fire
PUBLISHED ON APR 09, 2018 09:56 PM IST
This seems to be a season of controversies in Uttarakhand. After mayhem over medical fee issue and liquor policy, now aviation policy is under fire.
It is one step forward and two steps backward for the state government over inviting tenders from the operators to fly choppers to and fro Kedarnath in the Uttarakhand, Himalayas.
After not a single operator submitted tender for the operations for the upcoming season, the Uttarakhand Civil Aviation Development Authority (UCADA) – a nodal agency to look after the flying operations in the state - has extended date till April 14.
This comes after the conditions in the tender document were changed thrice since it was first floated on March 7.
A sudden jump was reported in the air travellers between Phata, Guptkashi and Trijuginarayan and Kedarnath, a year after the natural disaster brought havoc in the valley killing over 5,000 people.
Last year, nearly 4 lakh pilgrims preferred copters over horses and palanquins to reach the Hindu shrine that remains open for the six months in a year. This year the portals will be opened on April 25.
With nearly two weeks remaining for the pilgrimage to begin the copter operators are tense as there is ambiguity over the operations.
"The operators have invested money and the officials are still experimenting with the tender," said Rajiv Dhar, an operator.
Nonetheless till last year, 14 companies would operate till the shrine that is above 11,000 feet high from the sea level.
However, the conditions laid by the UCADA initially made eligible only few operators.
But after negotiations the officials gave permission companies to make a consortium but the capping for flying remains nine copters.
Operators said nine helicopters in no circumstance can fly pilgrims, given the fact that this year the number of pilgrims is expected to cross 5 lakh.
The operators have approached to chief minister TS Rawat and BJP state president Ajay Bhatt.
"We understand the issues raised by the copter operators. I am hopeful that government will come to some amicable conclusion so that the passengers face no hassle," said Bhatt.
The operators said the capping of nine copters per day should be lifted otherwise it will lead to chaos. The officials are however tight-lipped.
A large number of pilgrims particularly bulk of them from Andhra Pradesh, Telangana and Maharastra visit the shrine town to pray at the Kedarnath which is believed to have been built in the 8th century.
Close