Deen Dayal Upadhyay's 'Antyodaya' to guide all state schemes: Uttarakhand CM
The Uttarakhand government's growth strategy will now revolve around BJP icon Pandit Deen Dayal Upadhyay's philosophy of "antyodaya" that means upliftment of the society's weakest section, chief minister Trivendra Singh Rawat said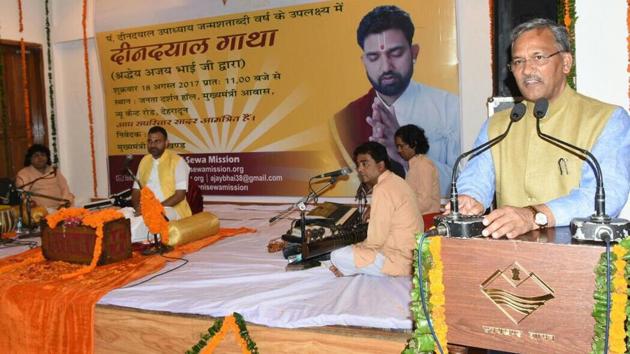 Published on Aug 18, 2017 07:59 PM IST
The Uttarakhand government's growth strategy will now revolve around BJP icon Pandit Deen Dayal Upadhyay's philosophy of "antyodaya" that means upliftment of the society's weakest section, chief minister Trivendra Singh Rawat said on Friday.
"Welfare of the poorest is the essence of Pt Deen Dayal Upadhyay's philosophy of 'antyodaya' and 'ekatma manavvad' (integral humanism)," Rawat said at an event hosted at his official residence here to mark Upadhyay's birth centenary.
"All the schemes and projects that we will introduce in the coming five years would be based on his (Upadhyay) philosophy," he said.
"Prime Minister Narendra Modi often reiterates that his government is dedicated to the welfare of the poorest of the poor," Rawat said.
The BJP is celebrating 2017 as the birth centenary year of Upadhyay across the country.
Before Upadhyay emerged on the scene, only two economic thoughts — capitalism and communism or socialism - ruled the roost and they both were imported philosophies, he said.
"Conversely, economic and cultural philosophy he (Upadhyay) introduced during his lifetime was a philosophy that was not only humane but was also rooted in our cultural ethos," Rawat said.
The Rawat government had named a key scheme — 'Maire Bujurga Maire Teerth' after the party ideologue. Introduced by the previous Congress government, under the scheme free pilgrimage is organised for citizens above 60 to the Chardham - Badrinath, Kedarnath, Gangotri and Yomnotri shrines.
"Likewise all fresh schemes meant for the poor as well as institutions and offices would now be named after him," BJP state unit president Ajay Bhatt told HT, referring to Upadhyay.
He said the BJP was also celebrating Upadhyay's birth centenary year as "Gareeb Kalyan Varsha", a year dedicated to the poor. "Our (Rawat) government has therefore spared 3/4th of its annual budget for the welfare schemes meant for the poorest of the poor," Bhatt said.
Political observers though see "nothing unusual" in the ruling BJP naming welfare schemes after Upadhyay. "There is nothing unusual about the BJP governments at the Centre and in the state naming welfare schemes or institutions after the leaders of the ruling party," said Prof MM Semwal of HNB Garhwal (central) University.
Before that the Congress which was ruling at the Centre and in the state also did the same.
Prof LM Joshi of Kumaon University described the ruling party's move of naming its welfare schemes after Upadhyay as "something like putting old wine into new bottles".
"What they are doing is something like that because Upadhyay's economic philosophy is similar to that of the Congress' Nehruvian model of development, which was also based on the philosophy of socialism," he told Hindustan Times.
Close Story