Doon on an ignominious high: 120% rise in drug abuse cases in three years
The number of people arrested in these cases also increased by 116% between 2015 and 2017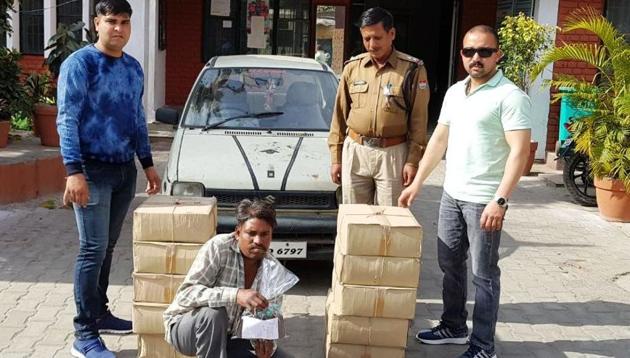 Updated on Mar 05, 2018 10:53 PM IST
This is one Himalayan high that Dehradun could do without.
Sample these: The number of drug-abuse cases in Dehradun has seen an increase of 120% over three years — from 252 in 2015, to 386 in 2016, to 556 in 2017.
The number of people arrested in these cases also increased by 116% between 2015 and 2017.
Meanwhile, the cases of smuggling of illicit liquor also witnessed a 40% rise in Dehradun between 2016 and 2017. From 811 cases in 2016, the number of such cases rose to 1,134 the next year.
Owing to its proximity to Haryana, western Uttar Pradesh, and Himachal Pradesh, illicit trade of drugs and banned liquor is high in Dehradun. Besides this, the city also acts as a transit location for the Garhwal region.
"The rising cases can be attributed to the increased police surveillance. However, there is also an increase in substance abuse among youths in Dehradun. Mostly, these cases are seen in areas like Selaqui Market, Clement Town, and Doiwala among others, where students reside in majority," said senior superintendent of police (SSP), Dehradun, Nivedita Kukreti Kumar.
She added that students fall prey to drugs mostly due to peer pressure and adventurism.
Most of the cases registered in Dehradun involve seizure of charas and smack. In 2015, police seized 49.21 kg charas and 509.15 gram smack worth Rs 49.21 lakh and Rs 50.91 lakh, respectively. In 2017, the seized quantity of charas and smack increased by 79% and 835%, respectively.
Overall, the net worth of seized banned drugs increased by 532% — from Rs 1.12 crore in 2015 to Rs 7.08 crore in 2017.
The last three years also witnessed appreciable increase in seizure of other contraband items such as afeem (opium), ganja (cannabis) and intoxicating pills/capsules/injections.
Asked about the source of such contraband, the SSP said, "During interrogation, most arrested people revealed that they purchase the contraband from Bareilly, Saharanpur, and Himachal Pradesh, and sell them among youths in the city."
She added that drug peddling is an organised crime and curbing it is a difficult task that takes time. "Besides surveillance, we are also organising awareness drives. Our efforts have yielded positive results but there are miles to go before the menace is eradicated."
Former director general of police, Uttarakhand, Aloke B Lal says the problem of drug abuse is increasing in Dehradun because peddlers are easily able to target students. "Dehradun is an emerging education hub and students from different parts of the country are now residing here. Since most of them are living alone and away from home, it is easier for the peddlers to lure them," he said.
Lal added that the situation was becoming "alarming" and that the number of police cases registered do not always reflect the ground reality. "I am not surprised with the 120% increase in drug-related cases. The situation is graver and this figure maybe the tip of the iceberg."
Social activist Renu D Singh says the unsupervised paying-guest homes and rented accommodations around educational institutes are becoming "safe havens" for substance abuse. "Some students start it due to peer pressure while others do it as a status symbol. We have seen that generally students who are involved in substance abuse lack emotional support from family and friends."
Speaking on the quality of de-addiction centres in the city, the SSP said, "In Dehradun, the rehabilitation centres are very ill-equipped to counsel and treat drug addicts."
Lal echoed the same saying that most of these centres were "useless". "A majority of them lack trained professionals to treat drug addicts. The treatment involves deaddiction, rehabilitation, and regular follow up, sometimes for years. But centres here don't have these facilities. In the name of rehabilitation, they are extracting money from the parents," he said.
Close Story