Forest fires: 2,500 trees burnt to ashes in a single day
May 24, 2018 10:47 PM IST
The extent of devastation unleashed by the raging forest fires in Uttarakhand is slowly becoming clear with officials claiming that blaze has burnt to ashes more than 3000 fully grown trees
The extent of devastation unleashed by the raging forest fires in Uttarakhand is slowly becoming clear with officials claiming that more than blaze has burnt to ashes more than 3000 fully grown trees.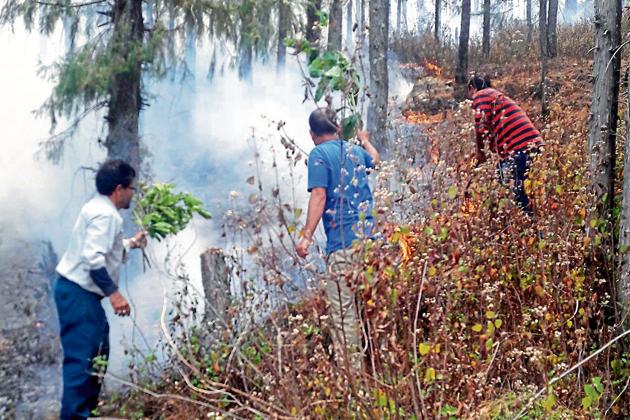 This includes 2,500 trees that were gutted in a single day on Wednesday, as per the statistics provided by the forest department. Bhagirathi circle alone reported loss of 2500 trees till date followed by Nanda Devi Biosphere Reserve (NDBR) that lost 500 trees. Several trees were burnt down in Garhwal circle too.
The forest department, which was reprimanded by chief minister Trivendra Singh Rawat over its lack of preparedness for combating the blaze, has launched efforts on a war footing to control and extinguish the fires. The protected areas and forest divisions have already started using water tankers for dousing the fire.
Until Thursday evening, 1198 incidents of fire had been reported in which a total 2,610 hectare forest cover has been gutted. The resin godowns also reported blaze in 500 hectare in wildlife area and an additional 20 hectare in Shivalik region.
The estimated revenue loss till date is ₹52.33 lakh.
The Rajaji Tiger Reserve management and divisions in Terai belt have started summoning water tankers for dousing out fire. Ten tankers are engaged for the cause.
BP Gupta, nodal officer for forest fire said, "We are taking best possible measures to control the blaze. We have employed fire watchers and also using tankers in various parts to douse the fire."
Meteorological Department of Dehradun has already predicted heat wave conditions in some parts of Uttarakhand during next 3-4 days. The weather however, will mainly remain clear. Strong and gusty wind with speeds of 25-35 kmph is likely to be reported in few places post afternoon.
Meanwhile, three people were arrested on May 23 in Mussoorie forest division for allegedly starting a fire in the forest. Divisional forest officer (DFO) Kahkashan Naseem lodged an FIR against the trio. The accused were found setting undergrowth on fire in the dense forest along Benog Wildlife Sanctuary.
In addition to 3,953 fire watchers that the forest department has deployed, six members of State Disaster Response Force (SDRF) have also been engaged in fire fighting along with 14 police personnel and 1,714 locals of Van Panchayats. Nearly 500 vehicles are being used to help officials and other reach the spot and douse fire.
Officials said 1437 crew stations have been set up from where message is transmitted to the staff detailing the exact spot of fire.
The worst affected is Garhwal circle that includes Pauri, Badrinath, Alaknanda and Rudraprayag divisions. The total loss reported in the circle is 1480 hectare followed by Shivalik circle that reported 131 hectare.
Topics