Illegal quarrying: Need to weed out corrupt staffers
The arrest of a computer operator for helping those involved in illegal quarrying in Haldwani has exposed chinks in the state government's armor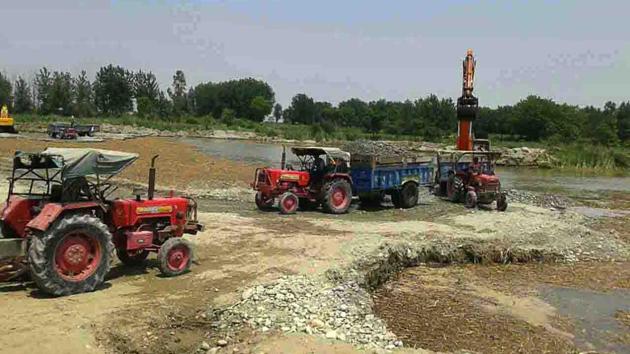 Updated on Mar 26, 2018 10:15 PM IST
Hindustan Times, Haridwar |
Abhinav Madhwal
The arrest of a computer operator for helping those involved in illegal quarrying in Haldwani has exposed chinks in the state government's armor.
The government has been claiming that it has taken hi-tech measures such as introduction of radio frequency identification (RFID) chips and GPS tracking of vehicles to curb illegal quarrying on the rivers in Uttarakhand, but the measures do not seem enough.
Experts say that important step would be that the authorities weed out the insiders who are aiding illegal quarrying.
The accused, Debu, a computer operator posted at the Lalkuan gate of the Gola river, used fake tokens to manually allow entry and exit of vehicles at the gate feigning that the radio frequency chip was not working. After the matter came to light on Friday, Debu fled from the spot. His services were terminated and he has been absconding. The Lalkuan gate incharge has given a complaint to the police against the computer operator.
This is not an isolated case where an insider's involvement in illegal quarrying has come to notice. A year ago, three people were caught in the Ramanagar area, who acted as spotters and alerted the illegal quarrying operators about the movement of forest department officials. A daily wager of the forest department was also booked for illegal poaching in the Bindukhatta area of Nainital district.
Rajpal Legha, the deputy director of mining in the Kumaon region, said that some of the employees deployed at the quarrying gates were on contract basis and they could be involved in such activities out of greed. "The department takes all possible measures to ensure that the insiders are not involved in illegal quarrying, but some rogue elements emerge from time to time," he added.
He said that the department was working on the system to ensure that there is no possibility of compliance between the staff and the illegal quarrying operators by checking the antecedent of the applicants.
Raju Bisht, the president of Gola Quarrying Labourers Union, said that there may be some such cases, but this does not mean that all activities are illegal. "We don't know of the presence of insiders, but operators involved in quarrying have little dealing with the staff members except official work," he said.
Close Story