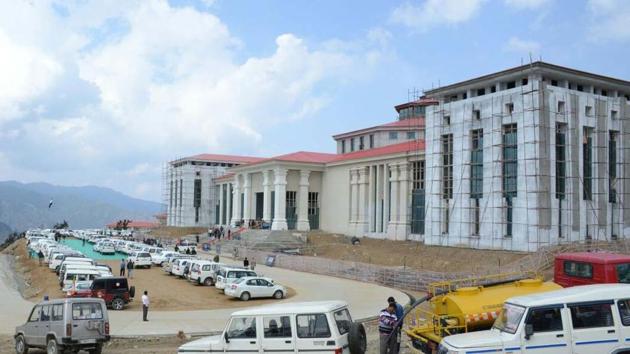 Integrated township project, step towards Gairsain as summer capital
More than a year after the ruling BJP promised that Gairsain would be made Uttarakhand's summer capital, the state government has decided to set up an integrated township a few km away at Bharari-sain
PUBLISHED ON JUL 25, 2018 10:17 PM IST
More than a year after the ruling BJP promised that Gairsain would be made Uttarakhand's summer capital, the state government has decided to set up an integrated township a few km away at Bharari-sain.
"A decision to set up an integrated township at Bharari-sain has been taken. That entire complex will be developed on the green city concept, which will also be equipped with modern facilities," said Bansidhar Tiwari, joint chief administrator, Uttarakhand Housing and Development Authority (UHDA).
"It will have on its sprawling campus residential apartments and commercial complexes, dispensaries, and schools, besides parks and playgrounds for children and youth."
Ahead of the 2017 assembly polls, the BJP had promised that Gairsain, a town and nagar panchayat in Chamoli district, would be made the summer capital.
State BJP vice-president JP Gairola said the proposed integrated township to be set up at Bharari-sain would be a major step towards setting up a summer capital at Gairsain.
"It (township) will also act as a model of development for the hills, which will be gradually replicated in all 10 hill districts in the mountain state," Gairola claimed. "Such a hill-centric growth model, if implemented properly, would also help check forced migration from the hills."
A Vidhan Bhawan building has already been set up at Bharari-sain, which is currently being given final touches, Vidhan Sabha secretary Jagdish Chandra said, adding the project was worth Rs 146 crore.
UHDA chief engineer NS Rawat said the proposed integrated township at Bhararisain would be set up in a 465.5-acre area. "That entire area is currently under the possession of the animal husbandry department. A procedure has been initiated for land transfer," he said.
The process of preparing the master plan for the proposed integrated township would "start once that chunk (465.5 acres) of land would be formally transferred to us (UHDA)," the chief engineer said.
Chief minister Trivendra Singh Rawat had recently instructed officials to create a lake at Gairsain or Bharari-sain, so that the problem of acute water scarcity the locals were facing could be taken care of.
After the formalities relating to land transfer are complete, a survey of the area meant for the township will be conducted using satellite imageries, chief engineer Rawat said. "The proposed integrated township would be an all-inclusive self-sufficient unit."
The township would include residential and commercial complexes, besides schools and dispensaries, he said, adding residential apartments would be meant for the economically weaker sections and lower, middle and higher income groups.
"The proposed township will have an efficient system of water and power supply. It will also be equipped with a sewerage network, besides being well-connected by roads," NS Rawat said. A state-of-the-art sewage treatment plant, he added, would also be set up for recycling of the waste discharge from the township.
"Similarly, it will also be equipped with an efficient solid waste management system," the chief engineer said. The township, he added, would have on its campus community halls, school buildings, dispensaries, parks and playgrounds.
The official said all the buildings of the township would be fitted with an efficient rooftop rain harvesting system. "Similarly, solar energy would be used for all operations in the township."
Colony for Nainital families living in slide-prone areas
Chief engineer Rawat said about 260 families living in slide-prone areas of Nainital would soon be shifted to nearby Khurpatal. The families, he added, had been living in the areas, which have been identified as highly landslide prone by a survey report of the Geological Survey of India (GSI).
"We had started implementing a housing project at Khurpatal for rehabilitation of those families but had to abandon it owing to a high court order," Rawat said, adding the HC's objections had been overruled by a recent Supreme Court order.
"Consequently, we will soon complete the housing project so that all families living in the extremely hazardous zones could be relocated to Khurpatal," he said.
Close