It was like my child, says man whose cow was stolen, slaughtered in Doon
A day after four people, including a woman, were booked for stealing and slaughtering the cow of a man in Sahaspur area of Dehradun, the victim says all he wants is to see the culprit behind bars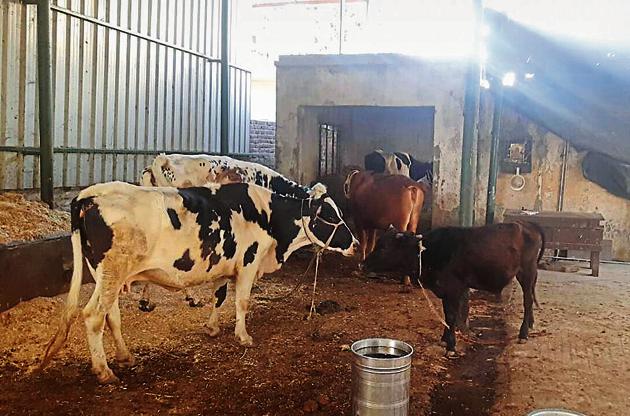 Published on Mar 24, 2018 09:38 PM IST
A day after four people, including a woman, were booked for stealing and slaughtering the cow of a man in Sahaspur area of Dehradun, the victim says all he wants is to see the culprit behind bars. Police have so far arrested one of the accused, while the rest are absconding.
On Friday morning, Kurban, a resident of Sahaspur, found that his cow was missing. He and his family members searched for it for hours, but to no avail. Later in the day, however, he received some information from passerby that a cow was seen being taken away by two men from his village in the morning. One of them was a butcher.
On reaching their house, Kurban says, he saw the animal had been slaughtered, the hide hidden under a bed, and meat hung from the ceiling.
He alleges that when he protested, the accused initially tried to force him into a compromise by offering Rs 10,000. But when he refused, he was warned of dire consequences told not to approach police.
Nevertheless, he called the police and lodged a complaint stating that Salman, Aamir, Ameeran, and Furkan, all from his village, had stolen his cow, slaughtered it and distributed the meat among themselves. Of the four, police have so far arrested Furkan.
"The cow was like a family member. We had raised it with utmost love and care. Soon after birth, its mother died. We fed it milk using bottles. My daughter is getting married today, but there is no celebration in our home. It feels as if a family member has died," said Kurban.
He added that he is against slaughtering of animals. "I don't want any compensation. My conscience doesn't permit it. All I want is to see the guilty put behind bars for years."
Speaking about the case, senior superintendent of police (SSP) Nivedita Kukreti Kumar said, "The area has a history of cow slaughtering cases. One of the accused has been arrested and search for others is being conducted. Since this is an emotive issue, which can lead to communal tension, we have taken prompt action as per the law."
Meanwhile, based on Kurban's complaint police have lodged an FIR against the four accused under the cow protection act and sections 380 (theft) and 506 (criminal intimidation) of the Indian Penal Code.
In a press release, police also said that the accused have been imprisoned seven times prior to this for offences related to cow slaughter.
Sub-inspector Nawal Kishore, who is investigating the case, said, "The accused tried to pressure Kurban against lodging a complaint. He somehow managed to escape and later told the villagers and also informed the police. We have collected the samples and sent them for laboratory tests."
Asked about their criminal history, Kishore said, "It has been confirmed that Salman has been in prison for cow slaughter in the past. The others also seem to have similar history, but we are investigating it to confirm the details."
This is the second case of cow slaughter in less than a month in Dehradun. On March 12, a man was arrested from Vikas Nagar Colony on the Sahastradhara Road for allegedly using a dairy compound as a transit location for smuggling bovines and also slaughtering them.
Inspector Anil Kumar, who was investigating the case had said, "The so-called dairy was being used as a transit location to smuggle cattle for slaughtering. The dairy did not sell milk or any dairy product. The animals were in a very poor condition and we have recovered medicines that were used to intoxicate the bovines."
In April last year, three "unlicensed abattoirs" were raided in Dehradun and notices issued to seven people. Officials had then claimed that the bovines were being slaughtered under unhygienic conditions even as raids were on.
In October 2017, chief minister Trivendra Singh Rawat had ordered commissioning to two 11-member 'cow protection squads', one each for Kumaon and Garhwal regions. These squads are headed by an inspector-rank officer.
Close Story