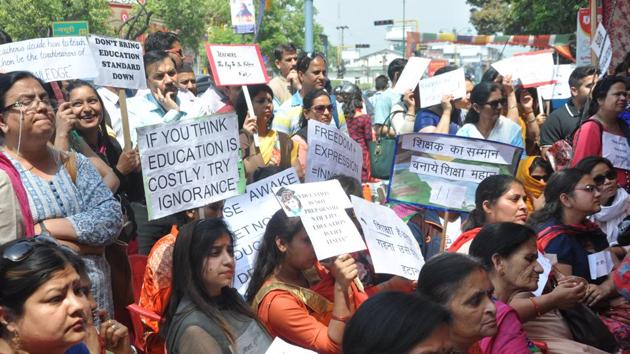 Private schools in Uttarakhand bristle over NCERT books
Owners of private schools affiliated with the CBSE have opposed the Uttarakhand government's decision to introduce NCERT books from this academic session, though the parents have welcomed the move
PUBLISHED ON APR 02, 2018 10:07 PM IST
Owners of private schools affiliated with the Central Board of Secondary Education (CBSE) have opposed the Uttarakhand BJP government's decision to introduce NCERT books from this academic session, though the parents have welcomed the move.
Education minister Arvind Pandey has repeatedly said he will make NCERT (National Council of Educational Research Training) books mandatory in private schools in the state. A government order was notified in August last year, which said schools would have to adopt NCERT books from the present educational session.
School owners said departmental officials were trying to arm-twist them on NCERT books. Opposing the decision, they have deferred the new session by a week.
"We have received two letters last month; the one from the chief education officer said that no-objection certificates provided to the schools will be withdrawn if they do not follow the order. Another said a junior official will ensure on daily basis that order is followed. This is ridiculous," said Prem Kashyap, president of the Progressive School Association (PSA), an umbrella organisation of the private schools in Uttarakhand.
Secretary (education) Bhupendra Kaur, however, said she was clueless about the education officers sending letters.
"I have heard that education officials are sending letters, but no such instructions have been given by me," she said. Kaur, however, did not say if she was planning action against the officials.
The tussle over NCERT books came after a fiasco over raising of tuition fees of MBBS students studying in private medical colleges in the state. Bowing to pressure from students and parents, chief minister Trivendra Singh Rawat had prevailed upon private medical colleges to withdraw the hike in their fee structure.
Uttarakhand has a number of public schools that draw students from different parts of the country. A big number of such schools are affiliated to CISCE (Council for the Indian School Certificate Examinations). The government's order on mandatory NCERT books is not applicable to them.
"Uttarakhand is moving towards a dark age. If this (government intervention) continues the parents will switch over to other places like Bengaluru and Pune," Kashyal said.
The education minister had earlier said NCERT books would be introduced in CISCE-affiliated schools after CBSE ones.
"NCERT books are okay for reference but students have to go through extra books, or else they will not be able to crack competitive examinations," a private school owner said on condition of anonymity.
Close