Special bus boost for pahari tourism in Uttarakhand
Aiming to promote cultural tourism, the Uttarakhand government will soon launch special bus services for tourists to enjoy vibrant Pahari folk arts and traditions and places of cultural attractions including castles, temples and archaeological sites dotting the picturesque Himalayan landscape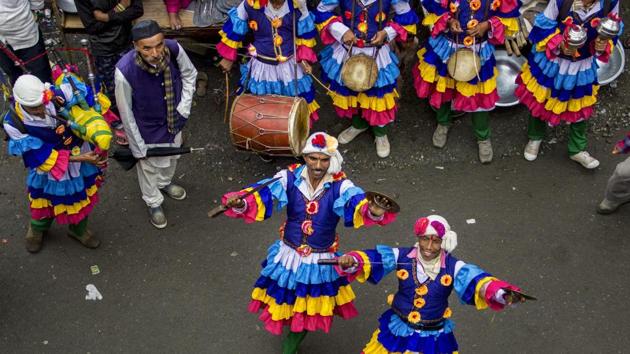 Published on Jul 17, 2018 09:45 PM IST
Aiming to promote cultural tourism, the Uttarakhand government will soon launch special bus services for tourists to enjoy vibrant Pahari folk arts and traditions and places of cultural attractions including castles, temples and archaeological sites dotting the picturesque Himalayan landscape.
"Under the scheme, a bus service each will be introduced in all the 13 districts in the state. These buses will ferry tourists to the temples, forts and heritage sites dotting the region," tourism minister Satpal Maharaj said.
"The Local youth, who will be trained as guides, will also tell the tourists not only about those sites but also about a number of folklores associated with them," he said.
"During their visits to those spots, they will also be exposed to the local culinary traditions as they will be offered the Kumaoni and Garhwali cuisines known for their distinct taste."
Tourists, Maharaj said, would have a lot to enjoy during their bus rides as the region "abounds" in places of cultural interests.
"Equally fascinating they will find the folklores about those spots, which guides will share with the visitors in graphic details," he said.
According to him, they would find those anecdotes about those places of interest and archaeological sites all the more fascinating as literally nothing is known about them outside the state.
Referring in that connection to the ancient cave paintings of Lakhudiayar near Almora he said the heritage site is some 5,000 years old.
Visitors would love to visit such a fascinating spot as not much is known about it. So was the case with a number of Ashrams and Akharas in the shrine town of Haridwar, which "are run" by different sects of Sadhus and Sants.
"There is one such ashram where I got to know that Guru Nanak Sahib had two sons—Sri Chand and Lakhmi Das," said Maharaj.
Similarly, visitors "will discover" many such interesting facts when they would be taken for 'Haridwar Darshan'.
Similarly, it would be a revelation for them to know that the Garba folk dance of Gujarat had its origin in Uttarakhand.
Quoting from a legend he said Usha, the daughter of Banasur, who belonged to the mountain state forcibly married Lord Krishna's grandson Anirundh as he was extremely good looking. Anirudh belonged to Dwarka, the modern port town of Gujarat.
"The legend has it that later Usha visited her in-laws place (Dwarka). Once at a function, she gave a unique dance performance… When people queried about it she said it was because she was pregnant," Maharaj said.
"Being pregnant means 'Garbha' in Hindi, of which 'Garba' is a distorted form, after which the Garba folk dance of Gujarat was named," he said. "We still have a temple of Anirundh in Lamgadi in Garhwal."
Tourists, Maharaj said, would like to visit a place in Garhwal where "it is believed that aancharis (fairies) still gather and dance".
Similarly, buses would "also be fitted" with a sound system through which tourists would be explained in detail about the places they would visit during their bus rides to different areas in the state.
"Besides, the specially trained local youth while showing them around the places of cultural attractions will also tell them about the fascinating folktales associated with them," the minister said.
"The job they will be doing as guides will also be a source of employment for those youths trained for the purpose."
Maharaj said the proposed scheme would also give a boost to culinary tourism in the state.
"It will get a boost because tourists would get to eat sumptuous ethnic cuisines for breakfast, lunch and dinner wherever they would be taken for bus rides," he said. "That will also give boost to culinary tourism in the state."
Close Story