U'khand govt lines up measures: Helibase in hills, better warning system
The Uttarakhand government will soon set up a helibase each in Kumaon and Garhwal so that prompt relief and rescue operations could be taken up in times of emergency, a senior official said Tuesday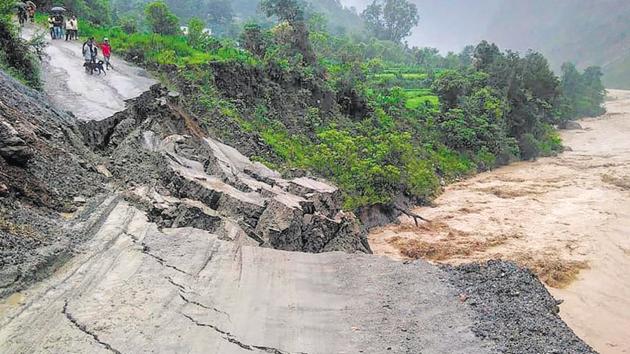 Published on Jul 03, 2018 10:11 PM IST
The Uttarakhand government will soon set up a helibase each in Kumaon and Garhwal so that prompt relief and rescue operations could be taken up in times of emergency, a senior official said Tuesday.
The announcement comes two days after a civil aviation company refused to ferry passengers who were injured in a major bus accident near Dhumakot in Pauri district on Sunday.
The company turned down the government's request stating that the latter was yet to clear the dues for using its helicopters in the relief and rescue operations after the floods that hit the state in 2013.
Amit Negi, secretary, disaster management, claimed that the issue would be resolved soon. "I don't see any hurdles in setting up the helibase as the issue of unpaid dues is likely to be resolved soon."
"The dues couldn't be paid owing to some budgetary constraints. Such a situation shouldn't have arisen…The issues will be resolved as talks are on with the civil aviation companies," Negi said.
He said Standard Operating Procedures (SOPs) were being put in place so that relief and rescue operations by different agencies could carried out in tandem in case of landslides triggered by ongoing works in Garhwal under the Chardham all weather road project.
"SOPs are required because a number of agencies are involved in road cutting," Negi said referring to the National Highways Authority of India and Public Works Department. "In case of landslides, agencies such as the army, Indo-Tibetan Border Police, Sashatra Sewa Bal and the police will also be involved in carrying out relief and rescue operations," he said.
The government will also strengthen the early weather warning system to procure accurate data that will help in carrying out prompt relief and rescue operation in the disaster-prone mountain state.
"Strengthening of the early warning system will be carried out with the help of India Meteorological Department. It will enhance weather forecast accuracy, which will help in carrying out prompt relief and rescue operations," said additional secretary, disaster management Suvin Bansal.
At a press conference jointly addressed by officials monitoring rescue and relief operations in rain-hit Pithoragarh here, Bansal said work was also on to improve the early warning system pertaining to earthquake warning.
"Under the system, which is being developed with the help of IIT, Roorkee, sensors will be set up in higher reaches," he said. These sensors will transmit signals relating to the seismic activity to the plain areas in advance giving the agencies concerned more time to carry out relief and rescue operations.
Meanwhile, late on Monday night, chief minister Trivendra Singh Rawat replaced several top officials deputed in Garhwal.
Senior IAS officer Shailesh Bagauli was appointed as Garhwal commissioner replacing Dilip Jawalkar. Similarly, additional secretary, home department, Ajay Rautela replaced Deputy Inspector General of Police, Garhwal Pushpak Jyoti.
So, Dhumakot and ARTO were placed under suspension for "prima facie negligence" in the bus accident that took place near Dhumakot.
Close Story