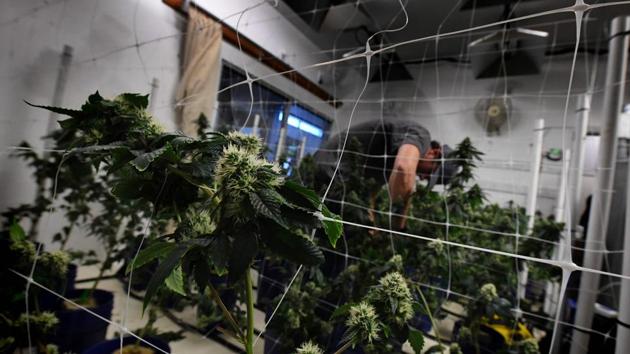 Uttarakhand CM bats for hemp farming to support livelihood of farmers
Two years ago an idea mooted by then chief minister Harish Rawat to promote hemp farming in Uttarakhand was ridiculed by the BJP
PUBLISHED ON NOV 20, 2017 05:46 PM IST
Two years ago an idea mooted by then chief minister Harish Rawat to promote hemp farming in Uttarakhand was ridiculed by the BJP.
Now, there is a role reversal. The BJP is in power in the hill state and chief minister Trivendra Singh Rawat sees immense potential in the hemp farming.
"The government will make policy (to legalise) hemp cultivation. Hemp has immense potential to support livelihood of the farmers," the chief minister said during his tour to Bageshwar on November 18.
"The only need is to ensure its (hemp) cultivation is not misused. The seeds could be used to extract oil, stem for making paper and the fibre is of excellent quality," he said.
Chief minister Rawat's statement has made the ruling party uncomfortable.
BJP state unit president Ajay Bhatt, who as the leader of opposition during the Congress tenure had opposed the move to legalise hemp cultivation preferred not to speak on the issue.
Party spokesperson Vinay Goyal, however, said: "We then opposed hemp cultivation since the every single step of the Harish Rawat government was doubtful. Our vision is clear and our government wants to execute plans in the right direction."
Harish Rawat had in fact backed for the hemp farming in the state back in 2015. His government also legalised the farming but that actually did not translated into the ground as farmers were not issued licenses.
The former chief minister while talking to HT on Monday said he welcomes the chief minister's statement.
"I had designed a model for the development of hills. And I am happy that sidelining his party's line chief minister TS Rawat has shown guts and wants to support hemp cultivation," he said.
He also claimed that he had assigned task to the two research institutes to develop industrial variety of hemp.
The Section 8 of Narcotic Drugs and Psychotropic Substances Act, 1985, prohibits cultivation of cannabis for recreation. The Section 14 of the Act, however, allows the state government to grow it for generating fibre and seeds.
The industrial variety of the hemp carries less than 1% hydro cannabinol (THC) carries less the 1%. The cannabis which is made from those hemp plants which carries THC more than 3%. In the hills, the hemp usually grows as weed and widely used in making chutneys.
Experts say it would be a tricky situation for the authorities to keep an eye on the misuse of hemp. Padma award recipient and ecologist Anil Joshi said the government should remember hemp saplings are weed.
"Why promote hemp farming when there are several other verities available that can give best quality of fibre," Joshi added.
Close