Uttarakhand govt to outsource Tehri district hospital to private players
Published on Mar 26, 2018 09:30 PM IST
The state government is soon going to outsource the administration and operation of the district hospital in Tehri along with two nearby community health centres (CHCs) to private players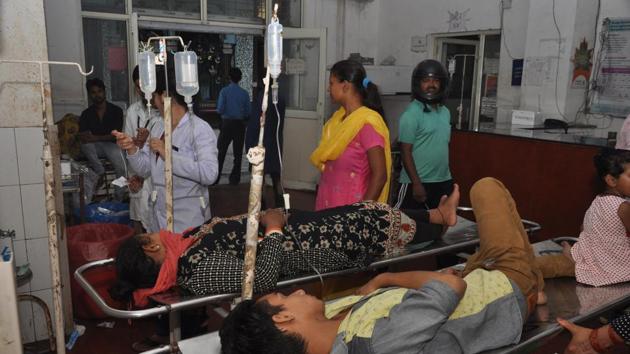 The state government is soon going to outsource the administration and operation of the district hospital in Tehri along with two nearby community health centres (CHCs) to private players.
This, the government said, is being done to rope in private players to strengthen medical facilities in the hills.
Yugal Kishore Pant, additional secretary (health), said, "Under the project, the Tehri district hospital and two nearby CHCs will be completely outsourced."
"The private players will be given the responsibility to run the hospitals. We have listed the facilities that are being sought from them, along with the kind of manpower required."
He said tenders for this have been floated and that the department was expecting a "healthy response".
On Saturday, an orientation session was also held in New Delhi and a pre-bid meet is being organised in Dehradun on Thursday.
The project is part of the World Bank-financed project -- Uttarakhand Health System Development Project -- that aims to boost health infrastructure in the hill state.
The move comes at a time when the public health sector in the state is crippled with scarcity of doctors.
The NITI Aayog, in its latest report on the state of health care in the country, revealed that 60% posts of specialists in Uttarakhand were lying vacant.
Under the project, district hospitals will be strengthened through a cluster approach wherein two nearby CHCs will also be brought under the public-private partnership (PPP) mode.
The health department will hand over the building and all equipment at the district hospital to the private partner.
Besides this, the entire manpower will also be removed. The private player will bring in their specialists and run the hospital.
The private partner will also extend some services to the two nearby CHCs, besides running a mobile ambulance between the CHCs and the district hospital.
"The existing staff at the district hospital will be shifted to other hospitals where there is a scarcity of health professionals," said Pant.
Health officials privy to the development said once the district hospital was handed over to the private player, the department will appoint a medical superintendent who will be tasked to monitor the day-to-day activities.
Only those private players, who were running at least a 100-bedded hospital elsewhere, will be eligible to participate in the tender, they said.
Meanwhile, the move has also drawn a positive response from the industry.
Virendra Kalra, co-chairperson of PHD Chamber of Commerce and Industry, Uttarakhand chapter, said, "It's a welcome move. The state government is not in a position to take care of public health on its own. Private players need to be roped in."
"The private sector should have the freedom to operate and ensure that the quality control are in place. The government must provide infrastructure and monitor activities of the hospital."
Personalise your news feed. Follow trending topics