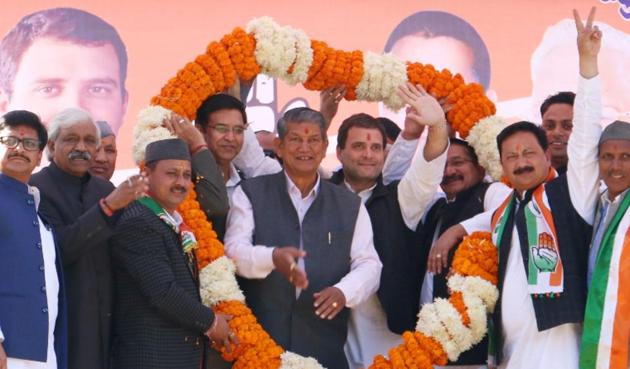 Uttarakhand rally: Rahul accuses Modi of sheltering rich, questions note ban rationale
Congress vice-president says govt wants to keep money in banks for longer duration to use it for super rich, waive off their loans worth `8.5 lakh crore
Hindustan Times | By Abhinav Madhwal
, Almora
PUBLISHED ON DEC 23, 2016 09:09 PM IST
Congress vice-president Rahul Gandhi launched a scathing attack on Prime Minister Narendra Modi in his 43-minute speech in Almora on Friday, saying Modi's policy was to siphon off money from the poor and help the rich.
"Gareebon se kheencho aur ameeron ko seencho (take from the poor and give to the rich) is now the buzzword in the present government," Gandhi said, addressing the crowd at the SSJ ground.
"The Modi government waived off loans worth `1.4 lakh crore of 50 super rich families of India. Now, they have loans of `8.5 lakh crore that are to be waived off again, but the banks do not have money for this purpose. The Modi government thought of an ingenious scheme under which they imposed demonetisation and pulled your money to banks. Now, this money will be used to waive off the ₹8 lakh crore. Just wait and watch and you will see the loans being waived off in a few months," he said.
He added, "Don't you know why the ₹2,000 notes were made that size? Because ATMs won't dispense them and banks won't give change. This way they want to keep your money in banks for a longer duration so as to use it for the super rich."
Quoting poet Bashir Badr, Gandhi said the two lines — "Log toot jaate hain ek ghar banane mein, tum taras nahin khaate bastiyaan jalane mein" — summed up Modi's decision.
Explaining what he called the real reason behind the note ban, Gandhi said, "Only 6% of the black money is in cash and the rest 94% is in real estate, gold and Swiss Bank accounts. The Swiss Banks said they have given names of the black money holders but they are not being made public as these are the 50 super rich families of India that made Modi Prime Minister by backing him."
The Congress vice-president also critiqued the Modi government for not allowing two-minute silence in Parliament in memory of those who died in bank queues after demonetisation.
Friday's rally was successful in gathering huge crowds and surpassed BJP national president Amit Shah's rally at the same ground a month ago in terms of participation of people.
Addressing the gathering earlier, chief minister Harish Rawat said he was a disciple and soldier of former Prime Minister Indira Gandhi and the Gandhi family and was committed to ushering development in Uttarakhand.
Congress Uttarakhand in charge Ambika Soni, state president Kishore Upadhyay, revenue minister Yashpal Arya and other party MLAs were present on the occasion.
Close