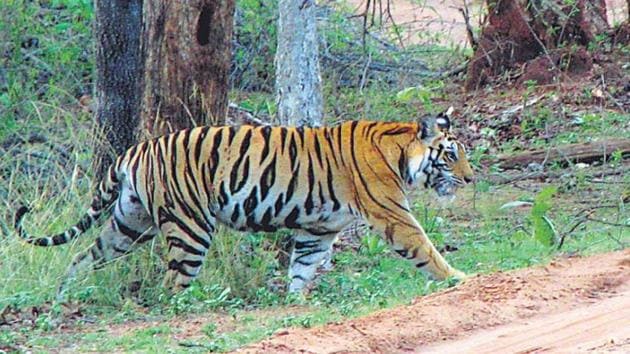 Wildlife board agrees to hike compensation to conflict victims
The Uttarakhand government on Friday agreed to increase the compensation to victims of man-animal conflict from existing Rs 3 lakh to Rs 5 lakh. This is the third time that the government has approved this proposal
UPDATED ON JUN 15, 2018 10:10 PM IST
The Uttarakhand government on Friday agreed to increase the compensation to victims of man-animal conflict from existing Rs 3 lakh to Rs 5 lakh. This is the third time that the government has approved this proposal.
Chairing a meeting of the State Board for Wildlife (SBWL), chief minister Trivendra Singh Rawat agreed to hike the compensation. A similar proposal had twice been approved by then chief minister Harish Rawat when he chaired the board's meeting in 2016.
"The proposal may have been cleared multiple times by the board, but ultimately it is the government that has to issue official notification in this accord," Jai Raj, principal chief conservator of forest (PCCF) and head of forest force, said.
Maharashtra, which also faces conflict issues, pays Rs 8 lakh — highest in the country— to the victims who die during wild animal attack. There's a fresh proposal of increasing the compensation to Rs 10 lakh.
"The forest department should seriously pursue increasing compensation rather than bringing the same proposal before the board every time," a member of the board said requesting anonymity.
As per forest department statistics, Rs 96 lakh was paid to the people who lost their lives in conflict in 2014-15. People close to the matter inform this figure is over Rs 1 crore in 2017-18.
State forest minister Harak Singh Rawat, however, assured that the BJP government will soon issue an order in this accord.
"We know that the proposal was approved in last board meetings. But, our dispensation is going to issue a government order soon. We are dedicated towards working for the benefit and development of people of state," he said.
Meanwhile, CM had also directed officers to increase compensation to victims with severe injury. Earlier, only Rs 50,000 was given to those who sustained serious injuries in wild animal attack. This has been increased to Rs 2 lakh now.
Land rights to people rehabilitated from protected areas
Uttarakhand government will provide land rights to people who will be rehabilitated from the border of protected areas. The decision came after the issue of rehabilitating nearly 200 families of Sunderkhal bordering Corbett Tiger Reserve was discussed. Forest minister Harak Singh Rawat shared the problems faced by families that were rehabilitated to Laldhang in Haridwar. He said that the rehabilitation was provided but the families were not provided land rights as a result of which they are facing difficulties.
"If we are rehabilitating a family from his land, then we should provide him land in exchange. People are facing problem and we don't want this to repeat," Rawat said.
Nod for elephant safari in buffer zone of Corbett, Rajaji
The State Board for Wildlife approved elephant safari in the buffer zone of Corbett and Rajaji tiger reserves. Chief minister Trivendra Singh Rawat said that elephant safari was an important tourism activity, which should be resumed.
Now, 100% revenue generated through tourism in Corbett and Rajaji will be used by the conservation foundations of both the protected areas. Earlier, they used to get only 50% revenue.
The forest department will share details of the trekkers seeking permission for mountaineering in various parts of the state. This will help the police and State Disaster Response Force during times of emergency.
Close